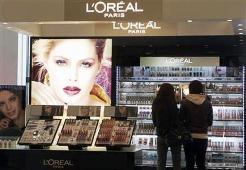 Beauty and cosmetics major L'Oreal has prepared a blueprint to make India amongst its top five global markets in terms of revenue in 10 years.

Currently, India ranks 15th in the pecking order of L'Oreal's markets with annual revenues of Rs 1,580 crore (Rs 15.8 billion).

The plan is to quadruple sales to nearly Rs 7,000 crore (Rs 70 billion) by localising products, pushing distribution and looking at cutting-edge India-specific innovations driven by its new research & innovation centre, said Jean-Paul Agon, chairman & chief executive officer, L'Oreal.

Agon, a frequent visitor to India, was here to inaugurate the R&I centre along with state Chief Minister Prithviraj Chavan.

The state-of-the-art facility spread over 500 square metres is the first such by L'Oreal in India and it's sixth globally.

It is also the third facility in Asia after China and Japan, pointing to the increasing importance of the region in the global giant's scheme of things, ranked as the largest beauty company in the world with sales in excess of $28 billion.

Agon, addressing select media, said that India was already strategically in the top five with the company having commissioned an investment of close to Rs 1,000 crore (Rs 10 billion) over the next five years, in areas such manufacturing, distribution and supply chain besides research & development.

This tranche is amongst L'Oreal's bigger investments for an emerging market, Agon added.

"Our endeavour is to universalise beauty by targeting not just the top end of the market, but also the growing middle class with products that take into account Indian needs," Agon said.

"In about 10 years we are looking to reach 150 million consumers from India alone," he added.

L'Oreal has already articulated in the past that it would like to get one billion new consumers in the next decade, which is expected to come from the Asian region.

Localisation, Agon pointed out, was key to the company's strategy of acquiring new consumers.

Already, 80-85 per cent of L'Oreal's products marketed in India including those falling under its key consumer products as well as professional divisions (the latter targets salons alone)
are manufactured at the company's Pune factory.
According to Jochen Zaumseil, executive vice-president, Asia-Pacific, the company could also look at setting up additional factories in the future.
"The company here has been growing at a CAGR of about 25-30 per cent in the last few years and we propose to maintain this pace of growth," Zaumseil added.
Besides developing local products, the R&I facility will also act as a centre of excellence for L'Oreal in its study of local beauty remedies rooted in Ayurveda and other traditional sciences.
L'Oreal will also work closely with local institutes and universities at its advanced research facility in Bengaluru, an extension of the R&I facility located in Mumbai.
The Mumbai facility will also act as a regional hub providing insights and knowledge to L'Oreal globally.
Products from here could be exported to markets abroad beginning with the Asian region, Zaumseil added.
For instance, the company's men's range under the Garnier brand name, developed a few years ago in India, has been exported to neighbouring countries in Asia, while Colors Naturals, also under the Garnier umbrella, has been exported to both Asian and Eastern European countries.
The expectation is that more products under the flagship brand L'Oreal as well as cosmetics brand Maybelline developed locally could find their way into international markets.
L'Oreal has four verticals in India including consumer products, luxury products, professional products and active cosmetics.
Of the four, the consumer products division which includes flagship L'Oreal, Garnier and Maybelline contribute close to 70 per cent of the Indian's unit turnover.
But the cosmetics giant is also expanding its professional business, which give it 17 per cent of its revenues in India, with products targeted at the high, mid and lower-end salons.
It is also stepping up its retail presence with specialised boutiques that will house its Kiehl's range of luxury products.