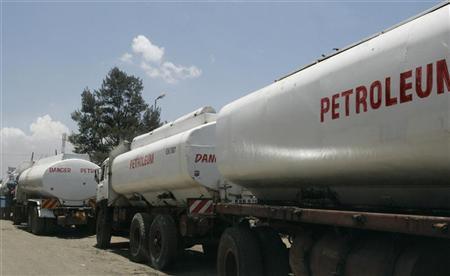 A plunge of nearly half in oil prices could help Indian Finance Minister Arun Jaitley reap a fiscal windfall of at least $12 billion when he presents his 2015/16 budget in February, two government sources told Reuters.
The savings would come in the form of reduced fuel subsidy costs and higher petrol and diesel levies, the sources said.
In addition, finance ministry officials have proposed restoring a crude oil import duty that was scrapped in 2011.
As a result, the government would claw back most of the money that India saves on oil imports.
That would help Jaitley hit borrowing targets but dilute any boost to consumption in Asia's third-largest economy.
Energy-hungry India imports around 4 million barrels of oil per day and the net cost of the country's oil imports is expected to total $88 billion in the fiscal year to next March, based on a budgeted oil price of $105 per barrel.
Officials drawing up Jaitley's first full-year budget are pencilling in a view that oil prices will average $65-$70 in 2015/16. That would cut the national import bill by $18 billion - or 0.9 per cent of GDP, they reckon.
"Benefits from the fall in oil prices would reflect in the budget through lower oil subsidies and higher tax projections next year," one senior finance ministry official told Reuters.
The sources estimate that the overall fiscal boost can total Rs 7.50 crore (Rs 750 billion) ($12 billion). More than half, 400 billion rupees, would come from savings on oil subsidies.
Tax and don't spend
Prime Minister Narendra Modi, in power since May, has freed prices for diesel, which account for 40 per cent of consumption of refined fuels.
Taking advantage of the resulting fall in pump prices, his government has raised factory gate duties on petrol and diesel twice in the last month.
That means state coffers, and not drivers, will benefit to the tune of $1.6 billion this fiscal year and nearly $5 billion next year.
A revival in the profitability of state-owned oil refiners like Hindustan Petroleum Corporation and Indian Oil Corporation could generate another $1 billion in extra revenues.
Further, ministry officials recommend restoring the old 5 per cent crude oil import duty in full.
This would require Modi's approval, and if implemented could raise up to $4 billion more, lifting total potential fiscal gains to over $16 billion.
"A proposal to impose import duty on crude oil is under consideration," said another finance ministry source.
"The final decision could be announced in the budget." Both sources requested anonymity, because they were not authorised to speak to the press on the record.
Jaitley is struggling to hit his fiscal deficit target of 4.1 per cent of gross domestic product this fiscal year. He wants to cut it to 3.6 per cent in 2015/16, and 3 per cent in 2016/17.
Budget bailout
Fiscal constraints leave little over for the wider economy, with consumers still cautious about their prospects and concerned that recent falls in inflation will be only temporary.
Although the price of diesel, used by truckers and farmers, has fallen by 6 per cent in the past five months, drivers in India are now paying more to fill up than in the United States.
"The boost to household consumption is likely to be small," said Shilan Shah, India Economist at Capital Economics in London. "The government has been able to take advantage of the windfall."
By Shah's reckoning, the oil windfall could help cut the budget deficit by 0.5 per cent of GDP, as well as narrowing the current account gap and easing price pressures.
"This could lead to the RBI beginning to cut interest rates early next year, which on its own should have impact on economic growth," said Shah.