$5-billion worth of pharma exports would be in a tough place if tariffs are revised upwards.
Trump signed two proclamations that levied 25% tariff on steel and 10% on aluminium.
Illustration: Uttam Ghosh/Rediff.com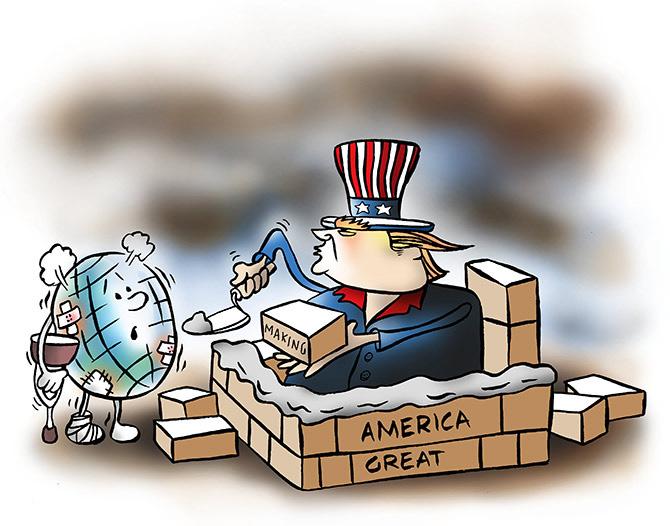 India is gearing up for a tough fight following America's repeated threat of imposing a "reciprocal tax" on countries with which it has a trade deficit.
"We will oppose such a move on the basis of the principles involved," a senior commerce department official told Business Standard.
The issue could possibly be taken up at the World Trade Organization's disputes settlement body as well, experts said.
Last Friday, US President Donald Trump signed two proclamations that levied a 25 per cent tariff on steel and 10 per cent on aluminium imported from all countries except Canada, Mexico and Australia.
While the exact details of the new order are not known, the contentious tariffs will come into effect in 15 days.
While the US focused on China for the larger part of Trump's first year in office, India has been a target in the recent past.
Trump voiced his disappointment against "unfair" treatment of American exports to the country even as India enjoys free access to the US market.
"We're going to be doing a reciprocal tax programme at some point, if China is going to charge us 25 per cent or if India is going to charge us 75 per cent.
"If they are at 50, or they are at 75 or they are at 25, we are going to be at the same number," Trump said on Friday.
"Reciprocal tax" is a new concept in the global trade rules.
"The US president may not have a clear idea about how reciprocity works at the WTO. Each country has some flexibility to change its customs duty as long as it does not break its larger commitments under the fixed bound rates," Abhijit Das, head of the Centre for WTO Studies, said.
Under the norms of the WTO, which oversees global trade law for its 164 member nations, the bound tariff rate is the customs duty rate committed by a country to all other members under the most favoured nation principle, which prohibits discrimination in tariffs.

India's export exposure to the US in sectors such as diamond jewellery, pharmaceuticals and marine products remains far higher than steel and aluminium

Pointing out that it is not known as of now whether the US move is within the bound rate, Das clarified that India has never raised its tariffs beyond the fixed bound rates, which are arrived at after lengthy trade negotiations and vary for every nation.
India's decision to raise import duties as announced in the last Budget was within the rates, according to Das.
When a country raises a tariff to a higher level, those adversely affected can seek remedy through the dispute settlement body of the WTO.
"The US has single-handedly and consistently blocked the appointment of judges to the seven-member DSB. Currently, three members have retired and a fourth is set to retire soon," senior trade expert and Jawaharlal Nehru University professor Biswajit Dhar said.
India had repeatedly raised this issue during the last ministerial conference of the WTO at Buenos Aires in Argentina, with Commerce and Industry Minister Suresh Prabhu urging swift action to resolve the impasse.
"This is part of a larger plan to destabilise the WTO structure and force India and other nations to come into a bilateral agreement with the United States," Dhar added.
India digging in for a fight
While an official in the commerce department, quoted above, indicated a trade war was in the offing, till now the government has been in wait-and-watch mode.
"We will wait to see how they justify it,'' Commerce Secretary Rita Teaotia had said on Friday.
She had pointed out no other WTO member had used the "security exception" argument as done by the US in raising duties on import of steel and aluminium.
The US and China are among the 24 WTO members that have confirmed their presence at the "mini-ministerial" meeting called by India on March 20 to break the impasse on certain issues and prepare common ground to push the mandate of the WTO.
India is worried that other nations may latch on to the US arguments to initiate a new set of discussions on setting bound rates, as had been done over the recent years with regards to the WTO.
Exporters remain jittery
Currently, no country singles out Indian imports for higher tariffs.
"Bangladesh has used it sometimes whereby they have different levels of tariffs for goods from India and China as opposed to everyone else but the US move is an exception as the WTO rules are clearly against it," FIEO Director-General Ajay Sahai said.
The FIEO is discussing the matter with the government.
For India, steel and aluminum exports to the US remain at barely 2 per cent of the outbound shipments of both products. Raw steel exports to the US stood at only $330 million and exports of finished steel products were $1.23 billion in 2016-17. The total exports of aluminium and aluminium products stood at $350 million.

But the situation may go out of control if tariffs are raised across the board. India's export exposure to the US in sectors such as diamond jewellery, pharmaceuticals and marine products remains far higher than steel and aluminium. The US alone consumes about 30 per cent of India's annual jewellery exports and 40 per cent of shrimps and prawns.

About 40 per cent of all pharma exports also end up stateside. The US is India's largest export destination, with $42.21 billion worth of shipments sent to that country in 2016-17.
"Trump has not said anything about jewellery.
"But any country-specific import duty levy or increase in the existing tax could be disastrous for India's diamond jewellery exports," said Praveen Shankar Pandya, former chairman of the Gems and Jewellery Export Promotion Council.
The $5-billion worth of pharma exports would be in a tough place if tariffs are revised upwards, as these are dependent on the manufacture of mostly generics and the sector earns almost 50 per cent of its revenues from exports.
While exporters say it is unlikely that the Trump administration will act tough against them as the country requires cheap drugs, the industry will find it difficult to face higher tariffs if they are to be revised upwards.
The pharma sector earns almost 50 per cent of its revenues from exports.