Refusing to budge from its tough stand on food security issues, India pressed for a fair and balanced outcome of the WTO ministerial meeting in Bali, with the 159-member body's chief warning that it was "now or never" as formal negotiations started to reach a consensus on issues such as food subsidies and trade facilitation.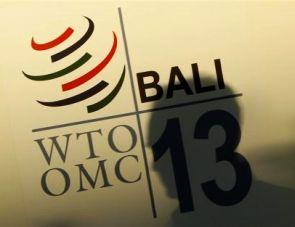 "The outcome of the Ninth Ministerial Conference of the WTO is the collective responsibility...and a fair, balanced result would be possible only if the genuine concerns of developing countries, including India, are satisfactorily addressed," Commerce and Industry Minister Anand Sharma said, a point that was backed by Brazil and South Africa.

Sharma made India's position clear during bilateral talks with trade ministers of various nations on the sidelines of the World Trade Organisation meet.

WTO Director-General Roberto Azevedo emphasised, "We cannot put this (negotiations) off for another day...It is now or never."

Indonesia, the Chair of the Ministerial Conference and a key member of the G33 group, also called upon members to show some "flexibility and compromise" for a positive outcome.

"India comes strong in terms of linking the interim solution to the permanent solution but we also understand where the other guys are coming from. I think, there needs to be flexibility from some sides for this to work.
"It is inconceivable to find a permanent solution here. We can only strike an interim solution here but it's a question of how the shape of the interim solution that will link itself to the permanent solution. I am suggesting not a longer peace clause but a better defined mechanism of linking the interim to the permanent," Indonesian Trade Minister Gita Wirjawan told reporters.
Sharma, however, emphasised that ensuring food security for large populations was a common concern shared by developing countries, including India and China.

G-33 members are demanding amendments in the WTO accord on agriculture to smoothly implement the food security programme without attracting any penalty even if the 10 per cent farm subsidy cap is breached.

India too has stated that the interim solution (peace clause) should be continued until a permanent solution is found. Developed countries such as the US are calling to fix the peace clause only for four years.

The four-day Ministerial Conference began with Indonesian President Susilo Bambang Yudhoyono calling for strong political will and more flexibility to close a Bali package.

In Sharma's bilateral meetings, he emphasised that the conference should not only address food security but also "inadequacies in the whole draft Bali proposals – whether on export completion; tariff rate quota administration; or trade facilitation...only lip service is paid to interests of developing countries in proposed texts which are devoid of substance and consist largely of best endeavour provisions."

At a luncheon meeting of the India, Brazil and South Africa (IBSA) grouping, Sharma reiterated India's concerns, especially the issue of food security.

Brazil and South Africa conveyed their agreement with India's position and wanted to know how best these could be accommodated in the Bali package.

Sharma also held bilateral meetings with Zimbabwe Trade Minister Mike Bimha, Nepal Minister of Finance, Industry and Commerce Shanker Prasad Koirala, European Union (EU) Trade Commissioner Karel de Gucht and Chinese Minister of Commerce Gao Hucheng.

According to sources, Gao told Sharma that "we (China) appreciate your stand but we are working for a positive outcome here."

The second day of the meeting tomorrow is expected to see hectic parleys among WTO members. Chief Azevêdo has convened a meeting of 159 members to assess the state of play.

Meanwhile, civil society groups from across the world staged protests at the venue against the proposed deal on trade facilitation and food security. Several organisations supported India's stand on the issues and blamed the rich countries for the impasse.

"We are very upset at the dynamic that has emerged blaming India...It is the US that has been blocking discussions on food security and the G-33 proposal," said Deborah James, a member of Our World Is Not For Sale Network, a global grouping of organisations, activists and social movements.