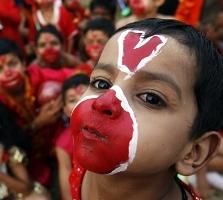 The Indian economy stands at the cusp of a recovery and is on its way to a 7 per cent growth rate and 6 per cent inflation, says a Citigroup research report.

According to the global financial services major, there is a strong new political will coupled with a credible and active central bank and 'this mix is steadily changing India's dynamics'.

"While there can be plenty of debate on pace and timing, India is on its way back to 7 per cent growth and 6 per cent inflation," the Citigroup research report said.

The country's gross domestic product growth had bottomed out at 4.5 per cent in FY13. But recovery began to take shape in the latter half of FY14 and the pace appears to have improved this fiscal.

The report noted that recent initiatives on the clearance process, particularly in the case of environment and forest regulations, could speed up project implementation.

Moreover, "opening of FDI in defense/railways, higher allocation on infrastructure, cutting red-tape, expanding the role of the PMG all point to FY17 GDP growth reviving back to 7 per cent, if not more," Citigroup said.

Meanwhile, inflation level has come off from around 10 per cent levels in FY13 and FY14.

Inflation is estimated to be around 8 per cent in FY15 and is likely to decline further towards 6.5 per cent in FY16, Citigroup said.

In addition, the current account deficit has declined from levels of over 4 per cent of GDP in FY12 and FY13, to 1.7 per cent of GDP in FY14 and is likely to remain at sub-2 per cent levels in FY15/FY16.

"India is well on the path toward macro-stabilisation, with deficits being contained and the growth-inflation imbalance being corrected.

Nonetheless, there is no room for complacency," the report said.

Citigroup said there is still a long way to go for the economy as growth remains below potential, inflation is above comfort levels, there is risk on capital flows and exchange rate volatility; and lastly global rating firm S&P continues to maintain negative watch on India credit ratings.

"Nonetheless, while the challenges remain formidable, the regime change in Delhi and Mumbai inspire confidence.

"We look at the vision and mechanism through which Prime Minister Modi and RBI governor Rajan could put India back on track of high growth, low inflation and sustainable deficits," the report said.
Image: Boys with their faces painted before a play reenacting a scene from the Ramayana. Photograph: Ajay Verma/Reuters