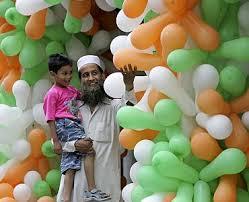 India has the potential to become the world's fifth largest exporter of goods by 2030 in value terms, says HSBC Trade Forecast.

The country has the potential to become an export hub for autos and it is well-placed to further develop its textile industry, the HSBC report said.

This is despite the fact that India's near-term growth prospects remain lacklustre, with the economy likely to expand by 5.3 per cent in 2014 and 6.3 per cent in 2015 -- well below the rapid growth rate of around 8 per cent a year in 2001-11.

"Despite struggling with a number of structural impediments to growth, prospects for medium-term growth in trade remain strong," the HSBC report said.

India's Trade Confidence Index increased from 126 in the second half of 2013 to 137 in the first half of 2014.

In the near term, respondents see Europe as the most promising trading destination, pushing Asia into second position.

"The economic potential for India remains strong, with the growing population and rapidly expanding middle class --
it presents opportunities for business.
"India is forecast to emerge as the world's largest middle class market, surpassing both China and US," HSBC India Managing Director and Head, Commercial Banking, Sandeep Uppal said.
The UAE is likely to remain India's top export destination by 2030, and China is forecast to emerge as the second largest export market, displacing the US.
Sector-wise, pharmaceuticals, transport equipment and textiles will help accelerate overall export growth.
By 2021-30, pharmaceuticals exports are likely to emerge as one of the top 10 contributors to total export growth.
India's pharmaceuticals sector is relatively advanced and in a position to compete globally, the report said.
Major brand products in developed markets are undergoing patent expiration and Indian producers are ready to capitalise on a shift in spending towards generic alternatives, it added.
"While India is already well known for IT, in the medium term we foresee strong growth in pharmaceutical exports with auto as a sector to watch out for in the longer term," Uppal added.