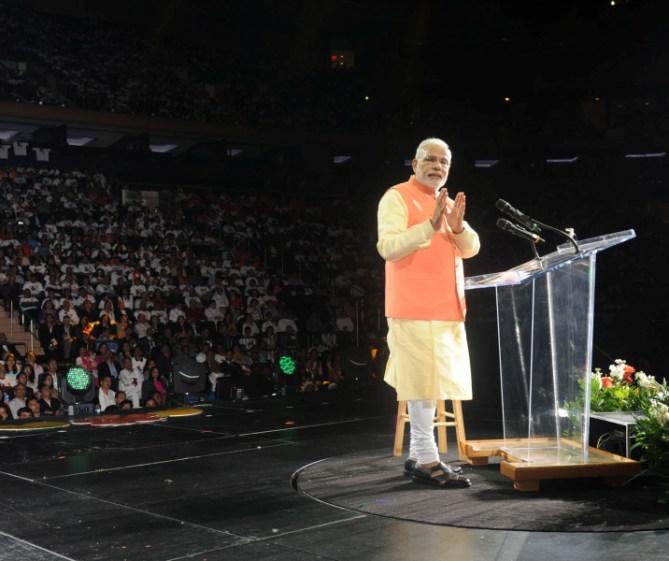 Asserting that trade and commerce leads international relations in today's age, Prime Minister Narendra Modi assured the Indian-American community in New York that his government is determined to put the economy on an upward trajectory by focussing on key sectors like agriculture, manufacturing and services.
"In today's world, it is trade and commerce that leads international relations and drives the economies," Modi said at a dinner hosted in his honour by Indian Ambassador to the US, S Jaishankar.
Modi, after having addressed nearly 20,000 people of the Indian community at a rock-star style event in Madison Square Garden, spoke briefly to the select gathering of eminent men and women and underscored his government's focus and efforts to move forward on development and make India a magnet of investment.
"Our entire focus is on the growth of economic activity, on how to grow the economy be it agriculture, manufacturing or services," he said.
"I believe that for a healthy economy, one-third agriculture, one-third manufacturing, one-third services sector -- if all these grow simultaneously then even if one of the sectors faces a decline, the country's economy will not be immensely impacted."
He, however, said that if the economy rests wholly on any one of the sectors, it will not be able to bear the brunt of even slight disruptions.
His government is focussed on the manufacturing sector.
In manufacturing sector there needs to be creation of small jobs.
"Our efforts is that India should progress and develop in all three sectors," he said, adding that in the services sector tourism has a huge scope.
"In today's age one sector that has the most potential for growth is tourism.
"It is estimated that three trillion dollars worth of business lies in the tourism sector," he said, adding that India has not taken advantage of the huge potential that tourism holds and has not even scratched the surface in achieving its potential in the tourism sector.
"Our endeavour is that tourism should grow.
"I believe that terrorism divides and tourism unites," he said to a rousing applause by the audience as he said that when tourism grows, then everyone from the 'autoricksha walah, taxi walah and chaiwala' earns.
Image: Prime Minister Narendra Modi addresses the Indian Community at Madison Square Garden in New York on September 28, 2014. Photograph: Kind Courtesy, PIB