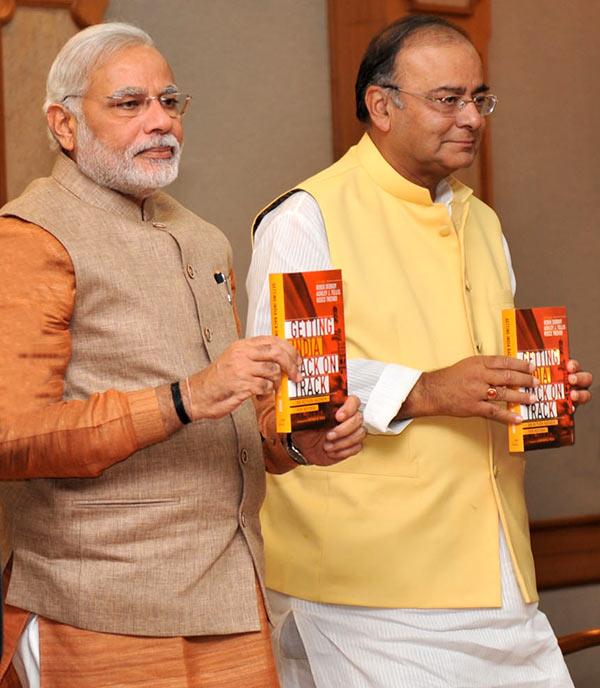 Prime Minister Narendra Modi and Finance Minister Arun Jaitley.

Photograph: Kind Courtesy, PIB
It's a big thumbs-up from India Inc for Prime Minister Narendra Modi, who completes 100 days in office a week from now.

Leaders at Indian companies say the new government's biggest achievement has been a perceptive improvement in business sentiment, which had hit rock bottom during the previous regime.

Among other positives were the government's success in controlling spiralling prices and bringing back foreign investors' confidence in the stock market, a poll conducted by Business Standard among 20 top Indian CEOs revealed.

Though CEOs agreed some unresolved issues like 'tax terrorism', rollout of the goods and service tax and the Insurance Bill remained a cause for concern, they also said three months, perhaps, were too short a time to do anything more substantive.

"In terms of strategy, vision and direction, the Modi government has scored 70 out of 100.

"IAS officers are now willing to do more than they did during the previous government. However, it is too early to see results; three months are not enough," said Larsen & Toubro Chairman A M Naik.

Almost all the CEOs surveyed said Modi improved business sentiment by taking immediate steps to restart a slew of stalled projects.

"In just 100 days, the government has altered the direction of the economy from despair to hope.

"There is confidence and understated exuberance among the global community and investors.


"Results on ground will take time but there are clear signs of action, focus and accountability," said RPG Enterprises Chairman Harsh Goenka. D Bhattacharya, managing director of Aditya Birla group's flagship Hindalco and vice-chairman of Novelis, said: "The business sentiment has greatly improved. The action on ground will take some time to show because of lag effect."

On the issue of inflation, CEOs said Modi's record had been good but a lot still needed to be done in this regard.

They said inflation would be critical in the next few months as the monsoon season would likely end with a deficit, though there would not be a 2009-like severe drought.

"I think these are still early days to say that inflation has been tamed.

"The shortfall in monsoon rainfall is not as bad as was expected.

"But certainly, with a marginal shortfall, you can't rule out that the basic consumables or the consumer price index might shoot up.

"I think it is too early to give a judgement and say 'yes, the inflation has been tamed'," said K Natarajan, co-founder, MD & CEO of Mindtree.

Asked about the top three achievements of the Modi government, the CEOs said faster approvals for infrastructure projects, initiatives on digitisation and corruption-free government helped boost morale.

"Modi has outlined a strong vision and shown the intent to bring in change.

"He is focusing on execution and has made bureaucracy accountable.

"The PM has expressed his intent to create an environment for business," says Kiran Mazumdar-Shaw, Chairman & MD, Biocon Industries.

Modi's initiative to invest $6 billion in national highways and state roads, plans to launch bullet trains and the Make-in-India pitch was also appreciated by the CEOs.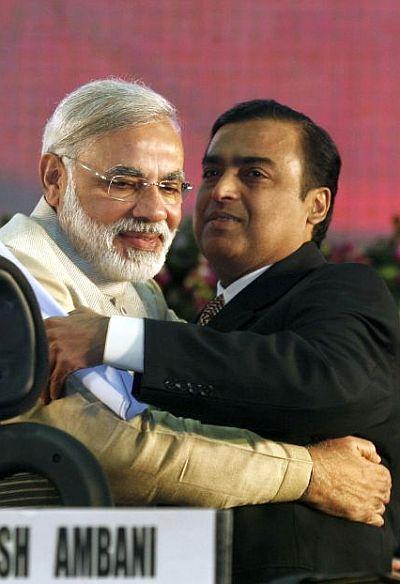 The CEOs said what fell short of expectations was no commitment on the timeline for rollout of GST and 'half measures' on foreign direct investment in defence.

The Modi government did not allow more than 49 per cent FDI following a demand by a section of Indian companies.

But foreign investors are unlikely to transfer technology to the local company till they get at least 50 per cent stake in Indian JVs.

The stock market, which has hit new records in the past three months, was another key indicator of foreign investors' faith in India, CEOs said. Since the Bharatiya Janata Party won the elections and Modi became PM, the Sensex has risen 11 per cent and the market value of BSE stocks is up Rs 12.5 lakh crore (Rs 12.5 trillion).

"The feel-good factor and increased infrastructure spending have made investors happy about future," said Motilal Oswal Financial Services Chairman Motilal Oswal.

Sumit Mazumder, president-designate of the Confederation of Indian Industry, said the government had identified the 'whats and hows' of things to do.

Recognising that India could become the manufacturing hub of the world was a big plus, as the previous government had given manufacturing a go-by, he said, adding that the ease of business in terms of rationalisation of taxes was something industry was looking forward to.

"The common man and the business fraternity have placed a lot of faith in the leadership of Modi.

"They are fully supporting him towards creating India 2.0.

"It will evidently take time for the hoped-for change to be implemented and actually-perceived way to show on ground," summed up Hemendra Aran, CEO & founder of London-based analytical firm, Aranca.
Mukesh Ambani with Prime Minister Narendra Modi. Photograph: Reuters