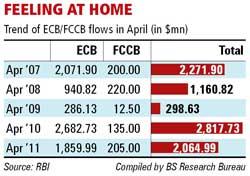 India Inc raised around $2.06 billion abroad in April through external commercial borrowings and foreign currency convertible bonds, compared with $5.63 billion in March, according to data collected by the Reserve Bank of India.

Lower borrowings is partly an outcome of hardening of spreads over the benchmark rates like the London Interbank Offered Rate and the fact that the period was the beginning of the financial year.

Around $1.54 billion was raised by 60 companies through the automatic approval route, which does not require the approval of RBI or the government, while $520 million was raised by the Exim Bank under the approval route, to meet its lending requirements abroad.

State-run Shipping Corporation of India raised $215 million through ECBs for a period of 10 years
and seven months to import capital goods.
Among private players, Suzlon Energy Ltd raised $200 million through FCCBs for a period of five years to fund its overseas acquisition and JSW Steel raised $166 million through ECBs for a period of 10 years for modernisation.
Under the automatic route, Indian firms are permitted to raise up to $ 500 million through ECBs in a financial year.
All other ECBs fall under the approval route, in which RBI considers each case individually.
RBI had recently raised concerns on the refinancing of FCCBs raised by companies during 2005-08, which are due for redemption in March 2013.
"Estimates show a very large proportion of these FCCBs may not be converted into equity, thus requiring refinancing at the much higher interest rates prevalent on Thursday," RBI had said in its third Financial Stability Report.