Big tech companies such as TCS, Wipro and Infosys have either begun or are in the process of calling employees back to office in a staggered manner.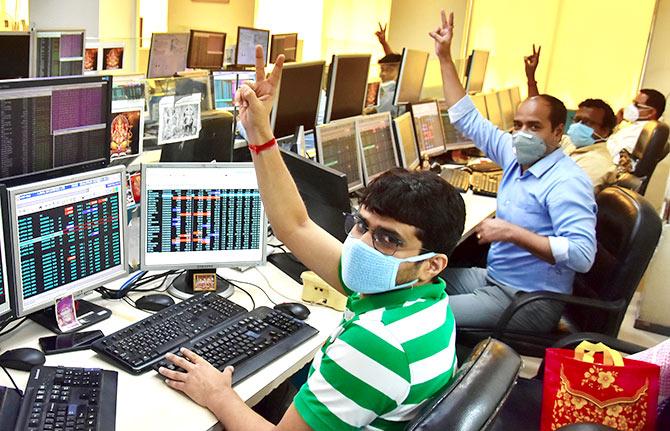 As Covid-19 cases recede, India Inc is once again tweaking work rules.
Big tech companies such as TCS, Wipro and Infosys have either begun or are in the process of calling employees back to office in a staggered manner.
A survey by Aon, a global professional services firm, has found that 60 per cent of tech firms now expect every second employee to come to office.
More than half of the employees working in engineering and manufacturing firms are also being asked to return to work.
Another survey by management consulting firm Mercer shows that nearly six in 10 respondents are willing to work in a hybrid environment where physical presence is mandated in office for some days in a week.
And two in 10 are agreeable to come to the office every day of the working week.
The remaining say they will work only remotely.
So, more and more people are willing to come to the office for at least some days a week, instead of working remotely the entire time.
But is India Inc rolling out the red carpet for returnees with freebies and perks, the way some US companies are doing?
Sam­ple this: A US-headquartered global real estate data company is giving away thousands of dollars each day to one randomly selected vaccinated employee who's back in office.
Vacations to exotic locations on a company-owned private jet are also part of the offer.
At the Goldman Sachs headquarters, breakfast, lunch and ice cream is on the house for those working from the office.
The perks have been thought up after surveys showed many employees would rather quit than return to daily commutes and long hours at their desks.
Retention is a big worry for Indian fir­ms, too.
In recent months, some IT compa­nies have hired people at double salaries besides doling out eye-popping perks such as expensive cars or vacations in exotic loc­ales.
However, incentivising employees to return to their work desks is still not a thing for most.
The Aon survey, th­o­u­gh, did find that some companies are off­ering perks such as school and child-care arrangements, transport facilities and relocation allowance (to employees who've moved to another city during the pandemic).
A Hyderabad-based hedge fund company has promised employees an attractive "relocation allowance" as a one-time incentive to come back to office from October, saying remote work is not an option anymore.
In the case of Telangana, the push may also be due to the state government's nudge to IT companies to call employees to office and thus spur consumption demand. A mid-sized Bengaluru-based digital publishing firm is relaxing its office timings by an hour to allow more flexibility to employees, who are being asked to come to the office at least two days a week from next month.
And social commerce start-up Meesho has just announced a break for all employees after Diwali.
The company will allow everyone leave from November 4 to 14 so that employees can "completely unplug from work" after a busy and frenetic festive sale season.
Most others are, however, focusing their energies on offering a safe and hygienic office environment and emphasising employees' mental well-being by devising specific programmes.
At Samsung India, only those employees who have taken at least one dose of the vaccine are allowed into office.
The office space has been redesigned to ensure social distancing.
Sameer Wadhawan, head of Human Resources, Samsung India, says: "We have embraced the hybrid working model and are repurposing some of our offices for hot desking (allowing multiple employees to use the same work station during different time periods) as well.
"Every employee on the fortnightly roster undergoes mandatory antibody testing.
"Holistic employee wellness is a focus with yoga, medical tie-ups and webinars on mental and emotional well-being."
At Tata Steel, employees continue to have the option to work from anywhere in the country.
Except in the case of critical manpower, where each team has the autonomy to decide whether to call team members to office or continue with "work-from-home".
A Bengaluru-based business enterprises publication has, however, asked employees to quit if they are unable or unwilling to return to the office full-time.
"The return to office is being straddled with the need to balance employee safety, identifying jobs needing collaboration and office infrastructure, and also finding ways to address burnout due to blurring lines between work and personal time," says Mansee Singhal, Rewards Consulting leader at Mercer India.
PR firm Edelman India, meanwhile, has introduced "Daily Down­time", which allows "certain blocked out slots in the working day for team members to tend to things on the personal front," says Pankaj Suri, executive vice president, Human Resources.
"There is a conscious effort to not plan calls or meetings during this time."
Wellness leaves are also an opt­ion.
Photograph: ANI Photo