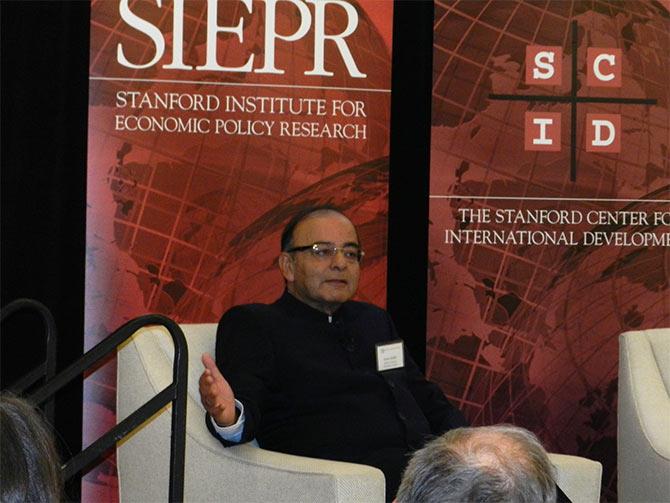 Highlighting India's growth story, Finance Minister Arun Jaitley said it is imperative to maintain high growth rates.
"China maintained over nine per cent growth rate for almost three decades. We have to learn how to maintain a high growth rate for a reasonable amount of time and establish a strong manufacturing sector," said Jaitley said speaking on 'India's Economic Future' at an event held at Stanford University on Tuesday.

"Sustaining the high growth rate for a reasonable amount of period is going to be a serious challenge. Therefore, structural reforms have to go on," said Jaitley who believes economic empowerment of the states will lead to a huge jump of 10 per cent growth.
Optimistic about high growth, he said with all the reforms in the pipeline, improvement in infrastructure, better irrigation and hopefully the clearance of Goods and Service Tax (GST) can give a reasonable boost to the economy, "To get the extra cutting edge shouldn't be very difficult and that's the roadmap we have charted for India."
Confident about bringing down poverty levels, Jaitley expressed hope that poverty levels in India will fall.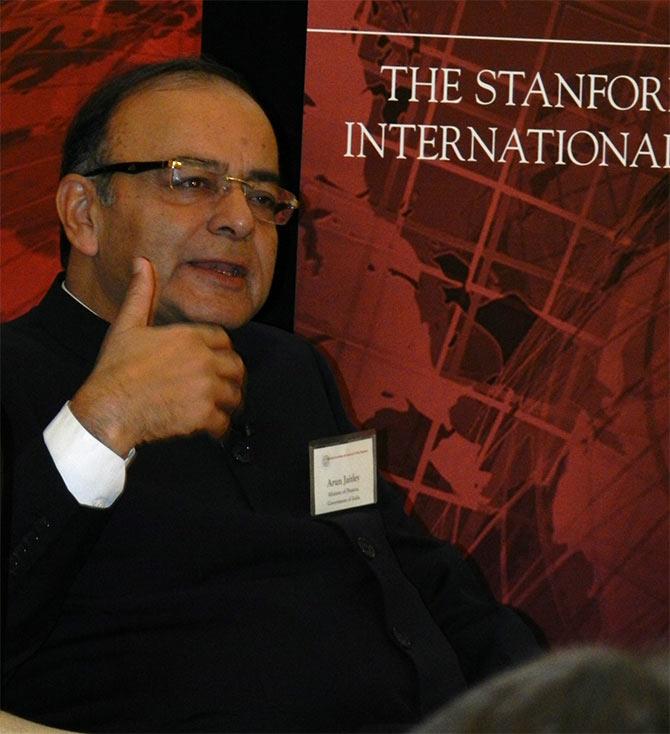 "Hopefully in the next decade or so I do foresee poverty level in India coming down. There will be more cities, urbanisation and smart cities coming up and manufacturing picking up leading to a growth in jobs," he said acknowledging that China's growth has come down to 7 per cent from 9 per cent as they are facing the challenge of a higher wage bill, "So I think it's a time for India to focus on manufacturing to make an impact."
Jaitley also talked about how land reform bill could create jobs for 300 million unemployed farmers.
"Agriculture I think is going to be a big challenge for us because we have to take out people out of agriculture as many are unemployed. One of our proposals in the land bill is to create industrial corridors passing through rural areas."
This would provide alternative source of employment in the rural areas as 300 million people in India's rural areas are landless. So industrialisation in these areas will make a positive impact.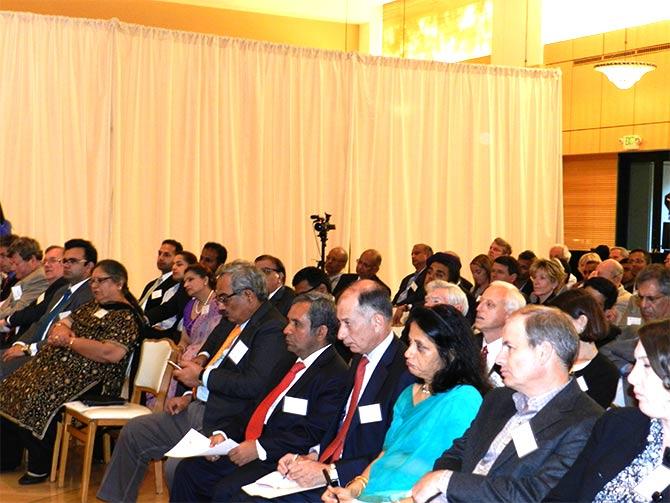 Jaitley also answered a few questions from the audience. To a question on BJP government's plans to make a difference in Bihar, Jaitley said, "Bihar in the last two decades has suffered a setback, you have a huge number of people from Bihar migrating to other places. We are working on assisting Bihar," adding that in a few weeks the central government will be announcing more welfare schemes for Bihar.
The government will focus on improving the infrastructure in Bihar as roads and airports both in Bodh Gaya and Patna are in bad condition. The Bihar government has not been able to exploit its tourism potential.
Meanwhile, Jaitley also had a closed door luncheon meeting hosted by USIBC in collaboration with CII with the theme, "India - The New Land of Opportunity," in San Francisco, California attended by over 45 CEOs and senior executives.
Talking to Rediff.com, Jaitley said, "The investors wanted to discuss the areas of improvement. Some of the issues are useful as it will help us plan better in future."
"Retroactive tax issue was raised at the USIBC luncheon meeting held today," Dr Naushad Forbes , president designate, Confederation of Indian Industry (CII) & director, Forbes Marshall told Rediff.com.
Though the finance minister announced relief on retroactive tax during theBudget this year, there are still doubts about the direction of policy in India since many companies have been served tax notices.
Forbes said, "But there is a legacy of old cases that has been raised Earlier, which are running their course. And Indian companies have been impacted by this."
"But we think he has limits on what he has actually sort out and there are lot of companies facing a notice and there were issues related to clarity on how policy has to be implemented," Forbes said.
The differences in interpretation between government departments and between the central and the state government were also raised at the meeting.
"The government has to sort out these broad areas," said Forbes who also believes that CII has to do a lot of work too. "I am positive, I think he gave a very realistic picture of what's happening in India on the ground and many more important things has to happen," Forbes said.
Talking about the "Make in India" initiative on the defence sector, Jaitley said, "We have opened up defence and we want to start manufacturing in India. A large number of Indian major corporate groups are now taking interest in setting up defence manufacturing establishments India."
Answering the concern from US investors on defence manufacturing that says – "30 per cent of manufactured products should be Indian components, if not companies may get penalties", Jaitley said if investors represent this to defence ministry they will look into the matter.