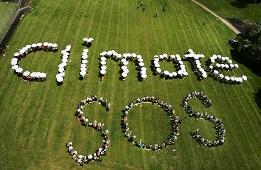 India and China are on board on the controversial issue of opening up of international verification of domestic climate change mitigation measures, Environment Minister Jairam Ramesh said on Tuesday.
He said a proposal from India has already been given for consideration at the UN climate meet at Cancun in Mexico to allow monitoring, review and verification and international consultation analysis of steps taken by it to reduce carbon emission and impact of climate change.
To break the deadlock at the meet which began on day, efforts will be made to bring Brazil and South Africa, two other members of the BASIC group, on board.
"We are certain that they (Brazil and South Africa) would also agree to the proposal," Ramesh said on the sidelines of a function here. China is the world's largest emitter of greenhouse gases while India is the third largest, if the assessments of European Union member nations are to be taken separately.
The
US is positioned at the second place. Besides monitoring of national emissions cuts, India has also given a proposal for sharing of green technologies with poorer countries.
"We are certainly prepared to engage in a system of MRV/ICA of domestic climate actions which respects national sovereignty. . . and we have suggested a set of operational guidelines on how this system will function," he said.
Moreover, he further said ICA is a global system for monitoring efforts that developing countries make to counter climate change by using domestic resources and it is part of the Copenhagen Accord agreed to by developing countries like India and China at the climate meet last year.