Hospitals to recover from sluggish Q3; diagnostics' growth rate at pre-Covid levels.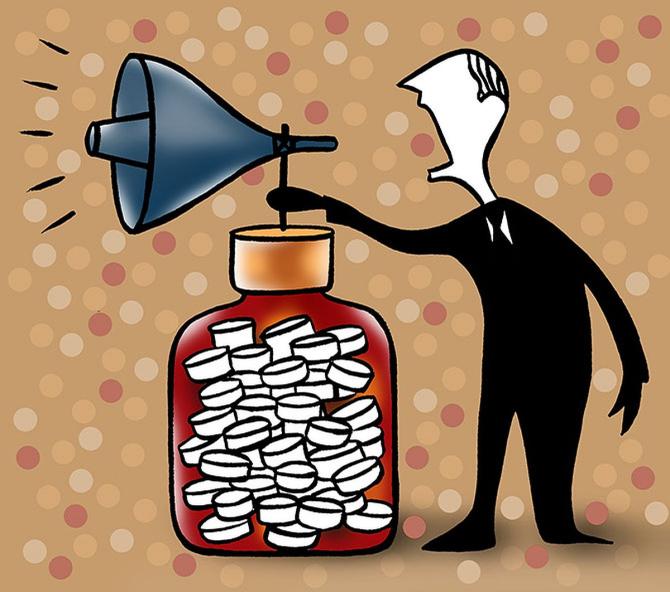 Analysts feel that revenue and EBIDTA growth in the pharmaceutical sector would be in the range of 14-21 per cent in the fourth quarter of the 2022-23 fiscal.
However, revenue growth is flat sequentially, and they see a slight dip in EBIDTA due to price control and field force addition.
Domestic market growth is strong for the quarter at 11 per cent, with Alkem, Cipla and Torrent Pharma likely to be the top performers in this segment, felt analysts at Nuvama Research.
Kotak Institutional Securities pointed out that in a relief to the sector, pharma firms have been allowed to take a maximum price hike of 12.12 per cent in FY24 for the National List of Essential Medicines (NLEM) portfolio.
"Over FY 2020-22, pricing had contributed 400-500 bps to overall India pharma market growth; we have witnessed a slightly higher contribution of 540 bps from pricing in FY2023, aided by the previous year's 10.8 per cent NLEM price hike, amid prevailing input cost pressures," it added.
US sales have been a mixed bag-while some like Zydus Lifesciences and Aurobindo have had good launches, the flu season benefit will recede for players like Ajanta Pharma and Lupin.
Analysts felt the import alert on Sun Pharmaceuticals' Halol plant will take a toll on the firm's numbers.
Sun Pharma's US revenue is expected to decline sequentially thanks to a dip in the generics business due to the Halol import alert. The specialty business, however, is expected to remain steady.
"We expect overall EBIDTA margins at about 24 per cent, impacted partly by Halol remediation cost, consolidation of Concert's cost and IT security incident remediation," Nuvama Research analysts said. Domestic business would post a 7 per cent growth, felt analysts, thanks to drug price control, IT incident (security threat) and also patent expiry of two big products licensed from Merck.
ICICI Direct Research analysts pointed out that traction from the respiratory and anti-infective sales (thanks to the flu season) are likely to boost domestic market sales for the pharma industry.
"Domestic formulations (select pack) are expected to experience a jump of about 13 per cent YoY," the analysts said.
This is to be driven by significant traction from acute therapies like anti-infectives, respiratory, pain and analgesic due to the flu season, incremental chronic disease prevalence, new products introduction, medical representatives and geographical expansion and growing patient awareness campaigns by pharma companies, the brokerage said.
As for hospitals, Q4 is expected to be better than a seasonally weak third quarter.
Fortis Healthcare and HCG are likely to report good numbers, while Apollo Hospitals Enterprise could deviate from the positive trend and post lower occupancy, given long festive weekends in January.
"We expect a 200-basis-point improvement in QoQ occupancy in Fortis Healthcare, steady average revenue per occupied beds (ARPOB) and HCG to report its best quarter," Nuvama analysts said.
For Apollo, however, its pharmacy business is expected to sustain the growth momentum.
"In diagnostics, we see a sequential uptick, around 5 per cent similar to pre-Covid levels, mainly volume-led. We do not build in significant covid contribution, and expect SRL to underperform," Nuvama Research said.
It added that for Dr Lal Pathlabs, non-Covid19 revenues are expected to increase 18 per cent YoY due to low base (excluding Suburban revenues), but 4 per cent QoQ (in line with the pre-Covid years).
in Crores
Security_Name

Net Sales




Q4FY23E

Change %




QoQ

EBITDA




YoY

Change %




Q4FY23E2

PAT




QoQ3

Change %




YoY4

Q4FY23E5

QoQ6

YoY7

Sun Pharm

10,912

-1.7

16.3

3,010

0.1

38.1

2,030

-6.3

325

Aurobindo Pharma

6,351

-0.6

9.6

1,005

5.3

3.2

544

10.8

-5.6

Dr Reddy's Laboratories

6,214

-8.2

14.3

1,547

-22

29

987

-21.5

60.9

Cipla/India

5,769

0.7

10.4

1,226

-12.9

63.5

751

-6.3

107.3

Zydus Lifesciences

4,594

10.4

22.8

994

4

38.6

642

3.1

55.6

Biocon

3,597

22.3

49.3

889

37.9

50.1

287

LTP

20.5

Glenmark Pharmaceuticals

3,332

-1.8

12.5

600

-3.3

29.4

276

1.3

77.5

Alkem Laboratories

2,740

-9.9

10.3

445

-25.7

32

343

-24.7

218.5

Torrent Pharmaceuticals

2,470

0.4

17.4

731

1

-30.1

334

17.9

50.7

Divi's Laboratories

1,842

7.9

-26.8

518

27

-53.1

369

20.4

-58.7
E:Estimate : LTP Loss to profit
Source Bloomberg
Compiled by BS Research Bureau