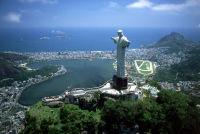 India and Brazil on Tuesday signed a bilateral air service agreement to increase air connectivity, which is expected to boost tourism and strengthen exchanges between the people of the two countries.
The agreement signed here by Minister of Overseas Indian Affairs and Civil Aviation Vayalar Ravi and Minister of Foreign Affairs of Brazil Antonio de Aguiar Patriota allows both the countries to designate any number of airlines on reciprocal basis, unlike in the past when only one airline each was allowed.
The designated airlines would be able to operate a maximum of 21 flights per week in each direction with a plane not exceeding the capacity of a Boeing 747 from any point in each other's territory, via any intermediate point and beyond to any point, said a statement from Civil Aviation Ministry.
Presently, no designated airlines from both the countries are operating.
The designated airlines would be allowed to set up their offices in each other's country.
The new bilateral agreement paves the way for increased air connectivity between both countries and has the potential to spur trade investment, tourism and strengthening the cultural exchange between India and Brazil.
"This agreement supersedes the agreement signed between the India and Brazil on September 12, 2006 in Rio de Janeiro," it said.
Apart from this, it also allows an open sky for all cargo operations between the two countries.
Under this, both countries would be bound to follow the obligations, in accordance with their rights and obligations under international law, to protect the security of civil aviation against acts of unlawful interference.
Also, both the countries would be giving exemptions to a designated airline of the other country under its national law from customs duties, excise taxes, inspection fees and other duties and charges on specific items like aircraft, fuel, and lubricating oil, spare parts of aircraft or engine.

© Copyright 2021 PTI. All rights reserved. Republication or redistribution of PTI content, including by framing or similar means, is expressly prohibited without the prior written consent.