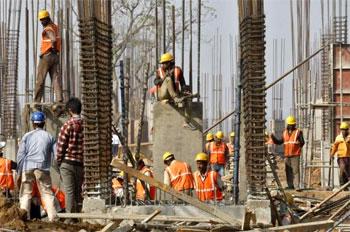 Investments in Indian real estate last year jumped more than two-fold to over $5 billion, helping the country figure in the list of world's top 20 property destinations, according to consultant Cushman & Wakefield.
"India is amongst the top 20 real estate investment destinations for 2014 with total of $5,000 million," global property consultant Cushman & Wakefield said in a statement.
India at 20th rank recorded the third highest growth in investments, with an increase of over 140 per cent in total investment volumes in 2014 at $5,050 million against $2,100 million in the previous year.
Of the total investment volume, the domestic investments were recorded at $3,120 million (62 per cent) and foreign at $1,930 million (38 per cent).
"The Indian real estate investment scenario saw a high point in 2014 reaching highest investment levels in the last five years," C&W said in its report 'International Investment Atlas 2015'.
However, the consultant, said the global real estate investments fell in 2014 for the first time in five years, dropping 6.3 per cent to $1.21 trillion.
"By activity, the USA has moved back to the top for the first time since 2009, with volumes rising 16.2 per cent to $390.6 billion, 16 per cent ahead of China. These two of course dominate global activity with a combined 60 per cent market share," the report said.
Out of total investment volumes in Indian real estate, corporate investments increased sharply at $2,550 million in 2014 against $900 million in 2013.
Private Equity investments too increased to $2,500 million from $1,200 million during the period under review.
Corporate investments transactions include real estate purchases by companies including office or development site assets for end-use, development or investment, C&W said.
"Residential emerged as the sector to receive the highest amount of investment totalling up to $2,600 million while office sector followed closely at approximately $2,000 million," C&W said.
Commenting on the report, C&W executive managing director, South Asia Sanjay Dutt said: "The huge growth in investment volumes in real estate markets in India are proof that investors are already acting out on their expectations of improvements in the ease of doing business in India."
He expects investment volumes to increase even more to match the levels of top 10 global investment destinations.
"Indeed, there is huge longer-term potential if the government addresses supply-side bottlenecks such as poor infrastructure to enhance India's position as a global IT and outsourcing hub, as these could boost private investments (including foreign funds) and ensure all-inclusive growth for the entire population," Dutt said.