Indeed has seen an increase in listings for drivers, food delivery runners, and other service providers.
Karan Choudhury reports.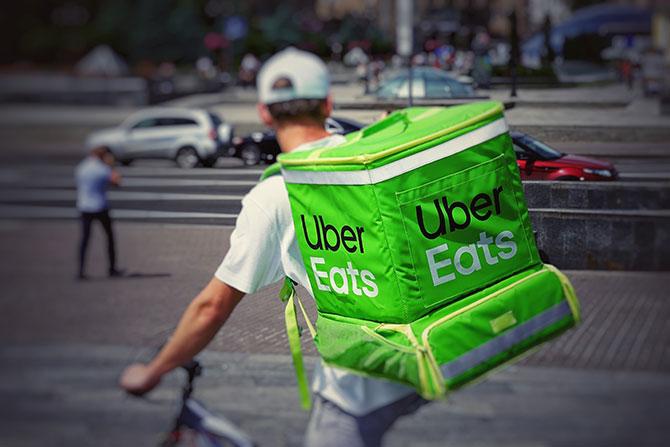 Indeed, one of the biggest job portals in India, is betting big on the ongoing trend of gig economy.
Not only white-collar gig jobs, the company has in the past year seen an increase in listings for drivers, food delivery runners, and other service providers.
"Indeed is all about democratising job opportunities for workers across segments from blue collar to white collar, public sector undertakings, and gig jobs," says Paul D'Arcy, senior vice-president, Indeed.
"In India, Delhi has the maximum demand and opportunity for gig jobs. The gig economy has been one of the most fascinating economic shifts in a long time in how it taps into the need for flexibility," D'Arcy adds.
"Never before has there been the opportunity for so many people to choose how they want to work, and it has been very powerful. The gig economy is here to stay. The growth is amazing," he points out.
He, however, adds that the most of the companies that are promoting the gig economy are not profitable.
"So, the entire sector is still funded by investors. Therefore, it will be interesting to see how that evolves to a permanent state," says D'Arcy.
Traditionally, such jobs portals mostly list white-collar jobs, but Indeed is making an effort to list blue-collar and services-related jobs as well.
It has seen a large number of companies who, while initially hired organically, are using the services of firms like Indeed.
"We are working with some of the biggest companies in the country to help them hire quality, drivers, runners, plumbers, and carpenters. We help them hire the right kind of talent after doing all the proper verifications," says D'Arcy.
Recent data from Indeed suggests that the Indian labour market is experiencing a shift towards the gig economy, with an increasing number of workers seeking contractual or freelancing opportunities.
'With recruiters rethinking their remote work programmes, 7.7% of all companies's postings on the Indeed platform in India offer flexible work opportunities,' the study says.
'In addition, 2.8% of all job postings on the site from India are for part-time or contractual roles,' it adds.
'The leading sector in terms of job flexibility, as the data from Indeed indicates, is the service sector, with the role of examiner offering flexible work arrangements in 75.2% of all job postings,' the study explains.
Data collected by Indeed between January 2013 and October 2017 indicates a seasonal trend in contractual hiring in the sector, where jobs of this nature increase towards the close of the year and remain relatively low at other times.
According to a recent study Future of Work -- Trends at Work and Workplace by Kronos Incorporated in association with the Society for Human Resource Management, the top trends impacting workforce management include flexible working hours, gig employment, remote working, evolving job roles, enabling technologies, and automation.
The report reveals that the gig economy has caught up with new age and traditional organisations alike.
When it comes to contract or gig employment practised by 96% of Indian companies, 66% believed it can increase productivity, and 61% said it can improve compliance.
While employers in the auto-ancillary industry voted this trend as the strongest disruptor (78%), the general services and BFSI sectors followed the suit at 57% and 50%, respectively.