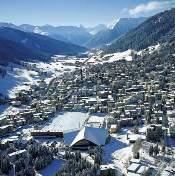 The new world order that has emerged from the recession of 2008 is very complex, interconnected and unpredictable.
Even as emerging economies enjoy autonomous growth, it's evident that nobody is insured against global shocks.
As the 2,500-strong contingent - comprising 30 heads of state or government, key ministers, along with religious, media and cultural leaders, social entrepreneurs and heads of NGOs from 50 countries - congregates in Davos this year, the mood is more reflective than celebratory.
While economic activity across the globe is expanding, there are concerns about its resilience.
The challenge for each economy is to become resilient against such unforeseen shocks. Explains Kamal Nath, Union Minister for Urban Development: "India continues its growth momentum and it has proved itself as a credible economy.


This year's message will focus on inclusive growth as developing economies must have healthy growth.

While India will be looking at foreign investment this time too, we are now a fairly large investor too in other economies."


Far from being self-congratulatory, this year's World Economic Forum (WEF) will focus on global power shifts, economic uncertainty, resource scarcity and institutional weakness.

These four trends are set to drive global affairs in the next 12-18 months. Soon after the world slumped into a recession in 2008, the World Economic Forum created a Network of Global Agenda Councils, which became responsible for mapping interrelationships, monitoring key trends and risks, addressing knowledge gaps and developing recommendations to address key challenges.

At this year's Summit on the Global Agenda in Dubai, council members highlighted these four key trends. Clearly, Environment and Forests Minister Jairam Ramesh's role is cut out in this new world order, where scarcity of resources will mean striking a greater balance between man and nature.

As the axis of power shifts to emerging economies, India will be the cynosure of everyone's eyes. As economic and political power is becoming more widespread, emerging markets have become centres of growth and political decision-making.

With economies like India, China, Brazil and Asean clocking annual growth of over 5 per cent, these economies are likely to see a high degree of interest from global investors.

Consequently, the volatility and ambiguity across these markets will lead to irrational investor behaviour, creating the potential for currency wars, fiscal crisis and persistent global imbalances.

Risk, clearly, will come in many forms. Not surprising then that it's one of the key issues the Summit will try to address.


On the challenges in the new world order, Infosys CEO S Gopalakrishan says: "Companies must ask themselves if they will be able to survive in case their revenues drop by 20 per cent. Companies must invest in technologies that help them develop early warning signals to understand where and when downturn can happen."


Despite this interconnectedness, this year will be different for different countries as each region will grow at a different pace. This differential growth will determine each one's priorities.

If the US will focus on job creation, Europe and Japan will focus on accelerating growth that is sustainable.


According to Gopalakrishnan, "Emerging economies will have to focus on governance and leverage growth in a manner that will benefit people at the bottom of the pyramid".
Despite these varying strains running across different economies, the underlying theme will have to be resilience.


A 130-member delegation from India will participate in the WEF's Annual Meeting in Davos-Klosters, Switzerland, from January 26-30. The delegation comprises high-ranking government officials, CEOs of major Indian companies, media and civil society representatives.

The main attraction at this year's Annual Meeting will be CII's 'India Inclusive' campaign, which aims to raise India's profile as a vibrant democracy, a fast-growing stable economic power, and a hub of culture and art.


The campaign plans to bring the best of India in business, politics, arts and culture, social entrepreneurship, science and technology.


A steering committee under the co-chairmanship of Mukesh Ambani of Reliance Industries and Sunil Bharti Mittal of Bharti Enterprises has been formed to guide this effort.


The theme paper for the 'India Inclusive' campaign has been drafted by Unique Identification Authority of India Chairman Nandan Nilekani.


According to Nilekani, "The country's (India's) role as a 'Goldilocks economy', where growth is high yet stable and sustainable, makes it an attractive investment destination. And its growing emphasis on inclusive development will aid India's dynamism in the decades to come".


This year's theme of WEF's annual meeting is 'Shared Norms for the New Reality'. Davos 2011 reflects the foremost concern of many leaders, namely, living in a world that is becoming increasingly complex and interconnected and experiencing an erosion of common values that undermines public trust.