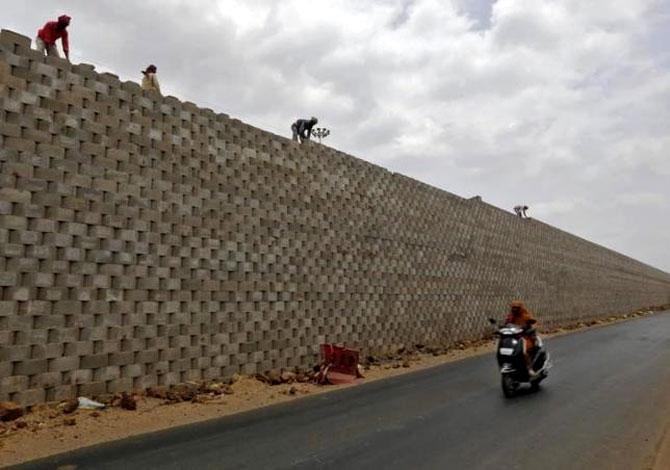 'Road safety is the highest priority for our government because every year there are 500,000 accidents and about 150,000 deaths.'
Rediff.com's Aziz Haniffa reports from Washington, DC.
He is keen to clean up the blatant abuses of the vehicle and operator licensing system in India, Union Minister of Road Transport and Highways and Shipping Nitin Gadkari has said.
The minister has sought the help of US technology, expertise and innovation to make road safety a priority in India.
During his visit to Washington, DC, Gadkari met US Secretary of Transportation Anthony Fox and other senior US officials.
He also met leading American representatives of Fortune 500 companies at a luncheon hosted by the US India Business Council.
There he exhorted US investors to avail themselves of 'the golden opportunities' that now exist in India in infrastructure sector.
In an interaction with the media in Washington, DC, Gadkari acknowledged that there are people in India who possess several driving licenses, "one in Jaipur, one in Delhi, and another in Mumbai... and I know how they get these licenses."
"It's very unfortunate, it's a very bad period, (but) now we are serious about it and we are going to take all the preventive measures," the minister added.
According to the minister, a National Register of Licenses is on the anvil and "suppose your car is registered in one city in Nagpur, and you take a driving license in Delhi and meet with an accident, your total record of 25 to 30 years will be available there."
"In the new bill, there is not only a provision for fines -- but if you commit a crime (driving violations) three times, your license will be cancelled for one year."
"Then there is a provision that we can cancel the license permanently if he commits the same crime again and again," Gadkari said.
"In India," the minister said, "we are facing the problem of road accidents and we have 96,000 kilometres of road length as national highways. 40 per cent of our national traffic are on these 2 per cent of roads."
"That is one of the reasons why we face a lot of accidents on our national highways," Gadkari added.
"Road safety is the highest priority for our government because every year there are 500,000 accidents and about 150,000 deaths."
Following his discussions with Foxx and other officials on Monday, July 11, Gadkari said, "we are taking a cue from the US government's road safety and the intelligent traffic management system -- we are going to implement this system in India."
The Road Safety Bill, the minister said, is "now in the final stages," and would be shortly "submitted to Parliament for approval."
"We have discussed our problems related to road safety with the Secretary (Foxx). There was an interaction with different secretaries involved with different transportation, particularly road, inland waterways, aviation sector. The good thing is the Secretary has assured us of all types of cooperation," the minister added.
"There were detailed discussions on the rules, regulations, software the US has developed, technology, innovation," Gadkari added.
"Regarding road engineering," the minister said, "we have talked about flyovers, concrete pavements. . .there are codes -- rules and regulations -- for construction.
"We have discussed all these issues and the US has agreed to offer technical cooperation for standardisation of Indian codes for construction of roads, bridges and flyovers."
"Foxx and other officials have agreed to share with us the US manuals on rules and regulations, codification, from the National Highway Traffic Safety Authority of the USA," Gadkari added
"I believe it is a big task for the Indian government, and particularly for my department, to save the lives of people."
During the luncheon hosted by the US-India Business Council and also during an appearance at The Atlantic Council -- a DC-based think-tank -- the minister had made a strong pitch for infrastructure development in India.
He explained to the audience that the "Indian scenario has totally changed."
Gadkari said he had emphasised that "with Prime Minister Narendra Modi taking charge, we decided to give maximum priority to infrastructure development."
At the time the Modi government took over, he said, "road construction was at 2 kilometres per day. But today, within two years, it is 20 kilometres per day -- 10 times more."
"Already we have taken a decision to convert our national highways from 96.000 kilometres to 200,000 kilometres," he said, "Out of which 55,000 kilometres we have already cleared."
"Naturally, therefore, there lies huge opportunities for the investors in the road sector."
Gadkari bemoaned that "in the Indian scenario, the cost of logistics is 18 per cent and that is one of the obstacles for exports. In China, it is 8 per cent and in European countries, it is 8 to 12 per cent."
"By creating coastal transport and transport by inland waterways, we can reduce the logistic cost by up to 12 per cent," he explained.
"Only then we will be able to fulfil the Make in India and Made in India dreams of the prime minister," the minister said.
Asked if American investors at the USIBC luncheon had expressed any concerns and if they had urged more reforms to attract US foreign direct investment, Gadkari said, "At present, there are no road blocks -- no land acquisition problems, no forest clearance problem."
"At the time, I took charge, 403 projects were there with the state governments and with our department."
"Out of them, we have solved 95 per cent of the problems," Gadkari said.
"Our Cabinet has approved 21 decisions from my department", he added.
"The prime minister has given us the task to complete the road highways within 400 days. We accepted the challenge and we are working fast. Today, we got the confidence that we will be in a position to complete this project within the given time frame."
"Work culture in India has changed and there are no road blocks," Gadkari argued.
The USIBC roundtable with the minister was attended by senior executives of US and Indian companies, including TransAsia Infrastructure, Uber, Bentley Systems, Tata, Caterpillar, Moody's, DLZ Corporation and Texas Instruments.
The discussion centred around Gadkari's plans and vision to strengthen India's infrastructure, investment opportunities in road construction and port-led industrialisation, and how US industry can collaborate with the Government of India.
"With an upsurge in India's e-commerce markets and the unprecedented growth in Indian cities, there is a critical need for advanced logistical services and better transportation infrastructure," said USIBC President Dr Mukesh Aghi.
"India needs $1 trillion for developing new roads, ports, rail lines, and airports over the next few years and US companies can provide the necessary expertise as well as capital to enable the robust growth of this sector," Dr Aghi added.
"We are excited to witness the rapid growth of this sector. Under Minister Gadkari's leadership, road construction rates have gone up, infrastructure spending has received a boost and India has jumped ranks in the Logistics Performance Index," Dr Aghi pointed out.
Dr Ravindra Verma, managing director, TransAsia Infrastructure Group, a confederation that manages and executes multi-modal integrated transport and logistics infrastructure in Asia, provided the industry's perspective during the discussion.
"Under Minister Gadkari's leadership, the Indian highways sector is now at a critical turning point. More than $100 billion in capital is now needed over the next several years to expand existing corridors and build new ones to keep up with the growth in traffic," Dr Verma said.
"This presents an opportunity for all players in North America to mobilise resources on a major scale," Dr Verma added. "We are now gathering over $1 billion in global capital towards a dedicated multi-modal surface transport platform RoadStar, with major focus on India."