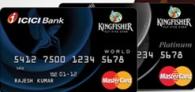 Top private sector lender ICICI Bank has decided to discontinue its co-branded credit card with Kingfisher Airlines in the wake of continued grounding of the debt-laden air carrier.
"ICICI Bank and Kingfisher Airlines co-brand Credit Card programme has been discontinued due to discontinuation of Kingfisher Airlines services," the bank said in a communication to its customers.
"As a result, the ICICI Bank Kingfisher Airlines Credit Card will be valid till March 31, 2013," it said, while asking the card users to opt for another credit card from the bank.
The bank further said it will issue an 'ICICI Bank Platinum Visa Credit Card' to the users of ICICI-Kingfisher card without any annual fees from March 15 onwards with same interest rate and credit limit as that on the existing card.
The customers would, however, be free to opt for any other card available with the bank as per their requirements.
ICICI Bank used to be a major lender for the ailing airline, but later sold off its entire Kingfisher debt of Rs 430 crore loans to a debt fund managed by SREI Infra Finance in July 2012.
Engulfed in a major crisis involving huge debts of over Rs 7,500 crore and non-payment of staff salaries, Kingfisher Airlines had to ground its services last year and the carrier is still struggling to revive its operations.
The airline has never posted a full-year profit and it has accumulated losses of about Rs 8,000 crore.
A host of lenders, including public sector giant SBI, recently decided to start the process of recalling their loans to Kingfisher after months of discussions with the airline management for recovery of their debt and revival of the carrier's flight operations failed to yield desired results.