With assets depreciating over time, it will lead to large haircuts for lenders and creditors, say experts
Illustration: Dominic Xavier/Rediff.com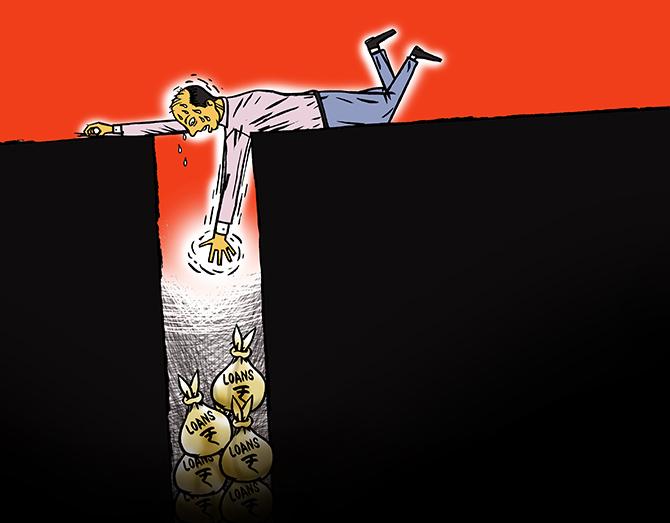 The majority of companies going for liquidation under the Insolvency and Bankruptcy Code (IBC) have been non-operational for almost over a decade.
With assets depreciating over time, experts say, the demand from buyers will be "muted", leading to large haircuts for lenders and creditors.
"These companies have not been doing well for a considerably long period and efforts have been made in the past to revive them, but these failed," said Anil Gupta, vice-president at ratings and research firm ICRA.
In an email response, ICRA told Business Standard of the 87 firms identified in March this year for liquidation, 74 were under the purview of the Board for Industrial and Financial Reconstruction (BIFR) and are non-operational.
The BIFR was set up in 1987 as part of the Department of Financial Services under the Ministry of Finance to assist in the revival of sick industries and companies while shutting down the others.
It was dissolved in December 2016, when the government enacted the IBC and referred all BIFR proceedings to the National Company Law Tribunal (NCLT).
An additional 50 companies have been ordered for liquidation after their corporate insolvency and resolution process (CIRP) since March, bringing the total to 137 (as of date), according to the Insolvency and Bankruptcy Board's (IBBI's) website.
"There were cases under the Sick Industrial Companies Act and BIFR, and similarly cases in the high court(s) where winding up orders were not passed.
"Some cases in the BIFR were pending for 10 to 15 years," said RK Bansal, managing director and chief executive officer of Edelweiss ARC.
He said once these cases were transferred to the NCLT(s), there was nothing left for the tribunal to do but pass winding-up orders for the liquidation of these companies.
"As most of these companies are old with closed plants, the value will mainly be in terms of scrap or land assets.
"There is always the prospect of considerable degradation of the assets, or depreciation.
"I do think there will be great value in plants because it will mainly be old technology.
"In spinning, for example, a ring frame could work for 30 to 50 years, but one needs to change certain parts, so depending on the needs of other companies there could be some demand," Bansal said.
Even when insolvent companies are treated as a "going concern", there has been limited participation from competing firms in the market, with the number of buyers limited to only two or three.
"For example, a power plant is likely to fetch more value if liquidated as a going concern, whereas a company with multiple manufacturing units may fetch more value if liquidated in a slump sale, or in parcels, and possibly the assets of a real estate company may fetch more value if sold separately," Gupta said.
Both Bansal and Gupta agreed that a market interest in these assets would depend on the nature of the assets (plant and machinery or land assets), the amount of depreciation, and the frailty of the technology.
"Where there are tangible assets like land, real estate, mining rights and operational plants, there may be some active interest from buyers.
"However, cases where the assets include non-operational or obsolete plant and machinery or receivables (such an engineering and construction companies), buyers' interest is limited," said Gupta.
Bansal said as far as companies that were going for liquidation were concerned, asset reconstruction companies (ARCs) such as Edelweiss ARC would not participate in the purchase of assets.
ARCs are essentially financiers, he said. They buy the debt of insolvent companies from banks if there is an interested strategic investor or if there is a good chance of turnaround for the company.
"Given the uncertainties involved for the new buyer, discounting or hair-cuts are expected to be large in most cases.
"Operational creditors, which typically tend to be unsecured, are likely to lose their claims," Gupta said.