Piyush Pandey retiring?!

'I'm not going anywhere,' says O&M's South Asia executive chairman.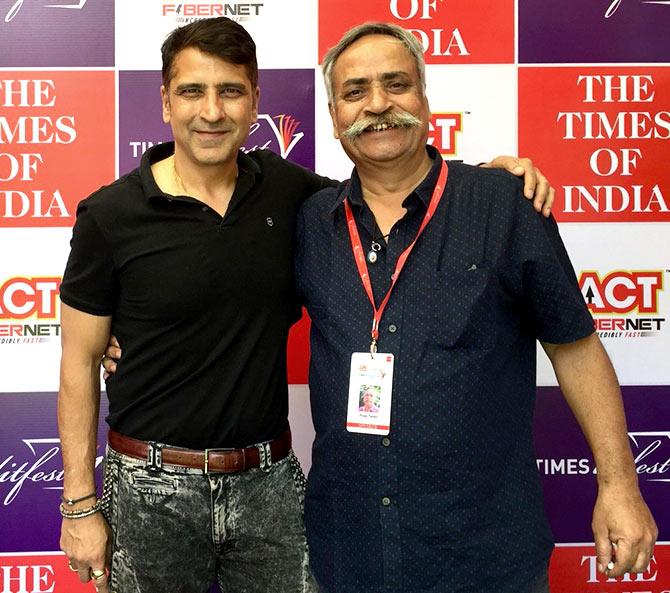 IMAGE: Sonal Dabral, chairman, left, and creative officer of DDB Mudra Group with Piyush Pandey, the South Asia executive chairman and creative director of Ogilvy and Mather, shared the stage at a recent litfest. They will soon share creative and office space when Dabral joins Ogilvy India in October. Photograph: Kind Courtesy @agracadabra/Twitter.
Since the surprise announcement of Sonal Dabral's appointment as Ogilvy India's group chief creative officer and vice-chairman on Monday, the advertising agency's South Asia executive chairman and creative director Piyush Pandey had to contend with buzz about his retirement.
The 62-year-old adman tells Viveat Susan Pinto that he prefers being a playing captain where he is "not only building a team but also scoring runs."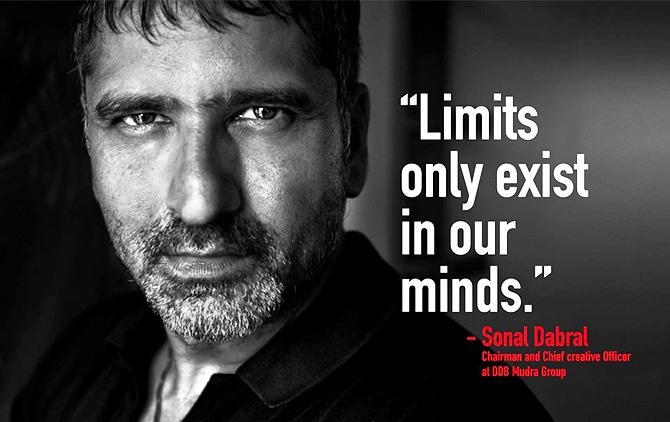 IMAGE: When Sonal Dabral joins Ogilvy "he will look at creative matters within the digital side of the business and all other group companies." says Piyush Pandey, the agency's executive chairman for South Asia. Photograph: @agracadabra/Twitter.
How do you feel having Sonal on board? And, what would the role as group chief creative officer and vice-chairman entail?

Sonal is a very dear friend. It was my dream to have him back. The time is right. I'm thrilled.
The group chief creative officer and vice-chairman is like a national creative director's (position). We are now calling it chief creative officer. The group CCO will have a mandate that goes beyond managing creative affairs in mainline advertising. He will look at creative matters within the digital side of the business and all other group companies. It is a larger role in that sense.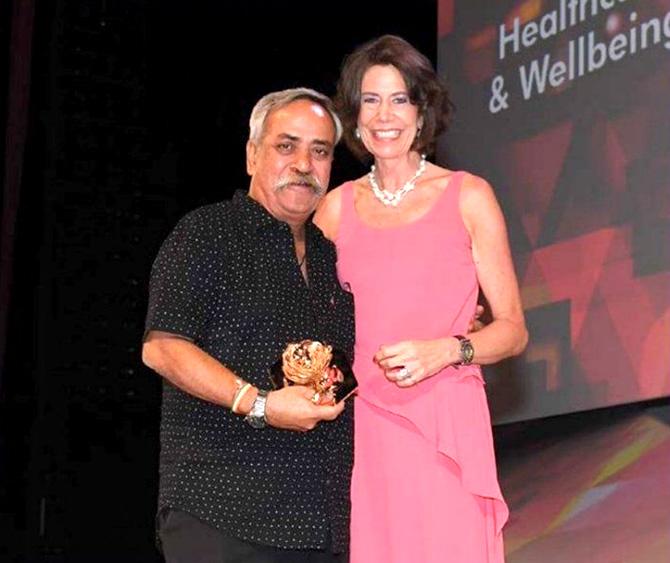 IMAGE: Ogilvy India's creative head Piyush Pandey receives an award in Cannes for the Savlon Healthy Hands Chalk Sticks campaign in June this year. The agency picked up nine Lions. Photograph: @IMPACT_onnet/Twitter.
What happens to Rajiv (Rao) who was Ogilvy India's national creative director? Will he get another role now that Sonal is coming on board as group CCO?

Rajiv is a rockstar and like my son; I will reveal things in the next few days. [Editor's Note: Rajiv Rao subsequently announced his decision to leave O&M to pursue his dream of making films].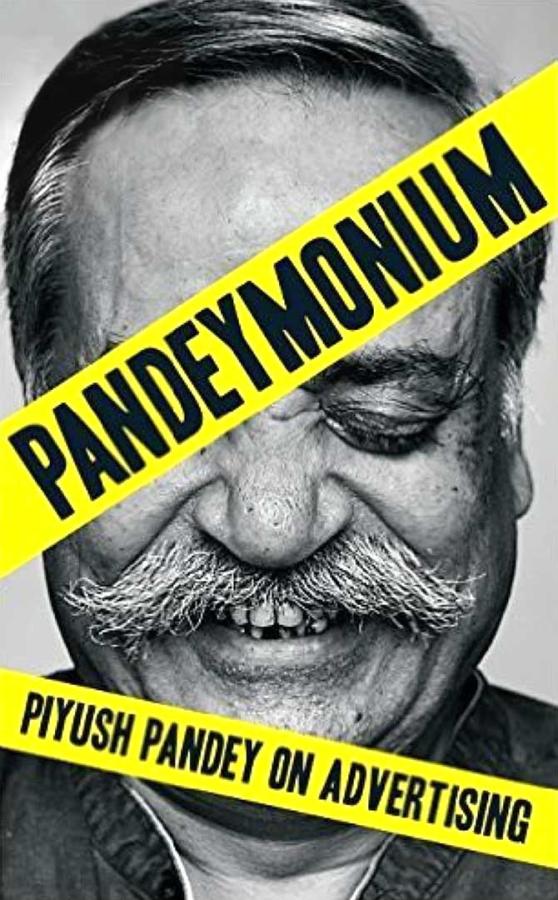 IMAGE: In 2015 Piyush Pandey's book on his journey into advertising was published -- Pandeymonium.
Are you grooming Sonal and Rajiv to take over the mantle at Ogilvy India once you decide to move on? Buzz about your retirement has only grown since the announcement of Sonal's appointment.

I am aware of that. As long as my mind and body are working, I am not going anywhere. Some industry people have been speculating about my retirement. I've this to say to them: I am here for a long time and I'm here to give them grief (laughs)!

On a serious note, I am like a playing captain and that's what I've learnt in cricket. You have to build a team, but also score runs.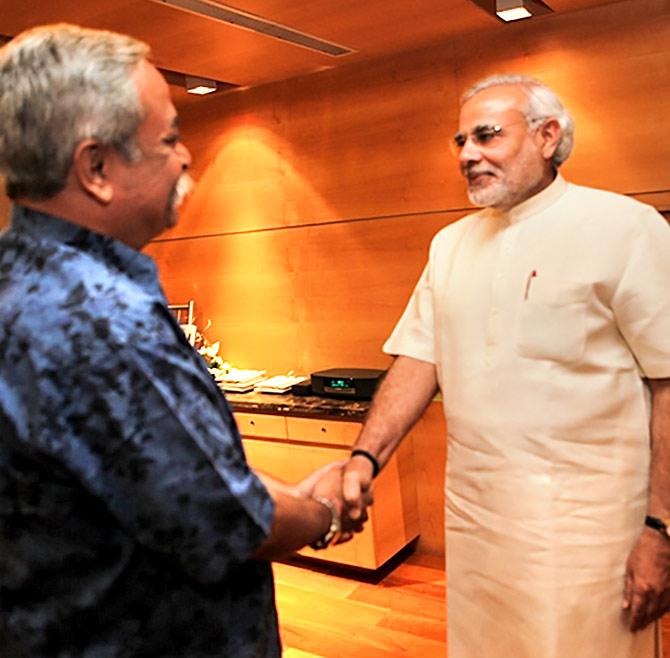 IMAGE: Piyush Pandey meeting Prime Minister Narendra Modi. Pandey first worked with Modi for the Gujarat Tourism campaign and has subsequently been the creative mover behind many BJP and Modi promotional efforts. Photograph: Kind Courtesy www.narendramodi.in.
When do you think Sonal can join Ogilvy now that his appointment has been announced? He was slated to leave DDB Mudra by the end of September this year.

I respect Sonal's commitments with DDB Mudra. If they release him earlier that would be great. If they don't and if he has to serve his full notice period till the end of September, then he'd come on board (at Ogilvy) in October.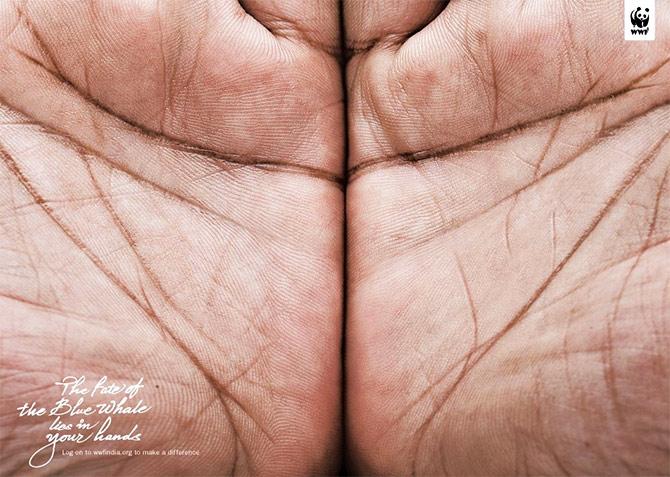 IMAGE: This 2009 Ogilvy India campaign for WWF, that Piyush Pandey's team created, won much praise.

What is your vision for Ogilvy now that you are putting a high-powered team in place at the top?

We are a large company with huge responsibility towards our brands for which we require a team of skilled people. Our team includes Kunal (Jeswani) as the agency's CEO, Kapil (Arora), who heads Delhi operations, (Kiran) Ramamurthy who is head of the Bengaluru office, Madhukar Sabnavis, who leads thought leadership at the agency.

On the creative side, Sonal is joining. Harshad (Rajyadhyaksha) and Kainaz (Karmakar) have done well this year at Cannes. There is Sukesh Kumar Nayak (in Mumbai); Ajay Gehlaut in Delhi.
There are Azaz Haque and Mahesh Gharat, who are part of the senior creative team in Bengaluru. In short, I'm blessed with a fantastic team and these guys will continue to grow.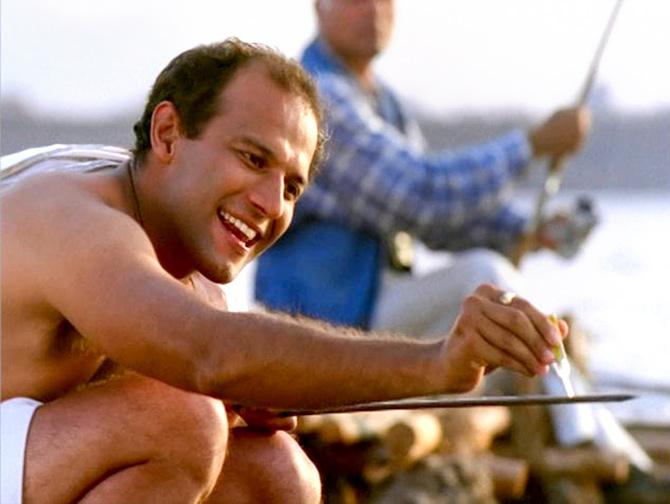 IMAGE: Piyush Pandey, Ogilvy India's creative director, who has won over 600 awards, has said, in an earlier interview to indiantelevision.com that the five favourite advertising campaigns he worked on were Fevikwik (above), Asian Paints's Har Ghar Kuch Kehta Hai, Cadbury's Kuch Khaas Hai, Fevicol and the polio campaign with Amitabh Bachchan.
Which are the areas that require attention at Ogilvy?

The mainline advertising and digital teams work together. That means we are thinking digital even as we work in print, television or outdoor. We are in a great place and we can only get better from here.
E-commerce, however, is an area where we need to devote our attention. We are doing great work for Amazon India (Ogilvy's client in Bengaluru). There is always scope to get bigger and better in this space.