A number of insurers offer health policies designed especially for senior citizens, reports Sanjay Kumar Singh.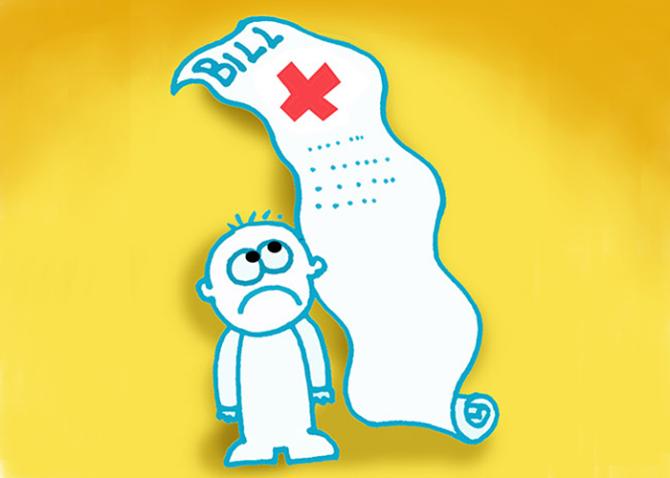 Noida resident Sumeet Chauhan, 60, is a worried man these days.
Having recently retired from a job in the private sector, he has realised he no longer has the group health insurance cover that his company provided.
He wants to buy a policy, but is not sure if he will get one, since he suffers from high blood pressure and has been taking medication for it for a few years.
Chauhan need not worry.
While 10 years ago, someone in his position would have indeed found himself in a predicament, today a number of insurers offer health policies designed especially for senior citizens.
Tailormade for the elderly
Routine health insurance policies have restrictions on entry age.
Usually you can't join them after 60 or 65.
Senior citizens's policies allow entry even at an advanced age.
"Our senior citizens' policy allows entry even to those aged 65-74," says S Prakash, joint managing director, Star Health and Allied Insurance.
These policies don't come cheap (please see table).
As a person's age rises, her/his probability of getting one disease or another rises, hence insurers charge a higher premium.
While the premium of people who entered a health policy at an early age also rises, they are likely to be charged less than a person who enters at 60.
"Early entrants get the benefit of no-claim bonus. Such people also do not face a waiting period for pre-existing diseases," says Arhan Gotadke, lead partner-employee benefits, JLT Independent Insurance Brokers.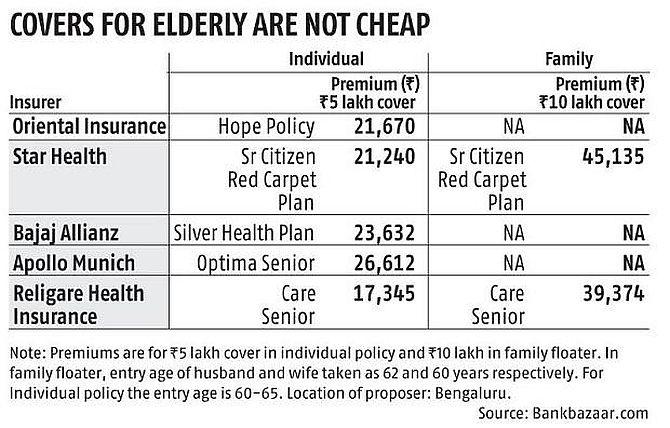 Nonetheless, it is better for senior citizens to buy a health policy.
"Do a cost-benefit analysis. You may consider a premium of, say, Rs 25,000 to rs 30,000 expensive. But the cost of funding a major treatment can sometimes run into lakhs. In such an event, this premium will appear relatively small," says Mayank Bathwal, chief executive officer, Aditya Birla Health Insurance.
Even those who have a corpus would be better off buying a policy.
"If you contract a major ailment, your entire corpus could get wiped off and you may be left with very little to meet other expenses, or to bequeath to the next generation," says Prakash.
Misconceptions galore
Many people believe that senior citizens, who usually have a health condition or two, can't get a cover.
"They can, even though it's harder," says Navin Chandani, chief business officer, BankBazaar.
The salaried class often does not buy a cover for their elderly parents because they have a corporate group cover that also covers the latter.
"Corporate covers usually do not exceed Rs 2 lakh to Rs 5 lakh and hence often prove inadequate. And what if you lose your job or decide to start your own business?" says Bathwal.
Senior citizens often go for the first policy offered to them, instead of comparing the merits and demerits of various offerings.
"With more options becoming available, they can evaluate all of them and then take a decision," says Anik Jain, co-founder and chief executive officer, Symbo Insurance.
Key criteria to consider
The senior citizens's policy you buy must offer scope for enhancing the sum insured.
"Also make sure that the policy is a full-fledged one, and not a pilot policy.
"The latter can be discontinued at any point, leaving you in the lurch," says Prakash.
Pay attention to the waiting period for pre-existing diseases.
"It can range from 18 months to four years. Go for a policy with a lower waiting period," says Jain.
Similarly, the co-payment requirement (the portion of the bill the insured has to pay) tends to be large in these policies.
"While a 10 per cent co-payment may be okay, 30 per cent is rather stiff," adds Jain.
Also watch out for sub-limits on room rent, ICU charges, and even on treatment of specific diseases.
"Go for a policy with minimal restrictions," says Bathwal.
Make full disclosure
At the time of applying, make a list of all the conditions you have had in the past and fill in all of them in the proposal form.
This is the biggest reason for claim rejection and hence should be taken very seriously.
Read the policy document, try to understand its clauses, and then fill in the form yourself, instead of just signing on the dotted line.
Also buy adequate cover.
Keep in mind the cost at the hospital you would want to go to.
"You also need adequate cover to cope with galloping medical inflation," says Chandani.
If your proposal gets rejected
If your proposal is rejected by one company, try another.
Different insurers have different underwriting policies.
One may be willing to accept a risk that another will not.
If you are not able to get a retail cover, Jain suggests trying for a group cover offered by banks to their customers.
Their terms and conditions for coverage tend to be less stringent.
If you are not able to buy a policy, or the cost is very high, create a separate health corpus which you should keep in a fixed deposit or a liquid fund.
Complement this with a super top-up policy, which is easier to get.