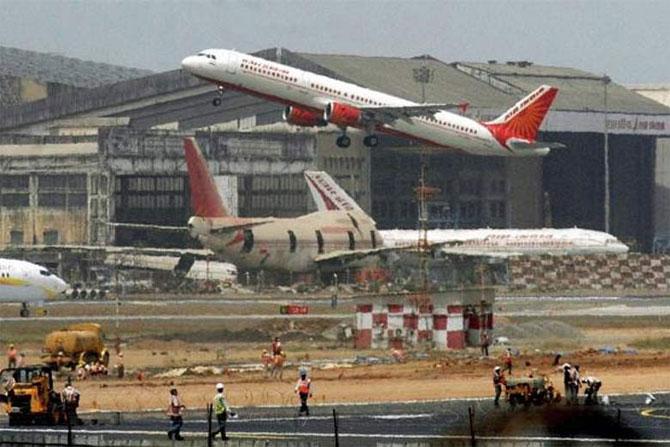 'The regional market has been brought to life. This is a big development in India's aviation sector,' says Civil Aviation Minister Jayant Sinha.
On Friday, the Narendra Modi government unveiled its most ambitious scheme of taking flights to India's smaller towns by making it affordable.
Jayant Sinha, minister of state for civil aviation, image, below, talks to Arindam Majumder about the economics behind the scheme and the steps that he thinks will kick-start the regional aviation market.
There are many sceptics who question the viability of the regional connectivity scheme. What steps have you taken to enable the regional aviation market?
If we look at the national aviation scenario, most of the traffic is between large airports. So, how do we connect Bikaner, Udaipur, Kota to Jaipur or Meerut, Moradabad, Varanasi to Lucknow? It was not possible because the regional aviation market was not doing well.
What we have done through the UDAN (Ude Desh ka Aam Naagrik) scheme is to strengthen the regional aviation market. It is a first-of-its-kind scheme, where you bid on a per-seat basis.
There are three important things in this scheme that will jump-start regional aviation. First, we have increased the exclusivity period from one year to three years. If you win one route in the bidding process, you can run it for three years without anybody coming there. Second, we're taking steps to reduce airport charges at metro airports. So, if you're flying from, say, Silchar to Kolkata, there will be no airport charges in Kolkata. That obviously reduces the cost of flying.
At the same time, we are trying to make a liquid market for lessors in case of smaller aircraft to enable easy leasing. With all these steps, the regional market has been brought to life. This is a big development in India's aviation sector.
You look at the large aviation markets such as the US, Australia or China, which are also large geographies, you always have the hub-and-spoke model where you have big airplanes flying in the major routes with smaller airplanes working as feeder service.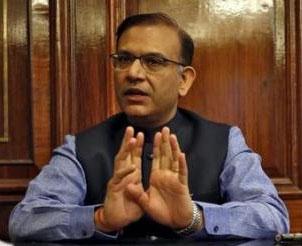 How will you make it viable for a small entrepreneur to get an aircraft and participate in the scheme? It is very costly.
Today, if you want to start a regional airline and cover 10-20 cities with three ATR-72, it can be very costly as buying an ATR can cost you $7-10 mn (Rs 67 crore). So, we had to help create a liquid, vibrant market feasible for lessors of small planes. Today, there exists such a market for leasing narrow-body aircraft and wide-body aircraft because the lessor can repossess them easily.
We're working on a process where the entrepreneur can keep a security deposit of three to six months, depending on business risks, and start on a variable-cost basis rather than a fixed-cost basis. The cost of running a 72-seater aircraft is Rs 1.76 lakh per hour. One can put in a few crores as security deposit, get an ATR, bid for the route and start flying. We have reduced the entry barriers dramatically.
Are lessors around the world enthusiastic about leasing smaller planes?
There is no shortage of lessors who lease out smaller planes. They are excited about India's regional aviation market. We are working on steps to reduce the risk for the lessors. For example, if you cannot repossess the aircraft within 90 days, then we can provide some kind of support and guarantee for you.
What kind of business do you think regional aviation will help in India?
Multiple business models are possible. One is the regional commuter business. There is also the possibility of tourism circuit.
For instance, you fly a smaller aircraft around Varanasi or Dehradun. You fly to Dehradun and from there fly to Kulu, Kasaul, and Shimla, etc. In doing so, suddenly the Himalayas open up or the entire Northeast opens up with a 19-seater aircraft.
Then there is the medical business by air ambulance service where you take a smaller plane (nine-seater) so that you can go the smaller side and pick up patients. We have already spoken to companies, which intend to run a national air ambulance service.
Then, there are helicopters that can be used in tourism circuits such as the Char Dham circuit. These are the variety of business models that have become possible now.
Many say the idea of cross-subsidising is faulty. It did not work in case of power reforms.
That's a very theoretical way of looking at it. It is also in the public interest to open up the regional aviation market. There are 13 countries around the world that provide subsidy for regional aviation, including the US, Australia, and Germany. So, while the cross-subsidy is distortionary to an extent, the public benefit that will be enabled also has a positive impact on the national economy. So, what one will distort by a levy on the trunk routes is gained on the other side.
When you are bringing in a lot of people into the regional market, it will also have a positive impact on the national market. If you are talking about economics, there is also this theory called "user pays". In this case, the idea of universal service obligation -- whether in telecom or aviation -- is well established.
If there is a subsidy of this sort, it is always the subscriber who pays for it. In telecom, the user pays for this obligation. It follows the notion that more people there are on the network, the better.
How much will be the cess?
The amount of levy will be decided after the bidding process because only then will we know about the number of players, routes or how many airports will be built. After the bidding, we'll have a sense of how much subsidy will be required.
Will the subsidy be enough to run a small aircraft in India profitably?
I can give you the numbers for flying an ATR-72 for 500 km or one hour. If you are leasing the aircraft, you have to recover Rs 3,500-4,000 per seat to run it profitably. So, if we are having a price cap of Rs 2,500, a subsidy of Rs 1,000-1,500 will be enough. This calculation is based on 80 per cent occupancy. We are also allowing 50 per cent of the seats to be charged at market prices from which the operator can recover more.
Suppose an operator flies it for 200 hours a month, he would be earning Rs 4 crore a month. That is Rs 40-50 crore of yearly revenue from a single aircraft. So, a smart entrepreneur bidding for the right routes can generate Rs 100 crore of revenue in a few years.
How will you make the bidding process transparent?
We've appointed MSTC for the bidding process. Which bid wins or loses will be decided based on the lowest VGF bid. But the process is transparent. Just like the way we did in case of 2G and coal block auctions.
How many airports do you intend to connect in one year?
The scheme is demand-driven. So, we have to see what the airlines want. However, there are 16 under-served airports which include large cities such as Agra, Allahabad and Gwalior. We would expect the airlines to bid for these airports and get started straight away.
Doesn't the government have a target?
No, this is a market-driven mechanism. Typically, it takes three years for an airline route to mature. That's why we have given a three-year exclusivity period. We are giving the market enough time and support, but how the market will behave can't be decided by us.
Getting an air operator's permit is a painful process.
We are talking about history. Simplifying the process is a priority for us. We have put that on the front-burner. Any legitimate operator that comes in, we will expedite the process.
How will you tackle the infrastructure issues at larger airports?
Let's not do a sweeping generalisation. The only city that genuinely suffers from lack of slots is Mumbai. We have put that on priority. Wherever we find issues, we will solve them. We're analysing the slots issue across all airports to understand whether the slots are being utilised in the most optimum way. We're looking at the charges. We're looking at those who have prime slots and if these are being used properly, and the types of aircraft being used for those slots. We want to ensure landing slots are utilised properly.
There is this fear that the public-sector airline has to push this scheme. Will the onus of participation be on Air India?
We don't think so. We have provided a very economically viable scheme and Air India will be bidding along with other airlines for the routes it finds attractive.