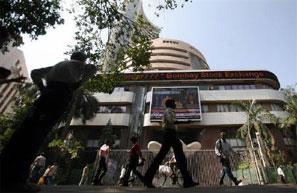 I ndia's benchmark share indices got off to a flying start to end at new record highs on Monday in anticipation that the exit polls slated for release later on Monday would signal business-friendly Bharatiya Janata Party winning majority in the general elections.

The 30-share Sensex ended up 557 points at 23,551 after hitting an intra-day high of 23,572.88 and the 50-share Nifty ended up 155 points at 7,014 after touching an intra-day high of 7,020.05.

The final phase of polls for 41 constituencies comes to an end today and exit polls will start trickling in at 6:30PM. The polls results will be announced on Friday, May 16, 2014.

Further, the government will also release index of industrial production numbers for March and the rate of inflation based on the Consumer Price Index for April after market hours today.

The rupee continued to strengthen against the US dollar and hit a 10-month high on hopes that the exit polls would show that the opposition Bharatiya Janata Party would come to power in the general elections. Strong gains in equities also helped improve sentiment.

The rupee was up at Rs 59.73 compared to its previous close of Rs 60.02.

Asian markets traded with caution before ending mixed amid the emerging tensions in Ukraine while hopes of capital market reform boosted sentiment for Chinese shares.

The Nikkei ended down 0.4% while Straits Times was down 0.9%. Shanghai Composite and Hang Seng were up 1.8-2.1% each.

European markets were trading mixed shrugging off tension in Ukraine with CAC marginally down while DAX and FTSE were up 0.2-0.4% each.

The BSE Oil and Gas, Bankex, Capital Goods, Realty, Power, Metal, Auto, FMCG, IT were up 1-3.1% each.

Eleven of the 30 Sensex stocks hit 52-week high, while 12 of Nifty stocks hit 52-week highs in today's trade.

The Nifty has gained 1,000 points in the past 55 trading sessions, while the Sensex has gained more than 1200 points in the past two trading sessions alone.

The gains were led by financials and index heavyweights Reliance Industries, ITC and Infosys.

Shares of oil and gas companies firmed up for the second day in a row on optimism that the BJP-led National Democratic Alliance (NDA) would form the government at the Centre and would push for the much needed reforms in this sector.

Among the few key reforms that the market participants expect the new government to undertake include revision in
gas prices and clarity on subsidy sharing mechanism. Reliance Ind ended up 3.2% and ONGC gained 3.1%.
Banks which are proxy to the economy witnessed aggressive buying on hopes that the new government would unveil reforms to kick start growth.
Private sector banks lifted the National Stock Exchange (NSE) banking share index Bank Nifty to record closing high of 14,085. Of the 12 Bank Nifty stocks 6 touched 52-week highs today.
"On the weekly chart, Bank Nifty is comfortably trading above its 100 and 200 weekly moving average while the RSI oscillator is also showing strength in the current upmove.
"Given the above evidence, and assuming the break-out unfolds the way it should, we expect a minimum conservative target of 14,650 and second target of 15,500 on the Bank Nifty.
"Going ahead, we expect ICICI Bank and Axis Bank to lead the next upmove in Bank Nifty," says Hadrien Mendonca-Technical analyst at IIFL.
Interestingly, Wipro, TCS, Sun Pharma, Cipla and Hindalco were the losers in the Sensex pack.
Among other shares, Torrent Pharmaceuticals surged 2.8% to end at Rs 643 after reporting 119% year-on-year (yoy) jump in consolidated net profit at Rs 244 crore for the fourth quarter ended March 2014 (Q4FY14) on the back of strong international revenues.
The company had posted a profit of Rs 111 crore in the corresponding quarter of the previous year.
Corporation Bank dipped 5% to end at Rs 286 in an otherwise strong market, after reporting a sharp 88% year-on-year (yoy) decline in net profit at Rs 41.5 crore for the fourth quarter ended March 31, 2014 (Q4FY14), due to higher provisioning for bad and doubtful debts.
The state-owned bank had posted a profit of Rs 356 crore in the corresponding quarter last fiscal.
Chambal Fertilisers ended down nearly 3% to end at Rs 40, in an otherwise booming market, after the company reported sharp drop in net profit for the fourth quarter ended March 31, 2014.
The company's net profit for the quarter ended March 31, 2014 fell sharply by 76% to Rs 5.63 crore compared with 22.94 crore in the corresponding quarter last fiscal.
IRB Infrastructure Developers surged 13% to end at Rs 148, extending its 15% rally in past five trading sessions, after the company said it has bagged an Rs 2,300 crore road project in Haryana from National Highways Authority of India (NHAI).
In the broader market, the BSE Mid-cap index ended up 0.7% and Small-cap index ended up 0.5%.
However, the market breadth ended marginally weak with 1,438 gainers and 1,410 losers on the BSE.