The sharp drop in prices couldn't have come at a more difficult time, particularly for the two big producing states of Madhya Pradesh and Rajasthan, and also neighbouring Chhattisgarh as the states go to polls in the next few months.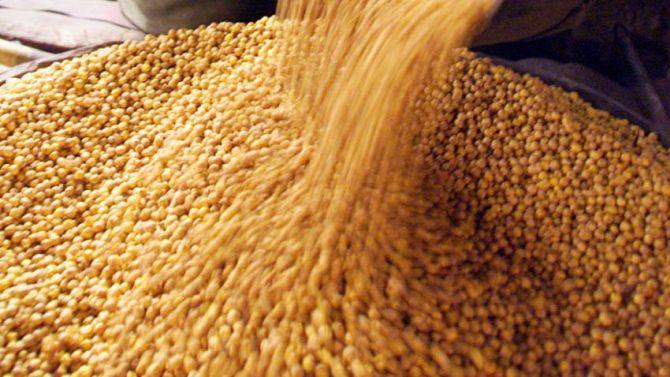 India's bumper 2017-18 chana (gram) harvest, exceeding 11 million tonnes, has rattled both farmers and the government in big producing states, as prices have crashed almost 18-30 per cent below the state-mandated Minimum Support Price (MSP) of Rs 4,400 per quintal.
The sharp drop in prices couldn't have come at a more difficult time, particularly for the two big producing states of Madhya Pradesh and Rajasthan as both the states go to polls in the next few months.
Also in neighbouring Chhattisgarh, which goes to polls along with Madhya Pradesh and Rajasthan later this year, falling chana prices have become a political hot-potato, with the Opposition Congress holding massive 'Chana Stayagraha' in Chief Minister Raman Singh's home district of Rajnandgaon, forcing the state Cabinet to declare a support price of Rs 1,500 per acre for all the 0.4 million chana farmers of the state.
Between Madhya Pradesh and Rajasthan, over 60 per cent of India's chana crop is produced; the rest comes from Maharashtra, another BJP-ruled state.
In Madhya Pradesh, the country's biggest chana producing state, production this year is estimated to be almost 5.4 million tonnes, which is nearly half of the country's total estimated production in 2017-18.
Chana is not only a major rabi crop in the state but also supports a host of subsidiary industries located in and around state's highly prosperous Malwa-Nimar belt.
This year, official estimates show that almost 300,000-500,000 hectares of land in and around Indore got shifted towards chana from wheat in the hope of better prices.
However, the bumper harvest has pulled prices sharply down with little chances of it recovering soon.
The Malwa-Nimar belt had seen massive farmers protests last year leading to the killing of six farmers in Mandsaur district and has since then been a boiling point for all sort of farmers' fury in Madhya Pradesh.
With Opposition Congress breathing down its neck over farmers' issues and making Malwa its focal point of all agitations, a hapless state government first included chana into its much talked about Bhavantar Bhugtan Yojana (BBY), but had to withdraw it after Central government delayed its financial support awaiting a formal nationwide approval for the same.
With time passing by and chana prices refusing to show any big improvement, the state government approached the Centre to directly procure the commodity along with masoor and mustard from farmers under the Price Support Scheme (PSS).
For masoor and mustard, the Centre approved procurement of 20 per cent and 40 per cent of the state's harvest immediately, but when for chana, formal approval is still awaited.
Sources said the state has requested the Centre to direct its agencies, namely Nafed, to purchase around 2.3 million tonnes of the total production of almost 5.4 million tonnes at the mandated MSP of Rs 4,400 per quintal.
This according to some officials means that roughly Rs 110 billion needs to be coughed up for purchasing chana from Madhya Pradesh.
Now, Nafed which will have to do the procurement on behalf of the Centre was recently extended a government guarantee of Rs 190 billion from the earlier Rs 95 billion.
Officials said Nafed could spend almost 58% of its government guarantee of Rs 190 billion given for five in purchasing chana from one single state in one single season.
Sources said as an interim measure, a decision has been taken to purchase around 0.5 million tonnes of chana by NAFED.
Before that, the state had already announced plans to purchase chana from its own resources from April 10 as waiting any further would have been difficult.
In Chhattisgarh too, the state has allocated a sum of Rs 1.2 billion to pay a fixed sum of money as support price to farmers to douse the raging anger.
But, the reports also said the dole is inadequate as prices have crashed much more than the support.
Rajasthan government has already started procuring 0.8 million tonnes of chana at MSP along with 0.4 million tonnes of mustard.
The state which is the third biggest chana producer in India is estimated to produce around 1.59 million tonnes of the commodity this year.
It too witnessed big farmer protests over falling prices.
The central government apart from giving a free-hand to states to procure chana from farmers also announced an export incentive, but without much success as global markets prices of chana is already down.
As elections draw near, handling the bumper chana harvest is a challenge which all three BJP-ruled states of Madhya Pradesh, Chhattisgarh and Rajasthan will face in the next few months.
Any slip-up could have big political ramifications.
Photograph: Krishnendu Halder/Reuters