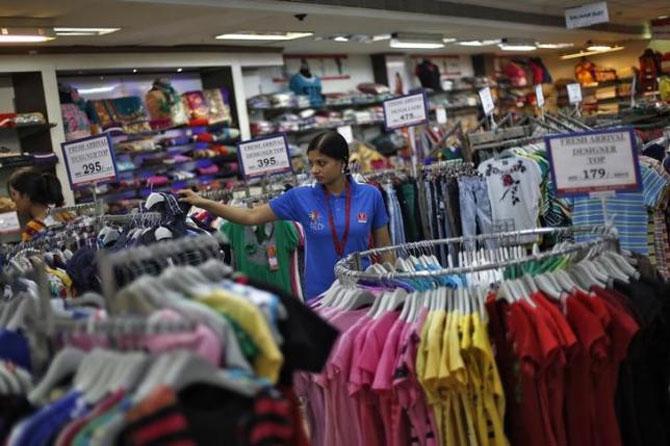 International labels seek an Indian look as they build their brands in the country
Over the past year, India has seen three big brands, Hennes & Mauritz (popularly known as H&M), Aéropostale, and Gap Inc step in with large stores in Delhi, joining the likes of Zara, Mango, Marks & Spencer and Tommy Hilfiger among others that have made a home in India.
Aéropostale, a teen brand, opened its store in New Delhi in November and says it has already clocked in Rs 8 lakh in daily sales in its first month.
H&M, which opened in October this year, was able to bring in Rs 1.75 crore (Rs 17.5 million) in sales on its inaugural day, according to reports, although the company refused to comment on the figures.
Such figures were a distant dream for Zara and others that opened a few years earlier.

The next step, say the companies, is to get an Indian avatar.
Sumit Dhingra, COO, Gant, Nautica & Aéropostale said, "We are working to create products which we think are relevant to the India market and the fashion preferences here."
Speak to the rest and the story is the same.
Clearly, getting a foot into a market with such potential and as complex as India is not enough.
Brands, both companies and researchers agree, need to Indianize themselves.
"Having a localised, Indian specific collection is very important," said Gurpreet Wasi, principal consultant, retail business, IMRB International.
Half- way across the world
Since the reforms on foreign direct investment in retail in 2012, there has been a mushrooming of international apparel retailers.
From United Colors of Benetton to Spain's Mango and Britain's Marks and Spencer, to sports stores such as Puma, Columbia Sportswear, all have marked their presence in the Indian market.
The response these brands are getting is astonishing, say many. New York based, Aéropostale, opened its inaugural store in November.
And in the first 10 days of opening, the brand experienced a footfall of over 35,000 people with a sell through of almost 50 per cent the company has said.
"India is one of the most exciting markets in the world right now, with so much potential within retail, this has been the right time for India," said Janne Einola, country manager, retail, H&M India.
Few doubt the potential that India holds out.
Dhingra said, "India is the world's fifth-largest global destination in the retail space.
"With 40 per cent of India's population below the age of 20, we expect Aéropostale to successfully cater to the growing fashion needs of the country's youth."
The young are drawn to these brands because they are exposed to them more.
Wasi said, "There is a high penetration of these brands because of Internet and e-commerce."
Plus, she added, "There is a lot of aspiration among the middle class."
India is one of the top 10 markets for these international brands.
However, having designs and strategy that is a replica of their homeland nations or stocking up a general Asia collection will not open new doors.
When in India. . .
A study by Technopak says that the Indian apparel market is expected to grow at 9 per cent CAGR over the next five years and several reports talk about the rising money power in tier 2 and 3 cities.
But brands need to work on creating lines that look and feel Indian if they are to exploit these numbers.
For instance, Swedish giant H&M cannot hope to use its seasonal sales strategy without accounting for the differences in weather between India and its home market.
So when it opens its store in Mumbai, which it says it will do, by 2016, it will have to have a special line for city; faux fur and woolen overcoats just won't make the cut.
Most brands are also factoring affordability into their pricing strategies; Gap that is targeted at millennials has priced its women's denims starting at Rs 1,999 and H&M has T-shirts starting at Rs 399.
According to Wasi, Gap and H&M can provide others waiting to test waters, a learning experience.
However, she cautions, "Too much of discounting is not healthy in the longer run as it can dilute the brand image."
Stores on the ground
India is expected to be home to a $16 billion e-commerce market by the end of 2015, according to an Assocham-Deloitte report.
A number of online fashion stores are currently offering international and local brands at hefty discounts.
And yet these brands have chosen to go the traditional way by opening physical stores first.
Why? A spokesperson for Arvind Brands Lifestyle said, "It's important to deliver a tactile experience in stores, which an online experience of a brand in a new market can never outdo."
The sentiment is echoed by Dhingra; he says, "Many of our customers love to experience the brand, and hence we will continue to open physical stores."
H&M plans to expand its chain of stores by around 10-15 per cent a year. Bengaluru, Gurgaon and Mumbai are next in the pipeline (2016).
Gap is headed to the same cities and plans to open about 40 stores in next five years but, Aéropostale has taken a hawkish stance as it plans to open 30 stores and 25 shop-in-shop locations in the next three years along with an e-commerce portal. Clothes make the man, goes the old proverb.
But, in the times we live in, it may well be, brands make the teen.
POT OF GOLD
Apparel brands see tremendous potential in the Indian market, in the metros and beyond.
Some numbers that are driving their enthusiasm are:
Organised retail accounts for only 8% of total retail penetration in India, it is 85% for the US: India Brand Equity Foundation report on Retail Industry for August 2015. Brands see this as a huge window of opportunity
Overall retail sector CAGR expected at 12-13% by 2018-19; KPMG's Indian Retail 2014
The ultra-rich spend about 15% of their wealth on apparel, about 44% of the ultra-rich are from Tier 2-3 cities: Kotak Wealth Management, Top of the Pyramid 2015. Brands see potential beyond the metro cities
$16 billion e-commerce market in India by the end of 2015, $76 billion in 2021; Assocham-Deloitte report on Future of e-commerce: Uncovering Innovation report
Image: A retail outlet. Photograph: Rediff Archives