The training programme will contain thought leadership courses, group exercises, simulations, including role plays and situation analysis and personal explorations workshops
Illustration: Dominic Xavier/Rediff.com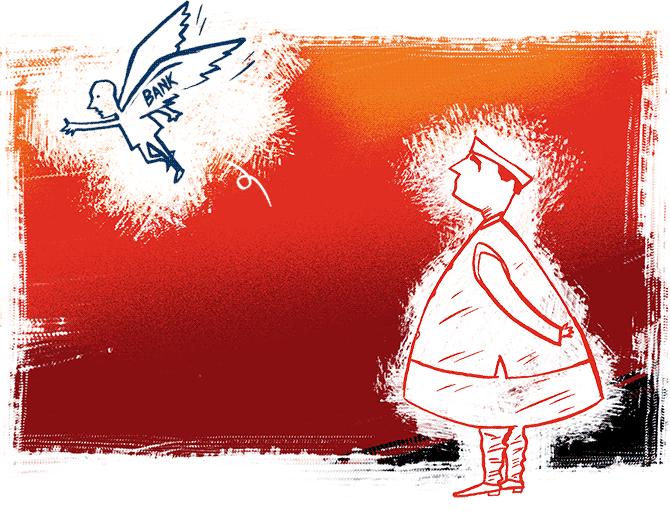 General managers (GMs) and deputy GMs (DGMs) aspiring to take up further leadership role in public sector banks (PSBs) may have to go for spiritual sessions and wilderness programme, if the recommendations given by the Banks Board Bureau (BBB) are implemented.
The BBB has finalised its flagship programme to train senior executives in public sector banks (PSBs) for taking up leadership roles in future.
The training programme will contain thought leadership courses, group exercises, simulations, including role plays and situation analysis and personal explorations workshops.
Along with faculty-led sessions, it will also involve case discussions, hand out live projects and case discussions.
The programme will further include a spiritual and a wilderness programme.
Primitive living, expeditions and outdoor challenges are at the centre of such programmes meant to train people in natural consequences, aimed at building teamwork and leadership skills.
The idea behind the leadership development programme is to train GMs and DGMs with four-eight years of residual service so that their chances of taking up roles, including executive directors (EDs), are amplified and the government has a wider pool of talent to choose from.
The bureau will look to rope in the likes of Indian Institutes of Management (IIMs) for it, industry sources said.
In a meeting held with chief executives and executive directors (board members) of PSBs on September 25, the BBB made a presentation on its leadership development programme to identity "potential leadership talent".
Silicon Valley-based Singularity University will also be roped in for an exponential innovation programme to understand the impact of artificial intelligence, robotics, among others on the banking sector.
This will help bank executives in gaining a perspective on how the lenders can plan to adapt to the future technological changes.
For now, the BBB is in the process of shortlisting candidates to participate in the year-long programme.
Department of Financial Services Secretary Rajiv Kumar said the human resources aspect in PSBs is the next "reform frontier" aimed at creating a "reservoir of talent." He said this programme will help in identifying and developing the "new generation of banking leaders."
"To identify potential leadership talent, 450 senior management personnel across PSBs are currently undergoing the assessment phase of the strategy," according to the BBB.
"Thereafter, identified talent will undergo an intensive leadership development journey driven by an objective to take on, sustainably and prudently, the challenges being faced by PSBs in an increasingly competitive market place."
The BBB is following a rigorous process for shortlisting the candidates, sources said.
The meeting of PSB brass with BBB was a part of the annual review meeting of the lenders with the government.
Simultaneously, the BBB has initiated the process of identifying a "globally-ranked Indian institution" to house and run the leadership development programme every year.
The BBB had in August roped in Egon Zehnder as its knowledge partner to design, implement and institutionalise the programme for PSBs.
"The GMs and DGMs with leftover service will be groomed every year. These executives will devote certain number days in a month, say 4-5 days, towards the programme that will run for almost one year.
The BBB wants to create a leadership pipeline," said a chief executive of a public sector bank, on condition of anonymity.