Dahiya's first internet-based venture to sell insurance failed, but he was convinced digital was the future
Illustration: Uttam Ghosh/Rediff.com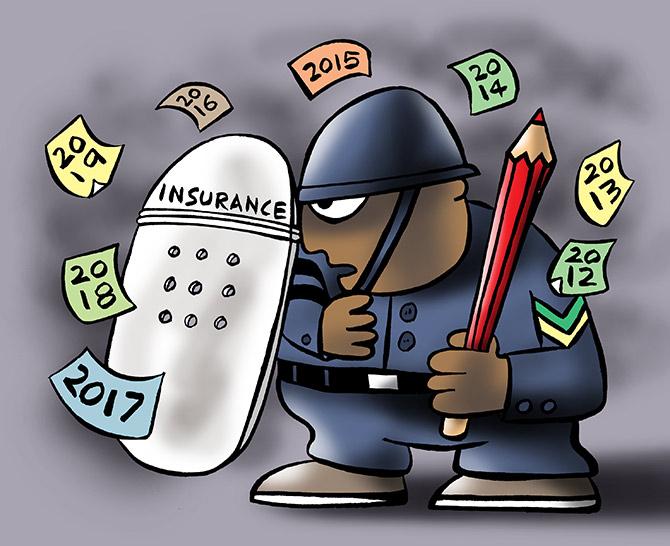 There aren't many jobs you can do that will earn you less trust from your customers than being an insurance salesman.
In a sector that is often criticised for thriving on hoodwinking people by using their lack of knowledge about complex policies to make money, Yashish Dahiya saw an opportunity.
Back in 2008, when India's now massive internet economy was still barely an idea, Dahiya sowed the seeds for transforming the way people bought insurance by founding PolicyBazaar.
The idea was simple, by allowing people to compare two or more insurance offerings, transparency could be greatly improved.
Today, PolicyBazaar is India's largest portal for aggregating insurance and other financial services and is ahead of rivals such as BankBazaar, Coverfox and Acko.
The firm also recently gained entry into the coveted Unicorn (companies valued at over $1 billion) club after it raised $238 million in funding led by Japanese investment giant Softbank.
Getting to the scale that it is at today, however, hasn't been easy for PolicyBazaar or its founders.
The decade long journey has involved building trust among customers, partnering with insurance companies that were wary of the online channel to successfully navigating a dynamic policy environment.
At around the five-year mark when PolicyBazaar was looking at raising money, the Insurance Regulatory and Development Authority threw a curve ball that threatened the company's very existence.
The rules changed, making it harder for aggregators to make money through ads.
But Dahiya, who was already thinking ahead, saved PolicyBazaar by pivoting it to a platform that enabled financial transactions.
Looking back, this is probably the single biggest move that allowed PolicyBazaar to get into the big leagues, essentially building a solution that replaced a policy salesman.
Insurance companies, which were struggling with finding manpower to grow their businesses, jumped at the opportunity, and were happy to share a cut with the online aggregator.
One of the winning characteristics of Dahiya is that he is able to perform under pressure, especially at times when things seem bleak.
In a way, pushing the limits comes naturally to him. He completed the gruelling Ironman Triathlon challenge in 2016 by swimming 3.86 kilometres, cycling 180 kilometres and running 42 kilometres in under 12 hours.
At the time, he put himself through a strict fitness regimen of training for two hours every day, including cycling from his home in Noida to the PolicyBazaar office in Gurugram.
All through the ordeal, he didn't shirk the work of leading the company he'd founded, but it's not that he hasn't tasted failure.
His first venture into the space, First Europa, which aggregated insurance companies across nine countries in Europe, Hong Kong and China, failed.
It did so despite doing business in markets where internet penetration was far higher than in India (2005-2008). Yet Dahiya was convinced that the internet was the future.
People who know him say he was born to be an entrepreneur.
The 46-year-old , who is a graduate of the Indian Institute of Technology, Delhi and a post graduate from the Indian Institute of Management, Ahmedabad, could never stick to a job for long.
His first stint at Illinois Tool Works lasted three years. Even as a consultant with Bain & Company, he could barely carry on for two years.
While he's an entrepreneur at heart, his approach to building a business couldn't be more different than his peers in India.
One of the things Dahiya has always known to be fastidious about is building a profitable business rather than going for a burn-fast, grow-fast model that is known to produce fewer survivors and more failures.
PolicyBazaar has thrived and stayed ahead despite having well-funded rivals clawing on its back.
Dahiya's intuition to pivot - look for new avenues and get into newer segments - has ensured this, and is one of the key reasons the firm has been able to attract top-notch investors such as PremjiInvest, Tiger Global, Inventus Capital and now Softbank.
But before you think the game has been won, the massive $238 million funding that PolicyBazaar has raised isn't a prize, it's only indicative of the company's desire to grow.
Only a small per cent of India's population has begun transacting online and a smaller percentage subscribes to various forms of insurance.
With both those metrics now showing strong growth, PolicyBazaar and India's online insurance space have just one way to go, and that's up.