The five-year-old Chinese brand's assent to the summit comes after a year of astounding rise -- often growing by over 200 percent a quarter, reports Arnab Dutta.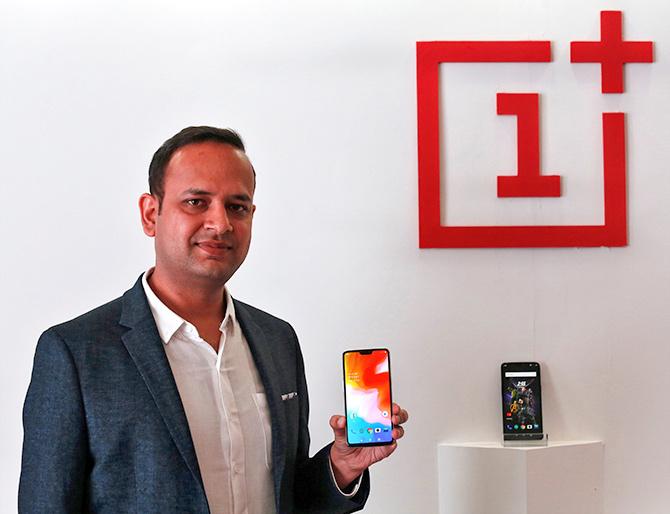 OnePlus 6 was launched in India on May 22.
OnePlus has emerged as the top smartphone brand in India's fast-growing premium phone market, outstripping stalwarts like Samsung and Apple.
The five-year-old Chinese brand's assent to the summit comes after a year of astounding rise -- often growing by over 200 percent a quarter.
Since its launch in India, OnePlus handsets have been considered to be value-for-money.
But the brand's winning formula -- apart from its great software and hardware -- has been in its ability to retain old customers and bring new ones on board -- mostly from the iOS universe.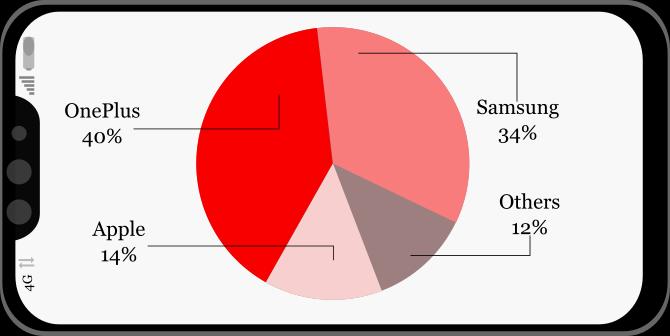 This week Counterpoint Research came out with its report on the smartphone market for the June quarter of 2018.
For the first time, OnePlus bagged the top slot with a market share of 40 per cent in India's premium phones segment, pulling ahead of Samsung which has a share of 34 per cent, and Apple which is now languishing at 14 per cent.
OnePlus has benefitted hugely from its loyal customer base.
It began its journey with a 'refer-only' sales model where potential buyers needed to get an invitation from an existing user to be able to purchase a device.
This worked in both setting up a dedicated user base as well as creating aspiration for the brand among smartphone users.
According to Vikash Agarwal, country head, OnePlus India, today nearly 40 per cent of existing OnePlus users go for the next OnePlus device.
"We now have a sizeable user base, which makes for a captive audience every time a new device is launched.
"It is a set of core users who have gone through the past three-four OnePlus devices.
"Now a critical mass has been reached and it's become big enough to make OnePlus the number one brand," Agarwal said.
The migration of iOS users to the OnePlus platform has been another critical factor in bumping up the Chinese brand's market share.
In fact, the migration of iPhone users to Android devices is now a global trend which is playing out in India as well.
As Agarwal pointed out, "This has benefitted OnePlus during the last quarter in India.
"Data show that a lot of our new customers have switched from the iPhone.
"As per Google, a third of the people searching for iPhones are also looking for OnePlus."
OnePlus's unique promotional efforts have also contributed to its phenomenal growth.
Unlike most other premium brands, OnePlus bet on social media influencers rather than television commercials.
For example, on the photo and video sharing platform Instagram, it has roped in celebrities who promote new OnePlus devices to their followers through personalised video messages.
This is an exciting strategy, feels brand consultant Harish Bijoor.
First, it gives a personal touch to the promotion, so people are more likely to trust it.
Second, since most smartphone users inhabit a digital world, it's a smart way to reach out to them individually on their devices.
The numbers show how breathtaking OnePlus's rise has been.
Its volume uptake grew by 343 per cent in the 2017 calendar year.
And during the first two quarters of 2018 its growth rate stood at 192 per cent and 284 per cent, respectively.
What's more, its current market share – 40 per cent – is the highest for any player other than the two big boys of the premium handset space, Samsung and Apple, during the past four years.
OnePlus 6, the latest model from its stable which was launched in India on May 22, captured 30 per cent of the market, beating all other devices in the category.
Agarwal is now looking to expand the firm's offline presence.
Once an online-only brand, OnePlus opened its first store in Bangalore last year and plans to launch 10 stores in major metros like Delhi, Mumbai and Kolkata by the end of 2018.
It has also tied up with Croma to offer its new device in over 100 stores.