While the prices on many products are indeed lowered, e-commerce as well as physical retailers use tricks to make you spend more, or to make you purchase goods they want to sell, points out Tinesh Bhasin.
Illustration: Uttam Ghosh/Rediff.com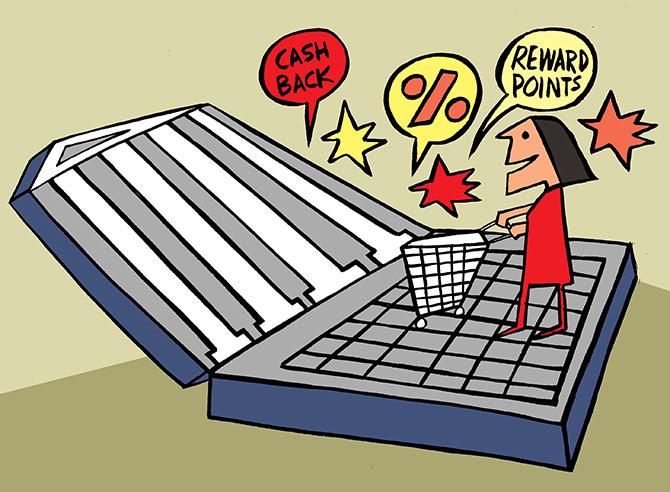 A few weeks after e-commerce players like Amazon and Flipkart are done with their ongoing sales, physical stores will inundate shoppers with special festival offers.
While the prices on many products are indeed lowered, e-commerce as well as physical retailers use tricks to make you spend more, or to make you purchase goods they want to sell.
Retailers exploit human psychology to create feelings of fear, excitement, or pleasure and thereby influence decision-making.
Changing industry dynamics have also given them the power to offer higher discounts.
"If retailers had 35 per cent margin a decade back, it has now gone up to 45-50 per cent. It's, therefore, easier for them to offer lucrative discounts," says Arvind K Singhal, chairman and managing director, Technopak, a management consulting services company.
Shoppers should prepare a list of items they need and stick to it.
Do the basic math before you buy and don't get forced into making impulsive purchases due to the fear of being left out.
Online Retailers
Smart moves: E-commerce players have many tools at their disposal to lure buyers, such as coupon codes, referrals, creating artificial scarcity, and so on.
Besides using loyalty programmes, they also use tricks like showing high retail prices and then lowering them to present an inflated discount.
Urgency and scarcity
Mobile phone manufacturers have mastered this art.
Most of their new products are sold through flash sales on specific days, which are over in a few seconds.
Those who manage to buy the phone feel 'lucky'.
Something similar is done subtly with other products.
During big sales, you will notice that the items on discount are few in number.
There will be a message like "only five in stock".
Such messages make buyers decide instantly as they fear they will not be able to buy the product at the same price.
E-commerce players also introduce a deadline for the sale.
A ticking clock on the product page tells buyers that the deal is available for a limited time only.
"In the ongoing sales, we have seen an increase in flash sales or rush hour sales that are available for a limited time," says Swati Bhargava, co-founder, CashKaro.com.
Showing value in products that need a push
This is common in the software subscription space.
You will typically see three plans.
There will be a premium, high-value plan with all features, a low-value plan with limited features, and another one in between the two, which is labelled most popular.
The premium plan is kept at a much higher price so that it appears unreasonable.
Most shoppers opt for the popular plan as it seems to offer much higher value.
You will see similar product pricing when you scroll down on e-commerce platforms.
Free shipping hook
Stores that sell items of daily need like groceries use this trick.
No buyer wants to pay for shipping.
But such stores provide free shipping only when purchases exceed a certain amount.
To avail of free shipping, shoppers buy more than they need immediately, thus spending more than planned.
Some online retailers are offering free shipping hours during the ongoing sales.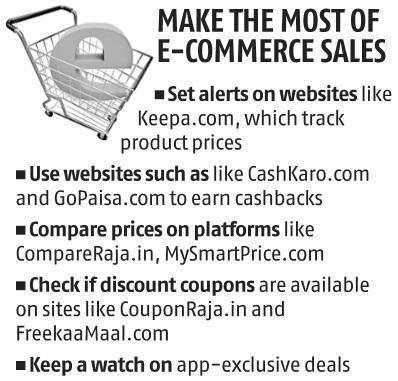 Physical Stores
Decoding discounts:
Physical stores, too, have a few tricks up their sleeves.
The discounts they offer can be confusing.
Shoppers need to do the math to understand the actual discount they are getting.
"If a store gives a straight discount, says 50 per cent, consumers think the actual value of the product is the discounted price. They tend to believe that stores are making hefty margins when the product is sold at full price," says Devangshu Dutta, CEO, Third Eyesight, a consulting firm with a focus on consumer products.
Discounts are hence designed in such a way that the brand value does not get eroded.
Confusing numbers
Many stores offer discounts such as buy one and get two free, or buy three and get four free.
Typically, in such discounts, customers have to pay the full price of highly-priced items.
The discounts are available on lower-cost goods.
Say, a person buys seven pieces of clothing.
The cost of the first three is Rs 6,000 and the next four cost Rs 6,000, which are free.
In such a case, the discount comes to 50 per cent though you are getting an extra item.
Another technique is to make a person pay the full amount on the higher-priced item and then discount the second item.
Say, you buy one pair of jeans at full price, and the next one is offered at 50 per cent discount.
If each one costs Rs 2,000, the total bill comes to Rs 3,000.
The actually discount comes to 25 per cent.
Then there is double discounting.
Instead of giving a straight 50 per cent discount, the retailer may reduce the price by 25 per cent and again offer an additional 25 per cent on the discounted price.
If a product costs Rs 1,000, then the final price after double discounting comes to Rs 562.5.
This is a discount of 44 per cent (and not 50 per cent, as many think).
Selective discounting
Many stores have big boards advertising high discounts like 'flat 50 per cent off'.
In tiny print at the bottom, they mention: 'On select products'.
Customers enter the store to find that the sale is on only a few items that don't interest them.
"Often, customers end up buying items that don't have a discount," says Dutta.
Decoy effect: If a retailer wants a product to move faster, he will offer a discount on it and place it next to an expensive product.
The customer tends to think that the lower-priced item offers more value for money, and the discount makes it even more attractive.