Over-expansion, bad management, and multiple allegations irreparably taint Malvinder and Shivinder Singh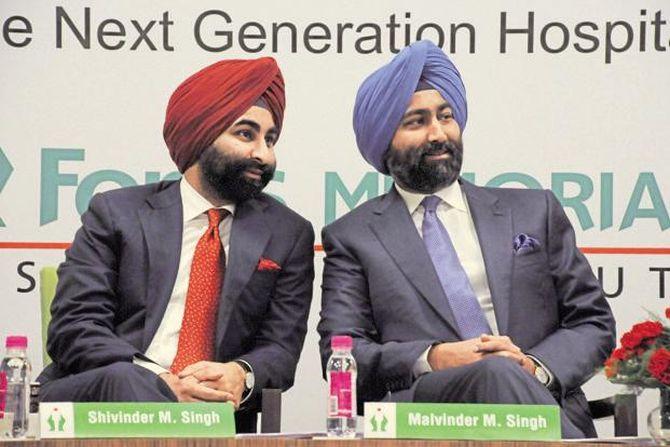 What do you get when two brothers, third-generation scions of a business house with a solid reputation, exit their stake in their flagship company for $2.4 billion?
Such inheritors who leverage cash, industry know-how and pedigree to step bravely into the future would be the ideal answer.
However, the sad reality is that Malvinder and Shivinder Singh have all but destroyed the very legacy that their grandfather Bhai Mohan Singh and father Parvinder built and stood for as the brothers find their capital evaporating, a result of their bad investments and misplaced strategies amid a flurry of lawsuits and allegations.
Just recently, the Delhi high court ordered attachment of all moveable property disclosed in an affidavit by Singh brothers and others in relation to the Rs 3,500-crore (Rs 35-billion) arbitration case by Daiichi Sankyo, Japan.
After the Singapore arbitration court had asked Singh brothers to compensate Daiichi for withholding vital information at the time of sale, the Japanese firm had approached the Delhi high court to collect dues, which was challenged by the brothers.
However, the Delhi court has upheld the arbitration order and attached their properties.
The Singh duo is also being accused and sued by private equity Siguler Guff & Company on allegations of having siphoned funds from Religare; finally, auditors Deloitte waved red flags at them for over Rs 500 crore (Rs 5 billion) in unsecured advances fronted to vendors and an inter-corporate group deposit given to a promoter-related company.
Back in 2014, the US Food and Drug Administration had come down hard on the generic drug giant Ranbaxy Laboratories.
The agency announced a ban on imports from the company's manufacturing plant in Toansa, Punjab.
It was the fourth Ranbaxy factory to be barred by the agency since 2008 where it found "numerous infractions" that included laboratories in significant disrepair, and overwriting of data until acceptable results were achieved.
It is not that the brothers did not try to build new businesses.
After their stake sale in 2008, they set up a special purpose vehicle (SPV) RHC Financial Services in Mauritius to allow them to buy overseas assets with ease.
In the meantime, Fortis' India growth was more substantial, going from one location in 2001 to 66 hospitals by 2011, which included 10 hospitals it bought from rival Wockhardt.
The tell-tale signs should have been evident when the company spent a sizeable chunk of change - $650 million - to buy one-fourth stake in Parkway Hospitals of Singapore.
Fuelled by cash from selling inherited shares, the brothers were biting off more than they could chew, despite being strait-laced in every other way.
One former employee who interacted with both of them and declined to be named said that neither was a profligate spender nor a party animal, which could have caused them to let business spiral.
"In fact, they had no vice, they did not smoke or drink, and were vegetarian," he adds.
On the contrary, Malvinder, a regular at the World Economic Forum in Davos spoke about India's pioneering role in health care and partnered Bollywood actor Salman Khan's Being Human Foundation to subsidise surgeries for children.
Then in 2015, Fortis Healthcare's co-founder Shivinder said he would move on to serve full-time at the spiritual retreat Radha Soami Satsang Beas to pay heed to an inner calling.
He was just 40 years old at the time.
A management expert says there are two ways to succeed with international acquisitions: Find strategic fits to the core business or if it is a diversification, buy and then rebuild culture from the ground up or allow what remains to thrive.
It is not clear if any of that was thought through clearly when expanding and the business establishment was noticing.
One executive search professional, who declined to be named, said, "it was difficult to get notable independent directors on board because they all saw what was happening."
She goes on to add that in 2009, million-dollar salaries were being thrown at chief executive officers by the company.
Another former financial executive at Fortis, who declined to be named, said, "Malvinder was the big-picture guy looking at deals and buyouts, while Shivinder was in charge of day-to-day operations."
When pressed for answers as to what really went wrong at the core of it, the executive said it was Religare Enterprises, the duo's financial services foray, which was the undoing of the group.
They paid salaries of over Rs 1 crore (Rs 10 million) a year to many mid-level employees and the whole approach was a little overboard, he adds.
In 2009, Religare even gave 30 German luxury cars to top employees as retention bonuses, according to public reports.
All of the spendings was, however, coming at a cost.
By 2011, debt on the publicly traded Fortis had crossed Rs 7,000 crore (Rs 70 billion), and debt-to-equity, which a year ago was at 0.3, spiked 2.2 times.
The cause? The buying of promoter stakes in SRL Diagnostics for Rs 960 crore (Rs 9.6 billion) and the collective debt of Fortis International at Rs 3,270 crore (Rs 32.7 billion).
Realising they had taken on more responsibility than they could handle, the brothers aggressively started paring their holdings.
First up was the profitable Australian subsidiary Dental Corporation that was sold to Bupa Healthcare for Rs 1,550 crore (Rs 15.5 billion).
That was followed by getting rid of the Singapore-listed Religare Health Trust for Rs 2,200 crore (Rs 22 billion), followed by hiving off Rs 370 crore (Rs 3.7 billion) worth of equity in SRL Diagnostics.
All these measures helped the company bring down debt to a reasonable Rs 2,300 crore (Rs 23 billion) and debt-equity to about 0.6 times.
More than 98 per cent of the promoters' holdings in Fortis is pledged, and would eventually get sold to a new investor.
The company's inconsistent model of growth and an absence of consistent leadership, coupled with its current spate of lawsuits and alleged malpractice, means that restoring a reputation the Singh family built over the generations may be the hardest thing to pull off.
The good news is this. The brothers are here in India to defend their position, explain their actions and perhaps justify their stand, if ever there was one.
Photograph: PTI Photo