Airline pares capacity on routes like Mumbai-Delhi and Mumbai-Bengaluru on weekends, uses freed up slot at Mumbai to fly Amritsar, Patna, Varanasi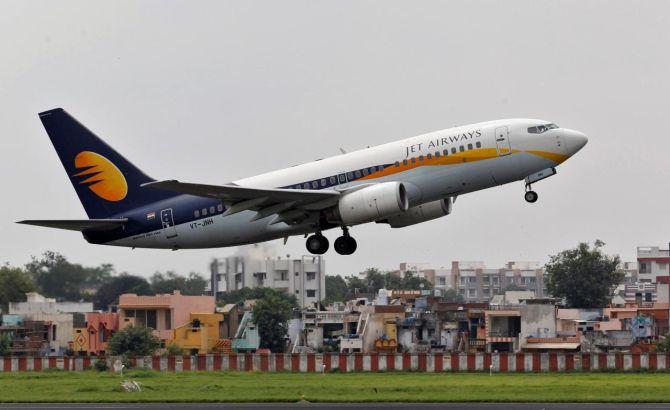 Jet Airways is introducing weekend-only flights from metros, a first in India, to overcome slot constraints and maximise revenue growth.
The airline has reduced capacity on routes such as Mumbai-Delhi and Mumbai-Chennai on weekends.
The airline is utilising the freed up slots at Mumbai to operate flights to Amritsar, Patna and Vadodara.
The move is a part of its strategy to increase revenue amid intense competition and yield pressure. An airline's yield is the average revenue per passenger.
"For the first time, we are introducing weekday-weekend patterns. We studied the traffic pattern and recognised that on heavy business-oriented metro routes, the traffic and unit revenue drops on weekends.
"There are non-metro routes where people tend to travel on weekends, and deploying capacity on those routes offers a better opportunity to increase revenue," said Raj Sivakumar, the airline's senior vice-president in charge of network and revenue management.
Mumbai, the main hub for the airline, faces a slot crunch while other metro airports such as Delhi, Chennai and Bengaluru too have a shortage of slots.
The airline will be operating weekend-only flights on 22 routes from Mumbai, Chennai, Delhi and other cities.
"A combination of weekend flights, unique routes and overall capacity rationalisation will lead to an increase in unit revenue," Sivakumar added.
In the first nine months of 2017-18, the airline's capacity increased 8.5 per cent while the revenue growth was 5 per cent as airfares remained under pressure.
Jet Airways posted revenue of Rs 18,936 crore in the April-December period while net profit declined 63.5 per cent to Rs 315 crore in the same period.
Sivakumar expects the revenue to grow faster than capacity, in domestic and international markets.
He added it was too early to comment on the impact on fares in light of the grounding of Airbus A320Neos by IndiGo and GoAir.
Jet Airways has 82 Boeing 737 planes which it operates on domestic and short international routes.
In the next financial year, it will add eight planes.
All the inductions will be the fuel efficient Boeing 737 Max variant. It plans to explore international routes such as Mumbai-Nairobi and Bengaluru-Hong Kong in the winter schedule.
"Our strategy is to grow in the domestic market. We have identified focus markets such as Chandigarh, Indore, Guwahati, Pune, Coimbatore.
"Our plan is to increase connectivity to these cities from other metros and non-metros.
"The other focus is on developing a mini hub in Guwahati and we will connect it to other cities in Northeast India and metros," he said.
The airline is adding 144 weekly flights, including industry-first direct flights from Mumbi and Delhi to cities in North East such as Aizawl, Imphal and Jorhat.
Photograph: Amit Dave/Reuters