Homegrown tech companies are leaving no stone unturned in their quest to shape the future of sports, reports Nikita Puri.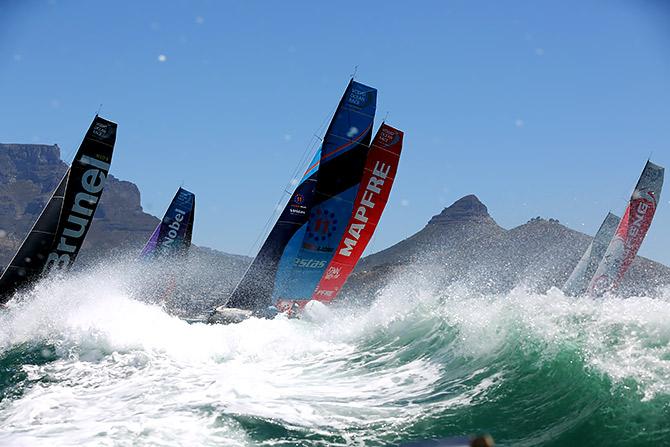 In October 2017, seven boats set sail from the port of Alicante, Spain, as part of the 13th edition of the Volvo Ocean Race.
A taxing test of endurance and will, the race would go on for nine months, with 65 yachts touching 12 port cities before finishing the journey at The Hague in June 2018.
Even as the teams survived on bare necessities and braved bad weather, there was another battle being fought away from the high seas.
Teams from Noida-based HCL Technologies were not just keeping track of the boats and its crew, but they were also relaying each boat's progress in real time to the organisers, fans and the global media.
Two decades ago, fans following the often-treacherous race that takes place once in three years would hear only limited developments.
Videos, if any, would come in the form of recordings that took days, if not weeks, to reach land.
If the sailors were racing against time and tide while updating their social media posts, HCL's team was also racing to set up mobile data centres in the 12 ports.
Since audiences couldn't go with the boats over the approximately 45,000 nautical miles that they travelled, HCL helped in bringing the action to them.
It was, after all, the event's official IT services provider and manager of in-port digital infrastructure.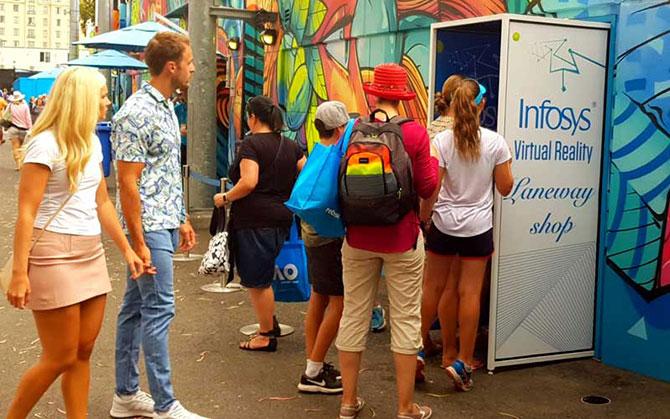 Homegrown tech companies are leaving no stone unturned in their quest to shape the future of sports.
HCL's partnership with the Volvo Ocean Race is only one piece of this pie.
Bengaluru-headquartered Infosys's association with tennis is another example.
During the finals of the Association of Tennis Professionals (ATP) at the O2 Arena in London in 2016, the company created an exact 3D replica of the centre court to give fans a chance to watch, train, play and dress up in virtual reality.
"The game also has a training mode that displayed the real spin and speed of the shots, recorded via sensors," says Sumit Virmani, senior vice-president and head of marketing, Infosys.
The company recreated that experience for over 32,000 fans this year for the Australian Open in Melbourne and Roland-Garros (the French Open) in Paris.
For fans looking for official merchandise, the same technology was also used to create a virtual shopping store during the Australian Open.
While Infosys signed a three-year deal with Roland-Garros in March this year, the company has been partnering with ATP since 2015 and with the Australian Open since last September.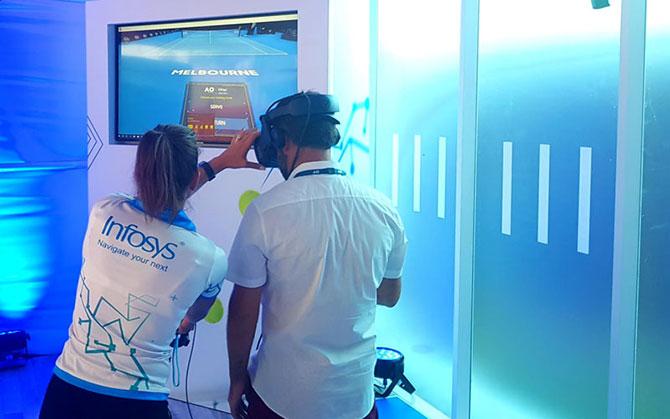 Such partnerships go well beyond the game and have come to focus on audience engagement.
For example, via location-based services, your game ticket can automatically pop up on your mobile phone when you are nearing the entry gate, and then the navigation service can guide you to the gate where the queues are smaller.
"One example of in-stadium tech integration was through our 'fan meter' innovation at the 2018 ATP finals.
"This fan meter measured the audience decibel levels and egged them on to cheer louder during key moments of a match," says Virmani.
Mumbai-based tech giant Tata Consultancy Services (TCS), too, is part of the game.
During the 2017 edition of the world's largest marathon, the New York City Marathon, runners at the finishing booth were greeted by Pepper, a bubbly humanoid robot that scanned their race-bibs and flashed their finish time on its built-in display -- that is, when it wasn't posing for selfies.
TCS has been partnering with the marathon since 2014, so much so that it is now called the TCS New York City Marathon.
There's more innovation afoot as TCS attempts to make the marathon the world's most technologically advanced.
For this year's edition in November, besides real-time progress of athletes, the marathon's app will offer interactive course maps and details of local attractions en route.
TCS has a similar partnership with the 49.19-km Amsterdam Marathon.
Such associations also give Indian tech companies an exercise in branding.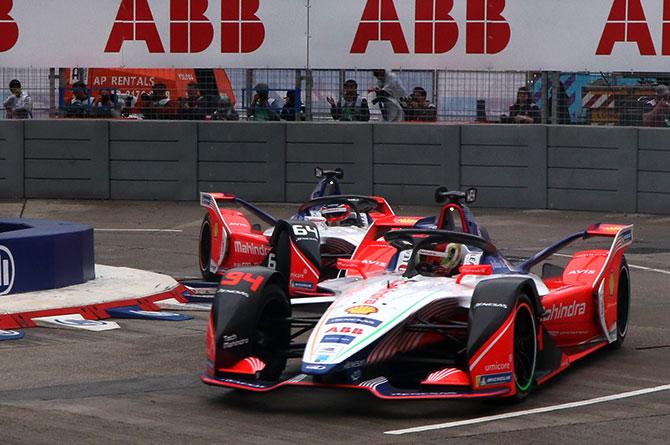 Tech Mahindra, which has been in a four-year technology partnership with Florida-based Jacksonville Jaguars since August 2018, has a dedicated technology team in Jacksonville to handle data analytics for a variety of statistics.
It is also responsible for creating immersive virtual and augmented reality-associated experiences for fans.
And, the company is tasked with boosting administrative efficiencies of the football club's platforms.
"We are focused on delivering superior connected experiences by combining various elements including entertainment, technology and social connect," says Jagdish Mitra, chief strategy officer and head of growth at Pune-based Tech Mahindra.
Fans, says Mitra, also "crave an exclusive and shareable experience that can be amplified by technology".
One example of this is the Infosys Second Screen created for ATP.
An immersive analytics-powered experience, it allows players to analyse patterns and trends in their and their opponent's games.
Infosys noted a 21 per cent rise in terms of fan engagement using the analytics product.
To say competition for such partnerships is immense would be an understatement, especially when it comes to the world's most popular tournaments.
Wimbledon, for instance, has had an association with New York-headquartered IBM for 30 years.
Getting a foot in the door for a sport of such reach and repute isn't easy.
But Indian-origin tech companies are getting there, slowly transforming the way a sport is experienced.
Like in the case of the Volvo Ocean Race.
"We wanted the audience to experience the hardship, the human experience and the quality of sailing that was taking place," says Arthur Filip, executive vice-president, sales transformation and marketing, HCL.
And while the fan experience was critical to their operations, the safety of the sailing crew preceded that.
"We had to make sure the organisers were able to track and relay necessary information (such as weather conditions) to the boats in real time," says Filip.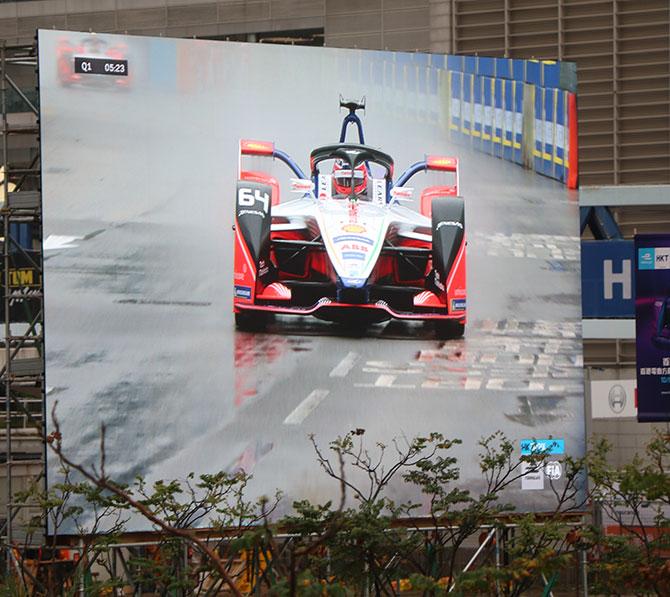 Similar to the deal Tech Mahindra has with Jacksonville Jaguars is HCL's partnership with football club Manchester United.
The Manchester United Official app has been providing personalised and real-time experience to the football club's 659 million followers for a year now.
Since June 2019, HCL has also been working with Cricket Australia to manage their digital products, including community cricket applications such as the MyCricket platform that tracks amateur players, and Cricket Australia Live App.
The already competitive business is made more complex when a sport requires specialised care, such as in Formula E racing.
Mahindra Group's Mahindra Racing team is the only Indian team to compete in the ABB FIA Formula E Championship, the world's first all-electric racing series.
"Formula E cars are becoming increasingly complex.
"They already have hundreds of sensors and many different complex electronics and software systems," says Ruzbeh Irani, president, group communications and ethics and chief brand officer, Mahindra Group.
The motorsports team taps into Tech Mahindra's support system to keep the cars running.
The sports technology market, which was valued at $8.9 billion in 2018, is expected to touch $31.1 billion by 2024.
But it's not just a decent financial pitch that seals the deal between tech companies and sports clubs and leagues.
Cricket Australia, for instance, "had been engaged in an extensive search locally and globally for a digital partner that had proven credentials and the industrial strength to handle their digital transformation journey," says Filip.
Sports clubs are often looking for ideas on how to move forward technologically, but for companies such as HCL and Infosys, it is usually a mutual selection process.
"Our partnership with tennis has been no accident.
"It was a carefully analysed opportunity from a brand and technology integration perspective," says Virmani of Infosys.
"Tennis is a global sport and aligns well with the markets and target groups we serve as a business.
"And tennis associations and grand slam tournaments have been looking at driving disruptive technology-led innovation to reimagine the experience for fans, players and coaches."
Indian tech companies are clearly determined to stay ahead of the game.