What sold the most this year? Beauty, toys and baby care, sports and fitness, television and large appliances, followed by fashion, says T E Narasimhan.
Illustration: Uttam Ghosh/Rediff.com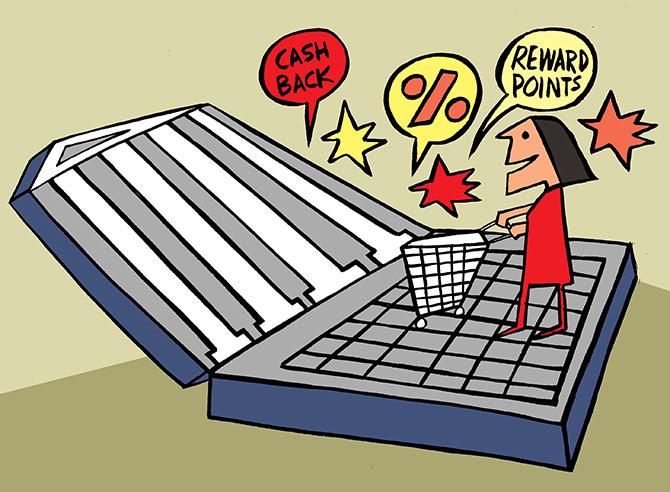 Breaking down the digital behaviour of Indian consumers has been an uphill task.
Despite the vast reserve of customer data, brands and e-commerce players find it difficult to understand what buyers look for, struggle to win their trust or keep them from dropping out of the online purchase journey.
Recent insights into search and purchase behaviour, still trickling in from the big festival sales, could shine a light on such tricky issues.
Take a look at what the insights team at Google found, using search trends to reveal how shoppers shop during the lucrative holiday sales season.
The team says that Q4 is the busiest shopping season of the year in India and; shopping searches peak about 2-3 weeks before Diwali.
"Online shopping searches in this period grew 15 per cent faster," noted a recent newsletter from Think with Google.
Brands benefit if they are able to grab consumer attention early in the search journey.
A number of people coming online during the festive season are doing so for the first time, many from small towns and non-English speaking communities, the e-commerce brands said.
"This year, we saw customers from over 600 new cities shop during the festive season.
"While 35 per cent of our customers shopped from metro cities, nearly 40 per cent of our customers shopped from Tier-3 towns.
"With increasing data and internet penetration, we see almost 95 per cent growth in the number of customers who shopped from Tier-3 towns," said a Flipkart spokesperson.
Brands gain stickiness and loyalty by turning multilingual and offering products that customers look for the most.
What sold the most this year? Beauty, toys and baby care, sports and fitness, television and large appliances, followed by fashion.
Ananth Narayanan, CEO, Myntra-Jabong said, "The festive season usually brings high volume sales, where we have so far recorded a 200 per cent growth over last year in women's ethnic category from our private brands and double from the category overall."
Apart from smartphones and fashion, consumables that include daily essentials and beauty, large appliances, televisions and home and kitchen have emerged popular during the Amazon Great Indian Festival this year, said the Amazon India spokesperson.
"The first 36 hours of the first wave, nearly surpassed the entire wave one of last year!
"We have already received at least one order from 99 per cent of India's pin-codes and have witnessed a 3X surge in Prime member signups," said the spokesperson.
This festive season so far has recorded over 60 per cent new customer growth with more than 82 per cent from lower tier cities.
The real test for e-commerce players however will be to keep these customers coming back for more.
This has proved difficult in the past.
A recent report by Facebook, KPMG and Nielsen showed consumers dropping out of digital purchase pathways in increasing numbers.
Apparel and accessories brands, the fastest moving segment online, are losing out potentially on $5-$9 billion worth of sales because consumers are not going down the entire length of the purchase pathway. And that is a worry.
There are invisible barriers keeping them from pushing their shopping carts to the final counter.
Brands can bring them down by reaching out to the consumer early in the shopping journey. And the festive season is a good place to start for many.
According to Google Insights team, customers behave differently for different product categories.
For instance, more than 75 per cent of apparel and accessory searchers are generic in nature.
Almost 70 per cent of men's clothing searches and 90 per cent of women's clothing searches are generic in nature.
The story is different for footwear and mobile phones.
Google data says that search for shoes grew 1.3X during this festival season so far as compared to last year, with around 40 per cent containing brand names.
Almost 85 per cent of the searches for mobile phones are brand driven, while 70 per cent of price-related searches are for smartphones between Rs 5,000 and Rs 15,000.
What the data also shows is that there is no single way to market to the online customer.
If customers are searching by brand name, brands must use the digital channels to provide product reviews and detailed information on product features.
For this is how brand-conscious mobile phone buyers behave before honing in on a brand and making the final purchase.
Another insight is that brands must approach the holiday season as a sum of its parts instead of just one entire sales season.
Going by the trends demonstrated in 2017, holiday sales surge twice; once pre-Diwali and then again in the weeks running up to Christmas.
The winter holiday sales season is nearly as big as the October-November festive season in the country.
E-commerce companies could also benefit if they use the data on product styles or categories selling more, early in the season, to curate their online stores more efficiently.
In jewellery shopping, online jewellery major Caratlane said that it has seen a higher demand for earrings, light weight bangles and necklaces, this season.
This insight can help if the company provides consumers with wider choices in these segments.
However, branded jewellers are still focused largely on urban consumers.
"While we have seen a 20 per cent growth in our brand searches on Google over last year, our focus still remains largely on women in urban India," said Atul Sinha, senior vice president, marketing & retail sales, Caratlane.
To truly leverage the expanding digital footprint in the country, brands such as Caratlane will need to look for life beyond the metros.