While Unilever has been aggressive, both organically and inorganically in the country, P&G's approach has been about achieving 'balanced growth' in terms of top line and bottom line.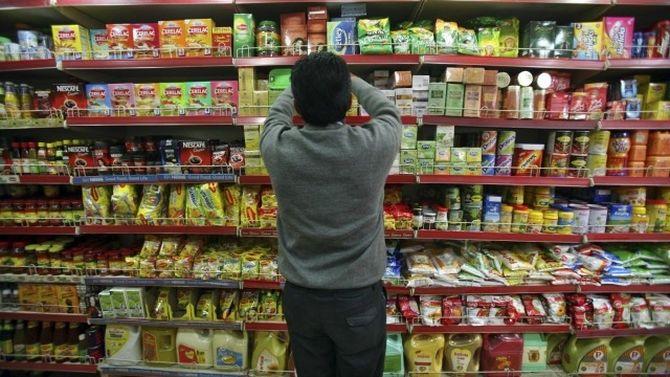 Two of the world's top consumer goods companies - Unilever and Procter & Gamble (P&G) - have different strategies for the India market.
While the Rotterdam-and-London-based Unilever has been aggressive, both organically and inorganically in the country, P&G's approach has been about achieving 'balanced growth' in terms of top line and bottom line.
This outlook has seen P&G remain a smaller unit in comparison to its global rival in India, a key market, with plans to grow its presence in existing categories such as feminine care, baby care, health care and male grooming, which it says are under-penetrated in the country.
P&G is the leader in feminine care with Whisper, baby care with Pampers, health care with Vicks, and male grooming with Gillette.
It also competes head-on with Unilever in detergents (Ariel/Tide), shampoos (Pantene/Head & Shoulders), and oral care (Oral-B) in India.
An Edelweiss report recently had put the strategies of the two firms into sharp perspective, saying Hindustan Unilever (HUL) could become the largest subsidiary for its parent by the financial year ended 2027 (FY27), surpassing the US unit, currently the biggest for the global major, contributing 16 per cent to its top line.
India is the second-largest market for Unilever (in terms of value), contributing nearly 10 per cent to the parent's turnover of Rs 4 trillion.
HUL's chairman and managing director Sanjiv Mehta said volume-wise, India was already the largest in the world for Unilever, with 98 per cent of households in the country using one or more of the company's brands.
About 45 billion units are produced annually at the company's factories across the country, he said, with the maker of Dove and Lifebuoy getting future-ready by putting in place an end-to-end digital transformation programme.
P&G India, which includes two listed arms and one unlisted company, contributes 2.2 per cent to the global parent's top line of nearly Rs 5 trillion.
P&G's largest market is North America, including the US, Canada, and Puerto Rico, contributing 45 per cent to top line, according to its latest annual report.
Its second-largest market is Europe, contributing 23 per cent to turnover.
China gives P&G 9 per cent of its turnover.
A P&G spokesperson said the company had made strategic choices in India, focusing on superiority, productivity, and strengthening its overall organisation.
"We are making deliberate interventions that focus on best-in-class products, packaging, brand communication, retail execution, and value.
"We are also driving productivity to improve profitability and derive balanced growth," the spokesperson said.
While P&G's combined top line (including all three arms in India) had grown 16 per cent year-on-year in FY19 to nearly Rs 11,000 crore, bottom line had moved sharply upwards, regulatory filings reveal.
Data from the Registrar of Companies shows the unlisted company P&G Home Products, which includes its key detergents and shampoo businesses, reported year-on-year net profit growth of 59 per cent in FY19 to touch Rs 616.4 crore.
HUL's FY19 top line was Rs 38,224 crore, a year-on-year growth of nearly 9 per cent, while bottom line touched Rs 6,036 crore, growth of 15.25 per cent from the previous year.
Male grooming major Gillette, best known for its razors, reported 10.4 per cent year-on-year profit growth for the financial year ended June 30, 2019, to nearly Rs 253 crore.
P&G Hygiene and Healthcare, which makes Whisper and Vicks, on the other hand, reported nearly 12 per cent year-on-year profit growth for the same period to Rs 419 crore.
Gillette and P&G Hygiene and Healthcare follow a July-June accounting year, while P&G Home Products follows an April-March accounting period.
HUL also follows April-March accounting year.
According to analysts Arnab Mitra and Garima Bharti from brokerage Credit Suisse, P&G's competitive intensity in India has been growing even as it focuses on profitable growth.
"P&G is at least defending its turf now after reducing its strategy of aggressive sales it had earlier," they said.
But some analysts said P&G would continue to lag HUL in the future despite its priority being India.
"HUL has consistently focused on India, entering new categories, launching global brands, making new acquisitions.
"P&G has not been consistent. Gaining the kind of scale that HUL has will take time," said Sachin Bobade, vice-president, research, Dolat Capital.
The merger of GSK Consumer into HUL, nearing completion by January-February next year, will make Unilever the largest food company in the country, ahead of Nestlé India, sector experts said.
HUL's overall turnover will also cross Rs 50,000 crore by FY21, thanks to the GSK Consumer merger, with the company contemplating more acquisitions in categories such as dairy.
P&G, in contrast, said it would push presence into rural areas, where it gets a fourth of its overall business, build its retail network on the ground, and launch variants in its existing segments.
Photograph: Reuters