Plans to offer up to 10% of project cost as bonus to highway contractors, compared to 5% at present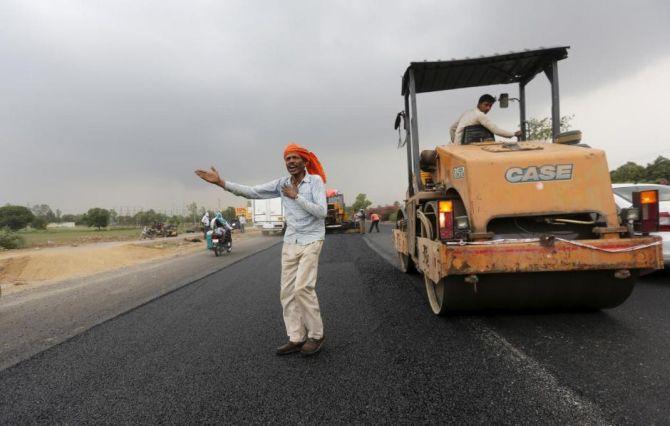 In an effort to fast-track the completion of national highways, the government plans to double the incentive for contractors finishing their work ahead of schedule.
The move is also expected to cut the turnaround time for a road contract by 30 per cent.
An official aware of the development said contractors might be given a bonus of up to 10 per cent of the project cost for early completion.
Currently, a contractor building a less than 100-km road is entitled to a five per cent bonus for finishing the work within the scheduled time-frame.
According to the proposal, the government intends to bring down the construction time of a highway project with total length of 100 km to 24 months from the current 36 months.
"The contours of the proposal are yet to be finalised. Therefore, which project would attract how much incentive will be ascertained later," the official quoted above said.
A speedier execution of road projects will primarily mean faster infrastructure development in the country.
It is also expected to create more job opportunities due to the labour-intensive nature of the work.
Industry experts feel that timely clearances would play a vital role in achieving faster implementation of contracts.
"There are a number of elements to it. Faster construction also means that the operations would begin early and the revenues would come at the earliest," Abhay Agarwal, partner, infrastructure & PPP, at EY, said, adding the government should ensure that all the requisite regulatory clearances were in place beforehand.
Experts say the objectives of the proposal are achievable, but it will require more than one contractor to complete the job.
They also feel big-sized companies will get benefited the most from the move as smaller contractors are not well equipped to deliver within tighter time frame.
"You need multiple contractors or deployment of technology for faster implementation of the contract," Agarwal said.
Project delays in the past have impacted the highway sector's growth, forcing the government to even cancel contracts where concessionaires were unable to execute them within the desired time frame.
Earlier this month, the National Highways Authority of India (NHAI) listed 20 highway contracts, including those of L&T Infrastructure, HCC, Essel Infra, MBL Infra, and Soma Enterprises, for a possible termination over delays in implementation.
These contractors have been mandated to make a presentation to the central government for the delay.
NHAI chairman Deepak Kumar said the authority had written to the developers to give reasons for the delay. The NHAI might bid out some of the projects afresh.
Photograph: Adnan Abidi/Reuters