The airline is strengthening its flight operations department to make this happen.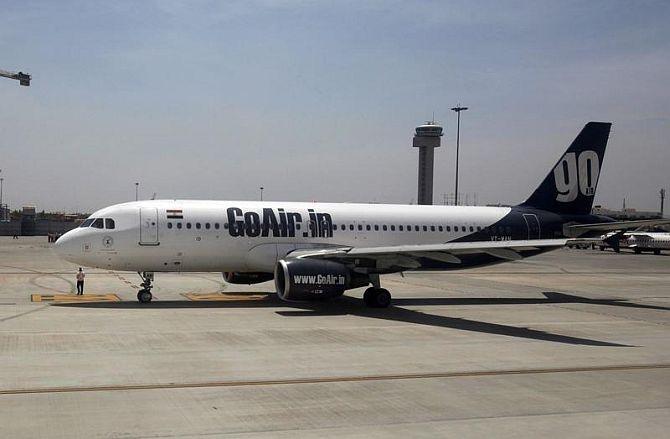 GoAir, which cancelled dozens of flights earlier this week, said on Thursday it expected schedules to normalise by the weekend.
The airline is strengthening its flight operations department to make this happen.
Sources said the airline was hiring in the rostering section.
The section, which assigns flights to pilots after taking into account their non-availability due to leaves, sickness, training requirements, or emergencies and manages crew duties, had seen resignations and reshuffle in the past few months.
The team's work becomes critical in the event of delays and diversions, as duties have to be reassigned on the day of the disruption or within the next few days.
GoAir did not comment on recruitment but, in a statement on Thursday, said, "GoAir has more than adequate pool of cockpit crew resources to fly 325 daily flights.
"However, due to external factors, it is experiencing a temporary disruption to its schedule.
"The airline is working to normalise its operations with the support of its pilots and cabin crew, and expects to be on track by the end of this week."
But pilots are complaining of a shortage in the ranks and claim that leaves are not being approved.
A Directorate General of Civil Aviation audit last month found the airline did not give rest to pilots according to rules.
In some cases, pilots did four consecutive night duties.
The rules, however, only for allow for two such consecutive duties.
GoAir said it would always abide by regulations stipulated by the DGCA, including pilot duty time rules.
GoAir cancelled almost 40 flights on November 23 and 24, during which it also reported turn back of two if its aircraft to the departing airport due to snags.
The airline blamed previous schedule disruptions and implementation of new pilot duty time rules for the disruptions.
GoAir also blamed delays in delivery of Airbus A320neo aircraft and non-availability of spare engines for the disarray.
It said Airbus deliveries in November and December were delayed and these added to challenges.
The DGCA has ordered precautionary checks on all Pratt & Whitney engines that have flown over 3,000 hours.
This was done after the two back-to-back incidents of returning aircraft.
The airline said it would comply with regulatory directives and complete modifications on the engines before next month end.
Photograph: Vivek Prakash/Reuters