Gadkari said that the MSME sector contributes significantly in pushing the country's economic growth and creating employment.
Illustration: Uttam Ghosh/Rediff.com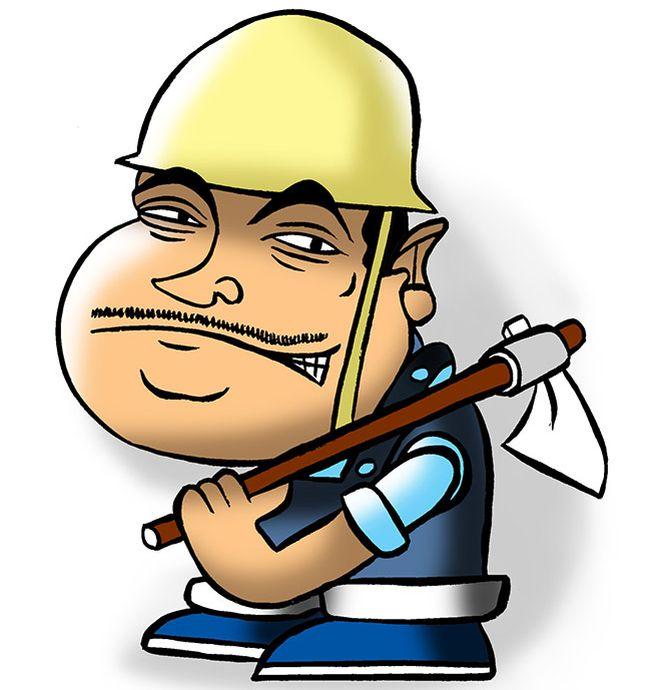 Bolstering country's infrastructure and creating jobs through small industries will be the priority for senior Bharatiya Janata Party leader Nitin Jairam Gadkari who took charge as Minister for Road Transport, Highways and Micro, Small and Medium Enterprises Ministries on Tuesday.
The MSME ministry will work with its commerce counterpart to identify goods being imported by India and look at the possibility of manufacturing them here by micro, small and medium enterprises, Union Minister Nitin Gadkari said on Tuesday.
Gadkari said that the MSME sector contributes significantly in pushing the country's economic growth and creating employment.
Small scale industries need to be promoted to further push the country's growth, he told reporters.
"We have asked our secretary and economic advisor to study with the commerce ministry about the goods, which we are importing and if they can be manufactured by small-scale industries here," Gadkari said.
The move would help in cutting import bill of the country.
He also said that the ministry would focus on supporting micro units and village industries to promote rural economy and create jobs.
Raw materials like stubble which are available in rural areas can be used by small units to manufacture different products, he added.
"MSMEs can help promote economic growth and create jobs," he said, adding that the ministry is looking at what more can be done for the same.
Further he said that the ministry would look into the reasons which are leading to closure of small units.
MSMEs contribute around 45 per cent in the country's exports, about 25 per cent to the GDP from service activities and over 33 per cent to the manufacturing output of India.
Known for his administrative prowess and innovative approach in addressing issues, Gadkari, 62, often dubbed as one of the high performing ministers during the previous term of Prime Minister Narendra Modi-led government, has been instrumental in pushing infrastructure development and reviving projects stuck for many years.
"Bolstering infrastructure under the leadership of Prime Minister Narendra Modi will be my priority in addition to propelling country's growth rate and creating jobs through small industries," Gadkari who took charge of the ministries said.
He was accompanied by his wife Kanchan Gadkari.
On May 30, he was sworn in as a Cabinet minister after he won the Nagpur Lok Sabha seat with a margin of around 213,000 votes by defeating his former partyman and now Congress member Nana Patole.
Whether its reviving stuck highway projects worth Rs 3.85 lakh crore or starting cargo shipments on Ganga river, Gadkari has been at the forefront of infrastructure development.
Some of the key projects are Eastern Peripheral Expressway and Delhi-Meerut Expressway and Zojila tunnel.
In May 2014, he took charge of the road transport, highways and shipping ministries.
He was also given charge of water resources, river development and Ganga rejuvenation ministry from September 3, 2017.
He was also at the helm of rural development, and panchayati raj and drinking water and sanitation ministries from June 4 till November 9, 2014.
Born in 1957 into a middle-class agricultural family in Nagpur, he came to the spotlight for giving his city a new face and was also known as 'flyover man' for building a series of flyovers in Mumbai during his stint as PWD minister in Maharashtra.
Not just during the first term of Modi government, Gadkari had played a pivotal role in the successful implementation of the Mumbai-Pune expressway.
Elected to the Lok Sabha for the second straight term, he had a long innings in Maharashtra politics and was also the youngest BJP president.
Gadkari has entered politics as a student leader of ABVP and later joined the Janta Yuva Morcha, youth wing of the BJP.
The imposition of Emergency by Indira Gandhi in June 1975 was a turning point in his life, following which he decided to dedicate his life to social work rather than practising law.
© Copyright 2022 PTI. All rights reserved. Republication or redistribution of PTI content, including by framing or similar means, is expressly prohibited without the prior written consent.