Despite a massive decline in crude oil prices since 2012 -- Modi has been prime minister in six of these eight years -- petrol in Delhi has become 10 per cent costlier and diesel 97 per cent, as of July 2.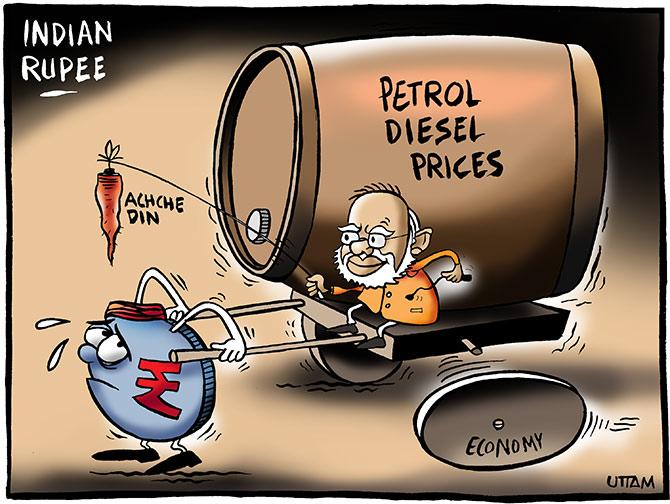 "A massive hike in petrol prices is a prime example of the failure of Congress-led UPA.
"This will put a burden of hundreds of crores (of rupees) on Gujarat," then Gujarat Chief Minister Narendra Modi, now prime minister of India, had tweeted on May 23, 2012, attacking then Manmohan Singh government at the Centre.
In May 2012, the average price of the Indian crude oil basket was $101.10 a barrel, which declined 70 per cent to $30.60 in May 2020; in June, it was $40.63 a barrel, still 60 per cent cheaper than in May 2012.
As of June 2, the Indian crude oil basket price was $42.65 a barrel, 58 per cent lower than the price prevailing at the time when Modi posted the aforementioned tweet.
However, despite such a massive decline in crude oil prices since 2012 (Modi has been prime minister in six of these eight years), petrol in Delhi has become 10 per cent costlier and diesel 97 per cent (as of July 2).
Governments - whether under the Congress or the BJP - appear to believe petrol prices are a crucial element in the voter calculus.
A reflection of this was the freeze in an upward revision in April-May 2019 (during the General Election), even though international crude oil prices were rising.
But within 10 days after the last phase of the election, oil prices started to increase by 70-80 paise per litre.
Then, an industry source had argued: "While state-owned fuel retailers Indian Oil Corp (IOC), Bharat Petroleum Corp (BPCL) and Hindustan Petroleum Corp (HPCL) had in the past completely frozen rates at the time of elections, they during the Lok Sabha polls moderated the revision by not passing on all the desired increase in rates to consumers."
The companies imposed a 19-day price freeze on petrol and diesel ahead of the Karnataka polls in May 2018 despite international fuel prices going up by nearly $5 a barrel.
But, as soon as the election was over, they rapidly passed on the increase to customers - following over 16 consecutive days of price increase after May 14, 2018, petrol had become costlier by Rs 3.8 per litre and diesel by Rs 3.38.
Similarly, they stopped revising fuel prices for almost 14 days ahead of the Assembly elections in Gujarat in December 2017 and froze any hike in petrol and diesel prices between January 16, 2017, and April 1, 2017, when polls in five states - Punjab, Goa, Uttarakhand, Uttar Pradesh, and Manipur - were held.
On May 26, 2014, when Modi took as prime minister, petrol in Delhi was Rs 71.41 a litre and diesel was Rs 56.71 a litre.
Since then (as of July 2), petrol has become dearer by 13 per cent (Rs 80.43 a litre) and diesel by 42 per cent (Rs 80.53 a litre).
It was this inverse relation between crude oil prices and fuel cost that became the centrepiece of Congress President Sonia Gandhi's attack on the NDA government last week when she dubbed the hike in fuel prices "a new example of extortion".
"I demand the Modi government immediately roll back the increase in prices.
"I also urge it to roll back the rise in excise duty on petrol and diesel... This is not only unjust but insensitive too," she said.
A major reason for the hike in fuel price is the increase in excise duty by the Centre and value-added tax (VAT) by states.
In April 2014, a month before Modi took charge, the excise duty on petrol was only Rs 9.48 a litre, which jumped to Rs 32.98 a litre now.
The excise duty on diesel increased close to eight-fold, from Rs 3.56 a litre in April 2014 to Rs 31.83 a litre now.
Gandhi said the increase in the excise duty helped the Modi government collect extra revenue of nearly Rs 18 trillion.
"This government should cut the excise duty.
"During my time, the crude price touched $140 a barrel, even then we kept fuel prices low.
"Now, when crude is as low as $30 a barrel, the Modi government is struggling to keep petrol and diesel prices below Rs 80 a litre," said M Veerappa Moily, senior congress leader and former petroleum minister.
In response to Gandhi's allegation, Petroleum Minister Dharmendra Pradhan highlighted the Congress-led governments, or those run by its allies, such as in Rajasthan, Punjab, Maharashtra, Jharkhand, and Puducherry, had also put a burden on the public by increasing state taxes on fuel by Rs 5.
In Delhi, ruled by the Aam Aadmi Party, the VAT on diesel increased from 16.75 per cent to 30 per cent and on petrol from 27 per cent to 30 per cent in May.
"Now, the government is not taking any burden on fuel.
"Instead, they added cess and surcharge, and increased duties, too; we never used to do that... I don't think even in Pakistan it (excise duty) is so high," Moily said, demanding the government consider an administered regime if it is not ready to bring down the excise duty.
But politics does not allow this.