Consumer companies have started taking orders via phone calls and are also pushing retailers to order through their B2B applications.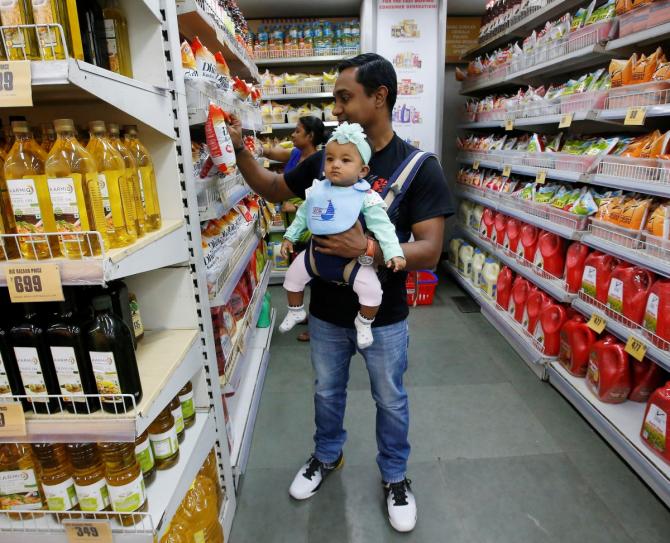 As COVID-19 infections surge once again, fast-moving consumer goods (FMCG) companies are prepping to make sure last-mile delivery of stocks to retailers carries on unhindered even if their sales staff fall ill.
Though the situation appears to largely be under control, consumer companies have started taking orders via phone calls and are also pushing retailers to order through their B2B (business-to-business) applications.
Retailers have also increased inventory to ensure that there is no shortage.
"While the situation is still manageable on the ground, there is a possibility that sales staff could fall ill and we expect some disruption towards the end of January if the number of cases continues to rise," Angshu Mallick, CEO, Adani Wilmar, told Business Standard.
Adani Wilmar sells essentials like edible oils, wheat flour, and rice.
Mallick explained that Adani Wilmar is pushing retailers to order directly from its app so that its salesforce won't have to visit them as often.
"We have also seen a pick-up in demand for larger stock keeping units and demand for 5-litre packs are higher. Consumers are also picking up 1-litre packs," Mallick said.
Chennai-based CavinKare has also seen some disruptions on ground, but the company says it still has the situation under control.
Its strategy is similar to Adani Wilmar's and it, too, has asked retailers to order through its app.
"In case, there is a shortage of sales staff, we will deploy our trainees to take orders," said Venkatesh Vijayaraghavan, CEO and director, FMCG, CavinKare.
However, the bigger problem that FMCG companies are facing is importing packaging material, which comes from China, Vijayaraghavan said.
Parle Products, which sells the Parle-G and Monaco biscuits, has seen a 15-20 per cent spike in online sales so far in January as more customers are staying home and ordering in.
To make sure that its retailers remain well stocked through the wave, the biscuits major's sales staff has requested retailers to stock-up more to reduce visits.
"Our salesmen are also taking orders on the phone and servicing orders that come via our app," said Mayank Shah, category head at Parle Products.
Distributors too are rationalising the number of people they deploy on the ground by trying to keep their sales staff home and are focused on order execution.
Data from retail intelligence platform Bizom also shows that retailers are stocking-up more than normal.
"We're seeing about 5 per cent higher stocking in kiranas even as the number of active kiranas has dropped by 11 per cent. The higher stocking is the result of brands trying to ensure uninterrupted product availability despite having as many as 10-20 per cent members of their field sales teams being impacted in this wave," Akshay D'Souza, chief of growth and insights at Bizom, explained.
"There is no major disturbance on the ground and distributors have resorted to taking orders on the phone and it is serviced by staff, which is helping distributors keep on-ground staff limited," said Dhairyashil Patil, president, All India Consumer Products Distributors Federation.
Feature Presentation: Rajesh Alva/Rediff.com