Ramping up e-commerce operations and going beyond its current strongholds are key challenges for the grocery chain in its battle with Mukesh Ambani's retail behemoth.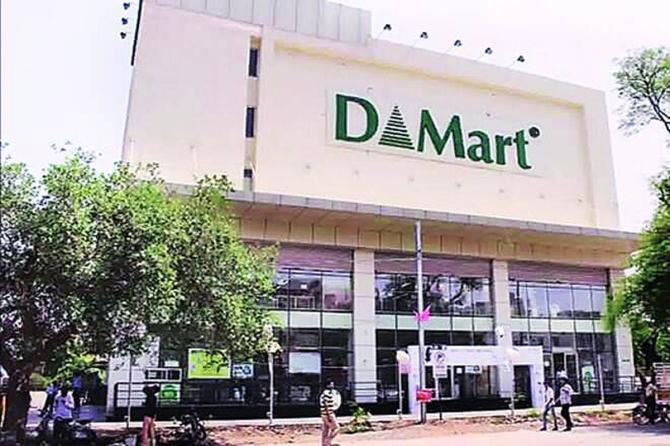 Two of the country's richest men find themselves head-to-head in a battle involving the sale of everyday items.
Mukesh Ambani's Reliance Retail is the largest organised retail player in the country, occupying a third of the market after it acquired Future group's retail assets a month ago.
But Radhakishan Damani, the founder of DMart, the grocery chain that started two decades ago, is no pushover.
The chain, say experts who track it closely, has been quietly putting together a strategy that involves setting up more stores, increasing its e-commerce operations and pushing its value proposition even more aggressively among consumers.
To be sure, the Reliance versus DMart battle is a fight of unequals in many respects.
DMart lags Reliance by a wide margin as analysts Arnab Mitra and Pratik Rangnekar of Credit Suisse pointed out.
In a recent report, the two analysts said the grocery revenues of the Reliance-Future combine were 2.5 times that of DMart.
The latter also remains a largely west-centric chain, with over a third of its 216 total stores located in Maharashtra alone.
Reliance has a wider spread, thanks to a network of close to 12,000 stores in the country.
The Future deal will give it an additional 1,800 stores.
To make matters worse, Reliance Retail has been on-boarding a series of investors for the last few weeks, all of whom are keen to partake of its growth story.
So far, Reliance Retail has raised Rs 18,600 crore in four rounds, offloading 4.25 per cent stake to mainly financial investors.
A strategic investor is likely to come later, who is expected to help Reliance Retail with its supply-chain management across online and offline formats.
Reliance's new commerce venture, JioMart, has been scaling up fast since it went live in May.
Orders per day are estimated at over 400,000, ahead of rivals such as BigBasket and Amazon.
So where does that leave DMart?
Abneesh Roy, executive vice president, research (institutional equities), Edelweiss, said that DMart could benefit from the shift from unorganised to organised retail, a trend that has grown in the last few years.
Industry estimates peg the size of India's total retail market at $700 billion.
Around 15 per cent of this market is organised, while 85 per cent is unorganised, increasing prospects for most organised retailers including DMart as well as Reliance.
"DMart's execution capabilities are among the best in the industry and this will give it an advantage in its fight with a larger player such as Reliance," Roy said.
"Yes, there is room for it to expand to more markets.
"But even within its existing markets, there is significant headroom for growth, given that the penetration of organised retail is not huge in the country," he said.
However, a crucial strategic shift for DMart would be to build more pockets of strength, beyond the western region where it is traditionally known.
In the Mumbai market, for instance, DMart has 32 stores, set up as part of its cluster-based approach.
DMart may have to, said experts, shed its conservative nature and build a loyal base in other metropolitan cities too, if it wishes to hedge itself from the risk of competitive intensity in Mumbai, where the Reliance-Future combine will now have 39 stores.
In a recent call with analysts, Neville Noronha, managing director and chief executive officer, Avenue Supermarts, which owns and runs DMart, said the company had been accelerating the pace of its store launches over the last two years, which would continue into the future.
In FY20, 38 DMart stores were added, while the year before, the number was 21.
In the first quarter of FY21, which was disrupted due to the Covid-19 pandemic and lockdown, stores added were only two, though the size of these outlets were larger than previous DMart stores.
Roy said DMart will likely add close to 60 stores in the next two years (FY21 and FY22) based on management commentary and assessment of the company's track record.
This could be in a combination of markets, including new and existing, as the company sets itself up against Reliance.
While DMart is expected to course ahead offline, given its strong balance sheet and execution strengths, online is where the challenges will be significant.
According to most analysts, DMart has been a laggard in the online grocery market, choosing to be cautious every step of the way.
By its own admission in its June quarter update, online operations were ramped up at the height of the pandemic and lockdown when consumers were unable to make it to its stores.
But this approach will have to change, analysts at Kotak Institutional Equities said in their report released recently, adding DMart will have to take its e-commerce operations beyond Mumbai into more cities, if it wishes to acquire scale and become relevant in the post-pandemic world, where digital adoption is growing across categories, including grocery shopping.
The Kotak report also notes that with most online players, including Reliance, Amazon and Flipkart-Walmart tying up with kirana stores as part of their overall digitisation programme, corner shops could become far more competitive than DMart, offering convenience and the best price.
Damani clearly has a cartload of woes to tackle in his fight for leadership in the grocery retail market.
Photograph: PTI Photo