The two key factors working in favour of online shopping appear to be deep discounts and impulsive decision-making, whether it's about ordering food or buying a gizmo online, reports Karan Choudhury.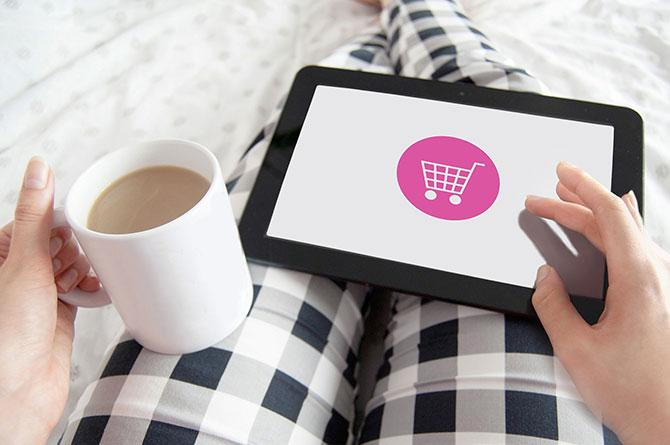 E-commerce is showing a trend contrary to the general slowdown narrative coming from almost all quarters, including from the physical retail space.
The two key factors working in favour of online shopping appear to be deep discounts and impulsive decision-making, whether it's about ordering food or buying a gizmo online.
The eye-popping valuations, notional but a key metric in determining the pecking order in the online universe, along with mega fundraising deals, project a continued consumer and investor confidence in the sector, say analysts.
The caveat, however, is online companies, despite running losses, are able to go up the valuation ladder, unlike the traditional businesses.
Not surprisingly, RedSeer, a leading internet-focused consultancy firm, believes e-tailing growth has been strong, at an estimated 29 per cent year on year in the first half of 2019.
The valuation game
If we go into numbers, Ritesh Agarwal-led OYO, the room aggregator business giving competition to many established hotel chains, has been a head turner, notching up a valuation of $5 billion last year, six times its 2017 valuation.
It's eyeing a valuation of $18 billion at the time of its proposed IPO in a couple of years.
Similarly, One97 Communications, the parent company of Paytm, is believed to be valued at around $16-18 billion, up from $10 billion when Berkshire Hathaway had invested $300 million last year.
Also, a report based on regulatory filings in May said a proposed fundraising of $352 million would push up Ola's valuation to $6.2 billion.
Swiggy and Zomato, the two food delivery majors, are learnt to be looking at valuation of $4 billion and $3.1 billion, respectively, through their next round of funding, according to a report in June.
The list of unicorns (internet-based companies with valuation of at least $1 billion) is rising steadily, too.
Among the notable ones, grocery e-tailer Bigbasket, while closing a $150-million round led by South Korea's Mirae Asset Global Investments, was valued at more than $1.2 billion.
Top education-technology company Byju's is an unicorn, too, following a share allotment to its investors.
Same is the case with logistics start-up Delhivery, which raised $413 million in its latest fundraising round.
All this, when Flipkart was valued at $21 billion in August 2018 when American retail major Walmart acquired a 77 per cent in the Bengaluru firm for $16 billion.
Is e-commerce story here to stay?
Responding to whether there's been evidence of a slowdown in e-commerce, a senior executive at a prominent online firm said while there had been a marginal fall in the number of repeat customers across all online marketplaces, the number of new users from tier-III and the rest of India towns was rising.
That holds promise for the sector, aided by deep discounts, agree analysts.
"Across various companies, there has been a 2 to 5 per cent fall in the number of repeat customers.
"This is not alarming to us as we have new customers joining in everyday.
"They are the new target market for us--the people in small town villages," the executive said.
"We at Flipkart are a value player in the market.
"The marketplace does more listings at a time when the market is a bit slow.
"So, we do not see a slowdown in that climate.
"We can see good growth," said Kalyan Krishnamurthy, CEO, Flipkart Group.
Once one of the biggest players in the e-commerce race, Gurugram-based Snapdeal has in the last few months managed to make a comeback of sorts.
It even picked up an investment along the way.
Anand Piramal, executive director of Piramal Group, recently invested an undisclosed amount in Snapdeal.
The firm has managed to reduce losses by 96 per cent over two years and grow the operating income by 87 per cent in the last one year, a Snapdeal spokesperson said.
In fact, most e-commerce firms have been able to beat the downturn through anything from making their online marketplaces more interactive to wider use of vernacular to video-based apps.
Internally codenamed DP60 or 'Detailed Product Page in 60 seconds', Amazon's idea is to squeeze in every information available on any given product in 60 seconds to 90 seconds videos.
This would include the product description, customer reviews, how to buy it, how to avail an EMI scheme among other things.
Flipkart is doing something similar, besides entering into tie-ups with several over the top (OTT) players.
Food delivery business seems to be booming, too, on the back of the millennial crowd, though growth is limited to top 35 cities for now.
The online food ordering market is likely to grow at over 16 per cent annually to touch $17.02 billion by 2023, shows a study by business consultancy firm Market Research Future.
Signs of trouble
Cab aggregators, however, have felt the downturn pang, executives said.
Over the past one year, the number of cabs these firms have been inducting on the platform has gone down drastically, which also adds to the slowdown in the overall automobile industry.
Reasons include rising fuel prices, as well as saturation in the cab aggregation business itself, thereby bringing down the returns for drivers.
"When firms like Uber and Ola entered the market, they offered massive discounts.
"That has drastically gone down," said a senior executive at a cab aggregation firm.
No wonder, firms like Ola are stepping up focus around electric vehicles, he said.
According to some reports, daily rides over the past six months are up by just 4 to 5 per cent, to touch around 3.5 million rides a day.
The financials
Ola, among the more attractive start-ups, has more than halved its consolidated losses to Rs 2,842.2 crore, while growing revenue by almost 61 per cent during FY18, according to regulatory documents.
That's the most recent financials available for the Bhavish Aggarwal-led firm, which is competing fiercely with American rival Uber in the India.
It had registered a loss of Rs 4,897.8 crore in FY17.
As for Swiggy, the go-to-app for ordering food, its revenue had increased 220 per cent in FY18 to touch $63.77 million, according to filings.
But its annual net loss was at $54.12 million, a 93 per cent jump from the previous year.
Even for bigger e-commerce firms, losses have remained a constant.
Take for instance, Flipkart.
Before being bought by American retail major Walmart, Flipkart group's total revenues increased by over 50 per cent to Rs 30,164 crore in the financial year ending March 2018. However, its losses increased to Rs 46,895 crore.
Among others, One97 Communications, which operates Paytm, reported a 69 per cent rise in losses at Rs 1,490 crore during FY18, though revenues quadrupled at Rs 3,314 crore as against Rs 780 crore in FY17.
Even so, most of the companies have managed to keep their shopping carts full, more or less.