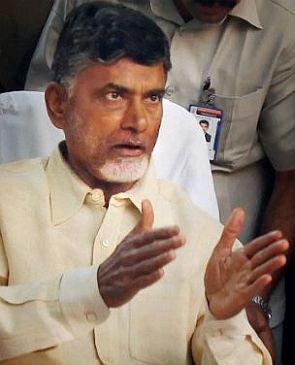 He said he had drawn up plans to achieve sustainable double-digit growth through the next 15-20 years
Andhra Pradesh Chief Minister N Chandrababu Naidu on Monday said he would turn challenges into opportunities to ensure his state was number one in the next 10 years.
"Within a year, the state economy and revenues have started moving in a positive direction and growth in our gross state domestic product in the first quarter surpassed the national average, though the state bifurcation created many problems for us.
"So, the opportunities are abundant.
"Just think positively," Naidu said at the Business Standard Andhra Pradesh Round Table in Vijaywada.
Naidu said port-led economic development, the electronics and hardware sectors, food processing and aerospace and defence manufacturing, apart from software, would be his government's priorities.
Alleging the United Progressive Alliance government had bifurcated Andhra Pradesh without adequate consultation, Naidu said his government was prepared to do everything to help the state recover from the setbacks.
He said he had drawn up plans to achieve sustainable double-digit growth through the next 15-20 years.
His government had already introduced quarterly monitoring of GSDP growth, he added.
Complimenting Business Standard for focusing on issues relevant to Andhra Pradesh, Naidu said it should also track his government's progress on various economic parameters every year.
"I have already achieved river-linking, which remained a pipe dream from the days of (Atal Behari) Vajpayee as prime minister, by bringing water from the Godavari to the Krishna through a lift irrigation project in less than a year.
"Soon, we will make a linkage with the Penna and every other river in the state to make Andhra Pradesh a drought-proof state.
Through this, we will be able to give any amount of water to industry.
"His work, he said, would become easier if the Centre fulfilled its promises to the state during the bifurcation, in terms of funding the revenue deficit and according special-category status. "I am hopeful the Centre will keep its promises and help our state in this transition stage," he said.
Naidu vowed to hasten the process of securing clearances by industry.
"Through our single-desk system, we have achieved 88.8 per cent compliance in terms of granting clearances within 21 days from the date of application. Soon, we will make it 100 per cent," he said.
Amaravati, the capital city his government proposed to build near Vijayawada, would offer a host of opportunities to entrepreneurs, Naidu said, adding soon, Andhra Pradesh would appoint the Singapore government as the master developer of the capital city.
The foundation stone for the construction of Amaravati will be laid on October 2.
Companies from Japan and China were also keen to invest in the capital city project, he said.
"If we add another barrage on the Krishna, the new capital city will have a water front along 30 km of the river course, in addition to a network of water channels criss-crossing the proposed capital city.
It will be a blue-and-green capital city, something you won't find anywhere else in the world," he said.
The Andhra Pradesh also planned to set up six to seven new airports in the state, Naidu added.