A weak rupee, though seemingly good for exporters, would push up input cost further for Indian companies.
Illustration: Dominic Xavier/Rediff.com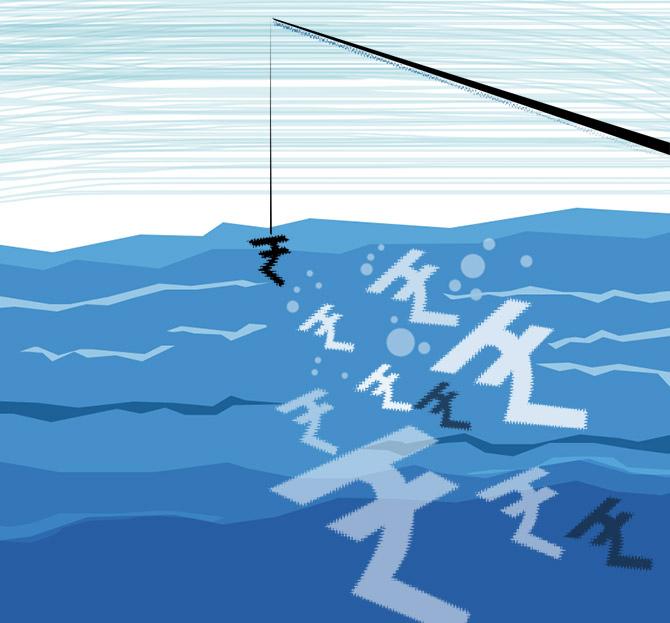 The Indian rupee's recent slide is not merely a routine volatility, but something that could be here to stay, experts have started cautioning.
If rupee continues to slide, it would pose a challenge at many levels, not the least on inflation. India imports 70 per cent of its oil requirements, and with crude oil prices rising, the import cost has already gone up. A falling rupee would make imports even more costlier.
A weak rupee, though seemingly good for exporters, would push up input cost further for Indian companies.
These companies, according to a recent Reserve Bank of India (RBI) study, are not able to increase their final price and as such the profit margin is getting squeezed.
This poses a direct challenge to RBI's mid-term inflation target of four per cent and may prompt the central bank to raise policy rates to cool things off.
Again, higher interest rates would mean lower investment and thus low economic growth.
RBI's minutes suggest that members are willing to raise rates going forward.
In a bid to stem rupee's loss, the RBI has started intervening in the currency markets, but whether it can do enough at a time when US dollar has started rising, remains to be seen.
In any case, RBI doesn't protect a level, but intervenes to iron out volatility.
After falling to 66.90 a dollar on Wednesday, the rupee started recovering on heavy RBI intervention.
It closed at 66.66 a dollar on Friday, the last working day of April, from its 66.76 level on Thursday.
On Monday, it was a tad higher at 66.51. Yet, at the latest level it represent a fall of 4.4 per cent as compared to 63.68 at the start of the calendar year.
Not surprisingly, rupee is the worst performing major currency in Asia right now, falling more than 4.5 per cent.
In a note, Emkay said rupee could fall to 68-70 a dollar by the end of fiscal 2019, as fiscal and current account deficit rises and global liquidity recedes.
The dollar index, which measures the greenback's strength against major global currencies, has started nearing 92, against its January level of 89.
It doesn't seem the dollar's strength will reduce soon. A report by Morgan Stanley Investment Management said the dollar rally would continue.
Growth in the eurozone is plateauing, while China faces headwinds.
"These conditions, coupled with risk sentiment staying supported, which may continue the steepening of the US yield curve, should keep the USD rallying," Morgan Stanley said.
The RBI's foreign exchange reserves came down by $2.5 billion to $423.58 billion in the week ended April 20. Forex dealers say this is the result of the RBI's direct intervention.
They also maintain that RBI will have to continue doing intervention in the market to prevent a rapid slide in rupee.
According to Care Ratings, "FPI (foreign portfolio investor) flows will hold a significant clue to the future direction of the rupee in 2018."
But here too, FPI flows are thinning out, which would put further pressure on the rupee.
According to IFA Global, a currency consultant, even large top rated firms have inadequate hedging on their currency exposures.
In a survey of top 100 companies, the hedging was done in only 36 per cent of the total exposure, IFA Global said.
Inadequate hedging is a cause for concern as if the rupee depreciates, importers will start panicking and demand for dollar will zoom in the local market.
That will create a dollar shortage and put rupee under further pressure.