The Hot Wheels pavilion, featuring two life-size models inspired by Mattel's die-cast models, is a supercharged treat for fans, says Rajesh Karkera.
Photographs: Hitesh Harisinghani and Rajesh Karkera, Rediff.com.
You enter the foyer of the Auto Expo in Greater Noida where the Hot Wheels pavilion is located, and you see something straight out of your childhood -- the Mattel cars that you played with as a child.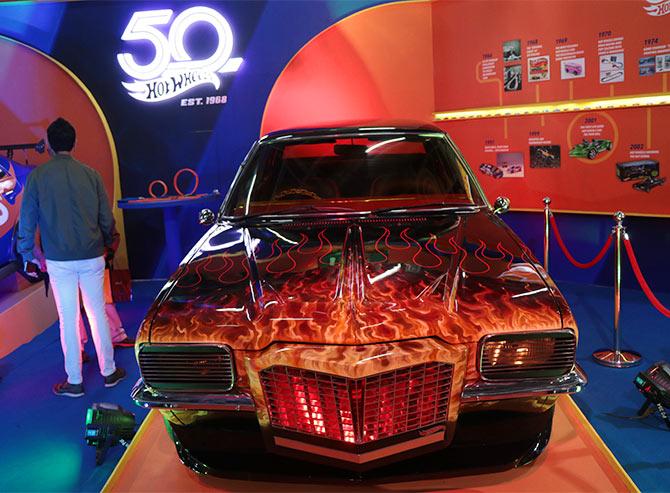 This is the Hot Wheels collection, with the difference that the models displayed here are all life-sized!!
Naturally, every child and adult alike wants to get a closer look at the cars and sit inside, play with the controls, etc. But it's the children who get the first preference.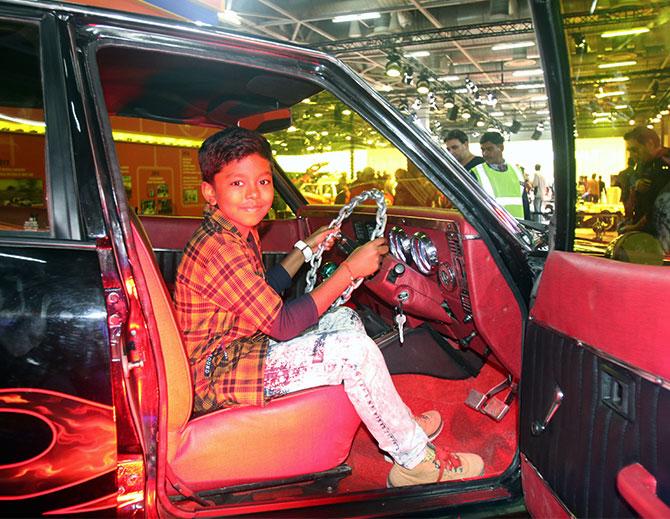 The experience at the Hot Wheels pavilion is a supercharged treat for fans as it showcases two life-size models inspired by Mattel's Hot Wheels die-cast models.
The small but elaborate display, which showcases the toys' start and current journey, shows the classic and modern times by displaying cars of the bygone era as an ode to the Hot Wheels' 50-year journey since its launch in 1968.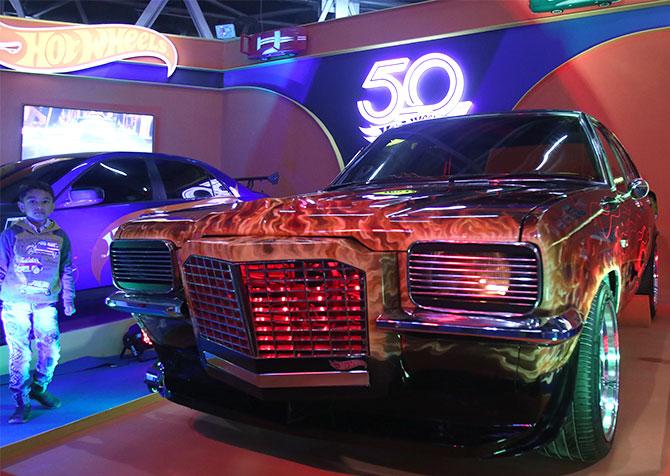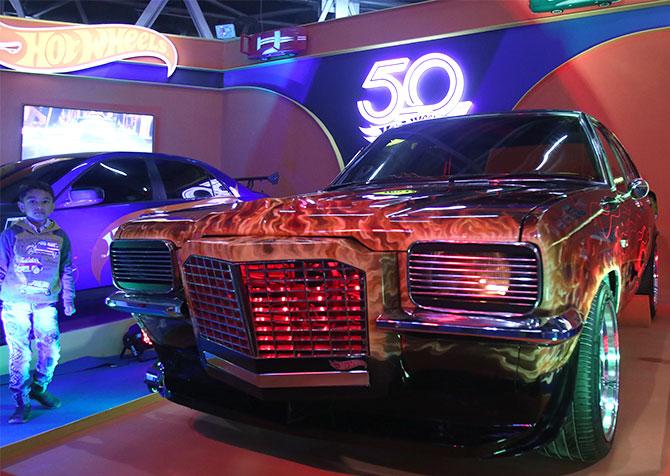 While one car shows the vintage, retro era of the '60s, the second car displays a modern, style, representing designs and innovation of the 21st century.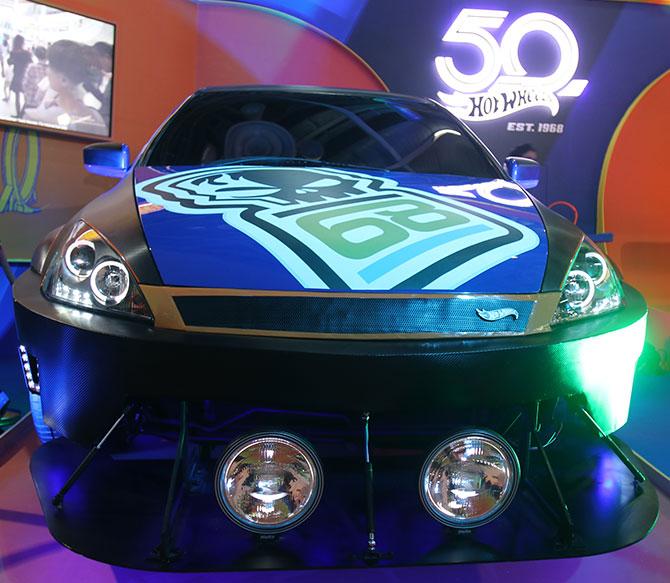 The first car, a Mustang type look from the '70s with flame decals, looks like it's come straight out of the Ghostrider comic series.
A classic muscled car with its all-black body and chrome highlights, the car features a lip spoiler on the rear tail and an air dam in the front.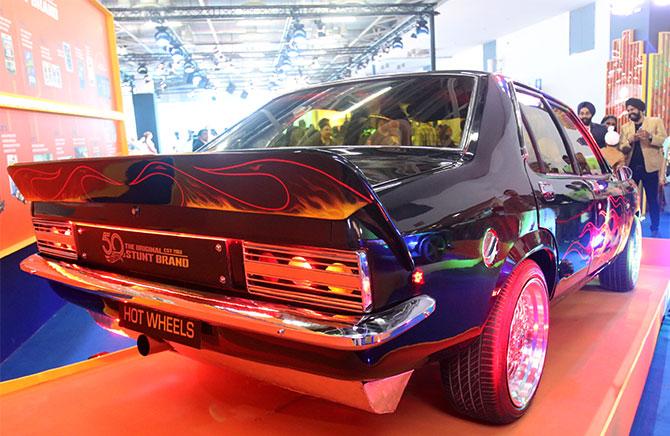 The interiors feature a unique chain design steering wheel not seen anywhere in reality till now! And a skull-head gear knob reminded me of the Ghostrider series once again.
Confused as I was on seeing this stall, I must say I loved it very much.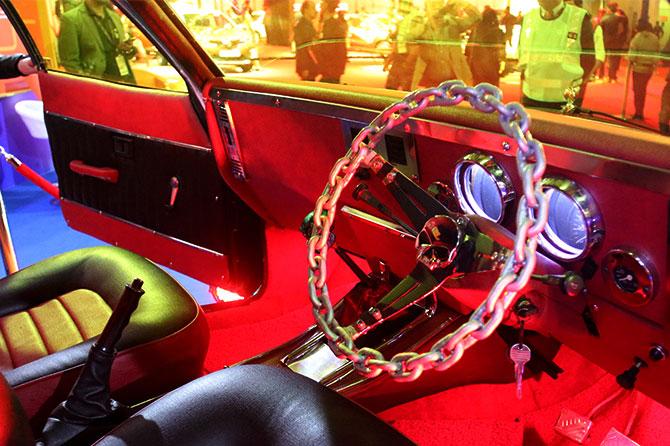 There was one question lingering in me still. Why were these exquisite Hot Wheels cars displayed here at the Auto Expo?
The gentleman manning the pavilion answered this by saying that Hot Wheels aims to instill the challenger spirit among young children.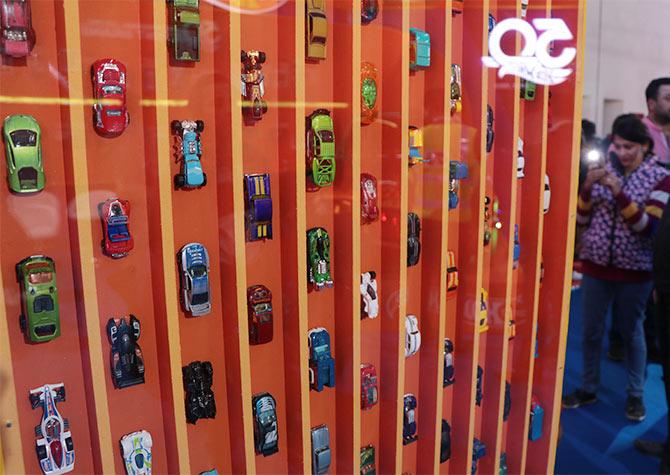 The campaign they have started here at the Auto Expo blends with Mattel's philosophy of 'Play With Purpose' by showcasing concepts of physics, aim, angle and speed; and driving children to exploring their truest potential'.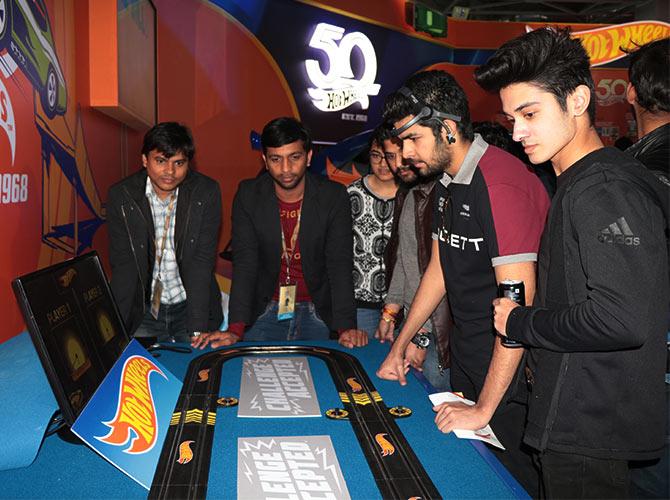 What better way to prove that than to showcase a classic 1968 hot rod on display, which is actually sitting on a frame of the iconic Hindustan Motors Contessa, a large family car from the Vauxhall VX series.
And the modern Racer depicted here in Hot Wheels style is actually a sitting on a powerhouse named the Honda Accord!