The new Honda Accord Hybrid combines two worlds to offer a fitting blend of power and fuel efficiency.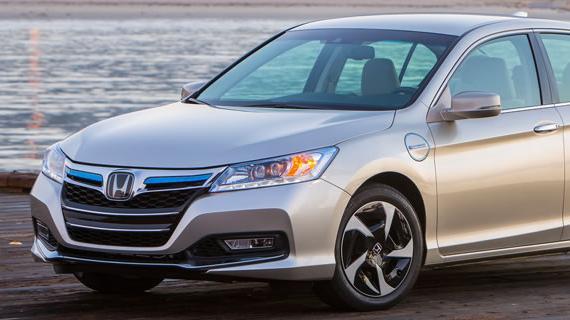 I
got a chance to drive the new Honda Accord Hybrid, shipped into India from Honda's Thailand plant as a completely built-up unit. To begin with, hybrids are expensive and if one were to get these cars by paying huge import duties, the cost becomes exorbitant. But then, this is a car that boasts of good looks, reliable technology, ease of drive, luxury and comfort.
The new Honda Accord Hybrid is the latest ninth-generation Accord and is powered by a 2.0 litre Atkinson cycle DOHC 16 valves i-VTEC engine, along with an Intelligent Multi-Mode Drive (i-MMD) 2-motor hybrid system.
Together, the internal combustion engine and the hybrid system produce a combined output of 212hp with a fuel efficiency of 23.1 kmpl. The car, mind you, is not just about a green revolution; it's also about neat styling, pampered seating, savvy electronics and decent driving abilities. The Honda's i-MMD uses a two motor hybrid system with three operating modes: EV Drive, Hybrid Drive and Engine Drive.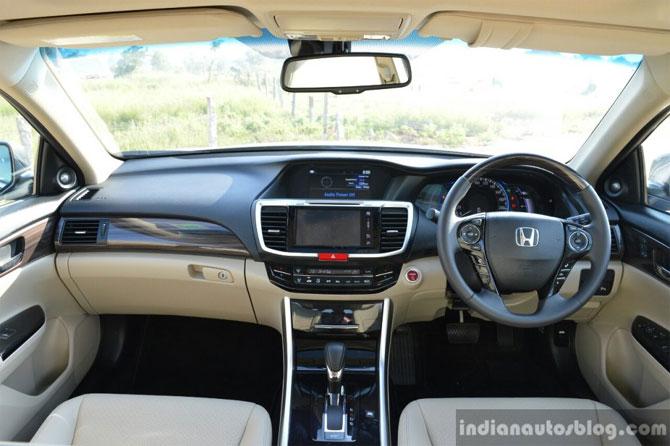 Most of the time, the vehicle is being driven on Hybrid Drive where the gasoline engine powers the electric generator motor, which, in turn, provides power to the Lithium-ion batteries, thereby setting off the electric propulsion motor to swing into action. Depending on the speed, the electric propulsion motor and the petrol engine take turns to power the drive wheels through the propulsion motor. So the duo works as "series hybrid".
T
he EV mode is 100 per cent electric motor-dependent and comes into action when you are starting from stop and cruising at gentle speeds. The petrol engine is off during the EV mode and is decoupled from the drive train to reduce friction.
The Engine Drive mode comes into play as the speed increases and any shortcoming from the Atkinson cycle engine is made up by the electric motor drive. Here the system works as a "parallel hybrid".
To generate a sportier response from the engine, one can engage the Sport mode and experience rapid acceleration. For more sedate and responsible driving, one can opt for the ECON mode where the throttle response is gradual and the focus is more on fuel efficiency.
T
he Honda Accord has an Electric Continuously Variable Transmission (E-CVT)
and it uses two motors for driving and generating power.
With all the electronics thrown into its engine system, I realised the car was more like a well-behaved school boy, one of those studious guys who never ever gets into trouble. That's boring; so I changed the setting to Sport mode and suddenly the car got all charged up.
HONDA ACCORD HYBRID
Engine: 2.0 litre (1,993cc) Atkinson cycle DOHC i-Vtec 16 valves
Torque: 315Nm @ 0-2,000 / 175 Nm@4,000
Power: 181.48hp/ 5,000-6,000rpm / 143hp@ 6,200 rpm (combined 212hp)
Hybrid battery: Lithium-ion battery (1.3 kWh capacity)
Price: Rs 37 lakh (Ex-showroom, Delhi and around)
The new Honda Accord Hybrid is almost styled like a German car. The front fascia, with its sharp styling, the large intake like meshed areas house new standard LED fog lights. In fact, the headlights too are LED with LED daytime running lights and tail lights. The hood has a neat contour and the front grille is quite pronounced. While the front is chic, the rear too has its fair share of good looks with a sharply sculpted rear bumper fascia and new LED taillight design. Not to miss are the blue accents on the front grille headlights and tail lights and the Hybrid badging.
T
he car sits on eight-inch sporty alloy wheels and has a unique design. There's an electric sunroof with tilt feature, shark fin roof antennae and integrated trunk spoiler.
The interiors are all about sophistication. The car comes with remote engine start, which makes sense when you want to power it and keep the air conditioner on so as to cool the vehicle before entering it. It also offers remote keyless entry.
Once seated, you are treated to plush leather upholstery with wood grain accents. When you are in the driver's seat, you get to see a large analog instrumentation and a 7.7-inch colour multi-information display.
There is ample storage space and the centre console too doubles up to provide more of that. There's a USB port, a 12-volt power outlet in front of it and another 12 volt positioned inside the console. The lid doubles up as a neat arm rest. Mixed flavour in the Honda Accord Hybrid definitely drive home a point -- IC engine and electric power make for a heady mix.