56 per cent of the companies said they'd automated their processes, while 72 per cent felt technology could be leveraged to digitise employee records.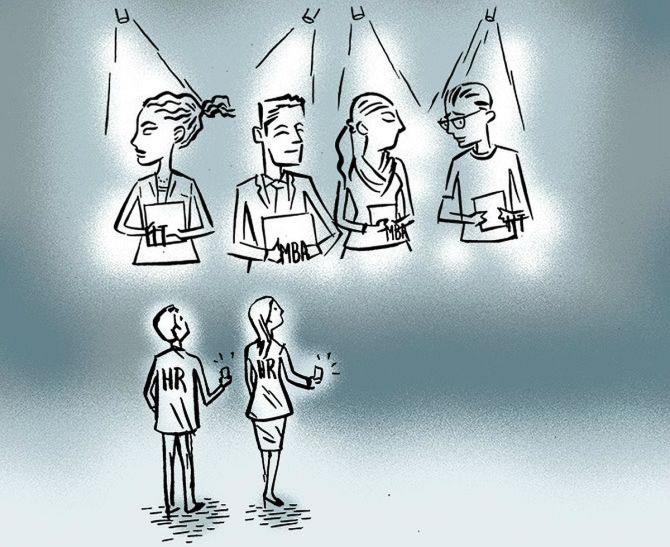 Last year, it was not just the economy that slowed hiring.
Employers were also unable to complete the verification process because of the lockdowns, resulting in delays in hiring and an increase in discrepancies between an employee's professed abilities and the reality.
The experience is driving many companies to automation.
In a recent EY survey, 56 per cent of the companies said they'd automated their processes, while 72 per cent felt technology could be leveraged to digitise employee records.
Most employers look to verify a candidate's education, job history, criminal background and address — a task assigned to freelancers before the pandemic, who physically checked addresses and the existence of educational institutions that were not widely known.
Automated tools now can do all of this remotely—and in real time.
A handful of background verification companies in India, such as Noida-based Helloverify and Bengaluru-based Millow, are already doing this using artificial intelligence and machine learning.
They have tools that can capture the geo-coordinates and the IP address of a candidate, which is then matched with the address on ID.
Millow does this via video call; Helloverify via email with enough safeguards to ensure the link is opened by the candidate and not a proxy.
Costing half the usual price of Rs 450 per candidate, it runs the verification in a matter of minutes instead of the usual 4-5 days that physical verification entails.
Mukesh Sharma, founder & chairperson, Affidabile Solutions, which owns the online platform ValidateMe, says one of the biggest challenges in background verification is the high turnaround time, especially for the previous employment checks.
This is a critical one for organisations as nearly 87 per cent of those who failed the verification process in the EY survey had given incorrect information about previous employment and their role.
"This takes up to three weeks and several reminders to the previous employer," Sharma says.
And, it is a redundant exercise, given that if a candidate joins a new company, her background check is performed from scratch, even though it may have been done by the previous employer.
Digital vaults built around blockchain are seen as a solution to this problem.
ValidateMe, for instance, offers a digital space for individuals and organisations to host, access, share, issue and validate documents.
On its platform organisations can issue certificates to individuals.
Once a document is validated, it remains in the vault for candidates to share it with future employers—or romantic partners for that matter. The ownership of the document remains with individuals and the documents cannot be tempered with.
Technology can also help with some very practical solutions to know a candidate during remote hiring.
Millow, for instance, offers a social media screening service to decipher any proof of drugs, alcoholism, racist or sexist behaviour and acts of violence.
"We started the service last year upon demand from companies," says Karan Bhatty, founder of Millow.
"Based on the social media background check report, employers felt more comfortable dealing with the candidate who would be representing them and their brand from miles away and with less than usual oversight," he adds.
The process of looking up information online sometimes, however, is a little more complicated than simply googling information about a person.
Sometimes when organisations rely on names to match records of people they have not met, it can get misattributed to people with similar or same name.
In a country like India with unique variations in spellings across geography, this can be a real problem.
Millow uses open source intelligence, which uses data available in the public domain, to find out information beyond what the Google search pages may show.
And it is looking to use the technology to become a "people intelligence company".
In other words, to be able to probe va­rious types of fraud, including job fraud, phi­shing, marriage fraud and the like, says Bhatty.
Tech tools are also taking the drudgery out from dealing with the paperwork involved in large-scale hiring by automating the flow of information between candidates, employers and verification companies.
Millow's platform, for instance, offers an integrated end-to-end solution, right from collection of documents remotely, to alerting candidates about missing documents and updating the final result on the HR platform.
Helloverify also provides organisations the option of continuous monitoring.
"If someone has come clean during the initial screening but his status has changed at a later stage, then that gets reflected too," says Varun Mirchandani, co-founder and COO, Helloverify.
Mirchandani is also looking to make verification real-time not just for organisations but individuals as well.
For example, for the purpose of verifying their company or a government-issued ID in a matter of seconds.
But are automated processes more reliant than manual ones?
Bhatty says one is still far from the time when AI and ML can take over background verification completely.
"While AI and ML triangulate database searches using identifiers tying back to the candidate and can run intelligence cycles in seconds, AI does yield 15-20 per cent false positives that can be corrected by a human using an investigative mind or plain reasoning," he adds.
A fully-automated system is known to often let the wrong candidate slip through the cracks or freeze out the right one from the job.
In the US, there are lawsuits galore against screening companies for wrongly labelling people as criminals, sex-offenders and drug-traffickers.
In India, companies say they double check manually when the systems show a problem with a piece of information before alerting the employer.
Yet, even as more companies are embracing technology, discrepancies are rising by 30 per cent year-on-year, in particular in the IT and ITeS sector, says Rituparna Chakraborty, co-founder and executive vice-president of HR consultancy TeamLease.
There is another area where tech tools have made little difference—the hiring for the gig economy or blue collar workers, where people come from far-flung areas that makes any kind of verification difficult.
"It costs too much to do a robust background check for bottom-of-the pyramid employment where most of the hiring happens and where background verification is more important," says TeamLease chairman Manish Sabharwal.