Gulf Oil Corporation Limited (GOCL), a Hinduja Group company, on Wednesday announced the complete acquisition of US-based Houghton International for $1,045 million. The acquisition was carried out through GOCL's subsidiary in the UK.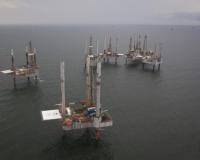 While company officials were not available for comment, a GOCL press release said an agreement in this regard had been signed between its wholly-owned subsidiary in the UK and the sellers, a US-based private equity fund.

Houghton products are sold in about 75 countries. The company has 12 manufacturing facilities across 10 countries. For the year ended September, it had reported sales of $858 million.

GOCL would operate Houghton as a separate company and its operations would be able to leverage Houghton's base of industrial customers and offer them an end-to-end
range of lubricants.
Also, various synergies could be achieved in manufacturing, strategic sourcing and distribution, said a company statement.
Houghton had a strong industrial portfolio, which complemented GOCL's strong presence in the automotive lubricant sector, the statement added.
GOCL's acquisition would be one of the largest outbound acquisitions this financial year.
Others include Indian Hotels' acquisition of 93.1 per cent stake in Orient-Express Hotels for $1,670 million in October, ONGC's acquisition of oil & gas assets in Azerbaijan for $1 billion in September, Rain Commodities' acquisition of Ruetgers NV in Germany for $914 million in October, Piramal Healthcare's acquisition of US-based Decision Resources Group for $635 million and Aditya Birla Group's acquisition of Northern Iron for $606 million in May.