Toll booths may be kept 50 km apart for seamless travel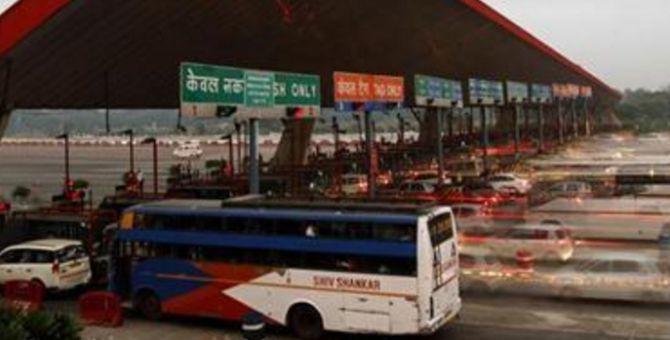 How and where highway tolls would be paid is set to change soon.
The government is working on a policy to plan tolling booths in such a way that it leads to minimal disruption of traffic and time.
Toll booths on a highway would be at least 50 km apart and would only be at major cities, according to a policy in the works.
The definition of a major city would be changed to one with a population of more than 200,000.
The proposal of the ministry of road transport and highways would require clearance from the Cabinet.
"Once we finalise the details, we will send the note to the ministries concerned for their comments and thereafter to the Cabinet for its approval," an official told Business Standard.
The rationale behind the proposal is to provide relief to an average commuter on the national highways.
For instance, a person travelling from one city to another in a state like Rajasthan pays toll at least four times because there is a toll plaza every 50 km.
"Why should anybody pay a levy three-four times while travelling within one state.
"The toll should be levied only between major cities and the definition of a major city that we have derived at is one with a population of over 200,000," the official said.
So, if one is commuting from Delhi to Ambala in Haryana on the National Highway–1, the commuter would pay toll at only two spots instead of four-five places at present, he said.
The proposal would be another step towards seamless travel on national highways, after the introduction of electronic tolls. In August, the National Highways Authority of India introduced two mobile apps - MyFASTag and FASTag Partner - as part of its efforts to facilitate availability of the tag towards electronic toll payment.
FASTag is a reloadable tag fixed on a vehicle's windscreen. It has radio frequency identification (RFID) technology that is linked to a prepaid account for automatic deduction of toll charges.
A vehicle with this technology would not have to stop at toll booths for cash transaction.
The e-tolling facility is available at over 300 toll plazas across the country.
The ministry's proposal would be easy to implement on the engineering-procurement-construction contracts as compared to build-operate-transfer projects as there could be multiple concessionaires for one stretch of a highway.
Photograph: Anindito Mukherjee/Reuters