While there are several instruments in the RBI's disposal, the most effective one for infusing durable liquidity is bond purchase from the secondary market
Illustration: Uttam Ghosh/Rediff.com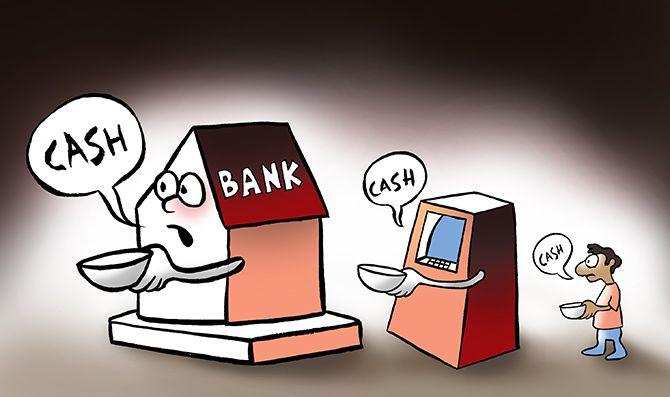 Liquidity in the system may get impacted, especially around the festive season, as currency in circulation is on the rise.
Economists expect the central bank to come up with more bond repurchase, apart from Rs 3,000 crore worth already done, to tide over the liquidity tightness in the coming days.
Tightness in system liquidity will impact banks planning for festive offers as they would need to absorb rising cost caused by the liquidity shortage.
Low liquidity raises rates in money market instruments. Since the marginal cost-based lending rate (MCLR) of banks are linked to money market instruments too, the interest cost for banks goes up.
However, during the festive season, banks waive off fees, and lower lending rates on consumer goods and auto loans.
Currency in circulation (CIC) continues to grow fast due to a lower base, but the CIC has already crossed pre-demonetisation level.
This indicates that digital economy has not worked as efficiently as was expected earlier and people prefer to trade in cash.
Any rise in cash holding drains liquidity from banking system. Expectedly, the RBI is worried about the situation.
CIC grew at 37 per cent year-on-year by the end of March.
The growth rate has moderated to 25.4 per cent now, but it is still higher than the longer period trend of 12-13 per cent.
The high growth rate is owing to the pace of remonetisation.
RBI's Deputy Governor Viral Acharya said in the policy press conference on Wednesday that the RBI is carefully watching the situation and the central bank will continue to "actively manage the system liquidity so as to achieve the monetary policy objective of aligning the weighted average call rate with the policy rate, while meeting the economy's demand for reserve money growth."
While there are several instruments in the RBI's disposal, the most effective one for infusing durable liquidity is bond purchase from the secondary market.
This is done under RBI's open market operations (OMOs).
"If foreign portfolio flows do not turn around, we estimate RBI OMO at $50 billion as the RBI will have to sell $20 billion of foreign exchange ($14bn so far)," said Bank of America Merrril Lynch in a report.